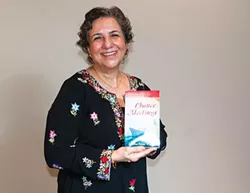 In 1974, Madhu Bazaz Wangu and her husband moved from India to Pittsburgh. It took some adjusting. "People would talk to me louder than they needed to," she recalls, and though fluent in English, she had trouble understanding the local accent.
Wangu also found that fellow Indian immigrants often isolated themselves socially, as a group. "I didn't want to do that at all," she says. "I found that really strange." When Indians referred to native-born Americans as "they," Wangu says, she asked, "What about you, aren't you Americans?"
Wangu was then a professional artist on her way to a career in academia as an historian of Asian religions and Indian art. (She taught at schools including the University of Pittsburgh and, during a stint in Massachusetts, MIT.) Now retired, she's self-published her first book of short fiction. Chance Meetings ($12) is about people seeking light in a world of strife and darkness.
Wangu's earlier published works include a book on Indian goddesses, and books on Hinduism and Buddhism for young adults. Her field of study informs stories in Chance Meetings including "Cadmium and Crimson," a memorable, fable-like account of a competition between two Indian casket artisans, one younger and brash, the other older and beatified.
Though "Cadmium and Crimson" is set in what Wangu calls a romanticized rural India, most of these 13 stories take place in present-day India and America. "Secret Healer" details the harrowing, Dickensian journey of a poor rural boy who becomes an indentured servant in the city. Wangu drew on experiences with friends and family in India. "They have these helpers they are not very nice to," she says. "It breaks my heart."
"Guari's Freedom" concerns a young artist who comes to Pittsburgh in an arranged marriage only to find herself, unexpectedly, required to be a full-time housekeeper for her husband and his parents.
The collection's subtitle, "Stories About Cross-Cultural Karmic Collisions and Compassion," is also reflected in "An American Dialogue," whose Islamophobic central character confronts her prejudice only in the face of tragedy.
Chance Meetings concludes with an early version of the first chapter of Wangu's forthcoming novel An Immigrant Wife, based partly on her own life.
Wangu, of Wexford, also founded and leads the Mindful Writers Group, a meditation-and-journaling practice.
As a reader, she says, "I try hard to look for books which are life-affirming." As a writer, "I'm hoping this book will help people."