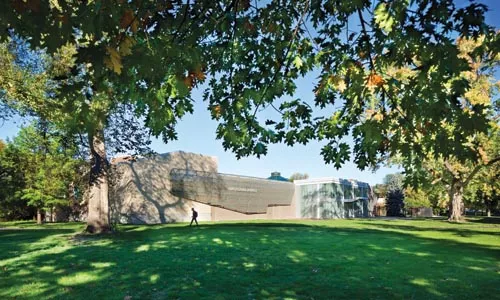 With the recent re-opening of Pittsburgh's National Aviary for the debut of its new addition and renovation by locally based Springboard Architecture, notions of architecture and birds are joined yet again.
While buildings for the birds are fairly common, buildings specifically for birds are obviously not. More importantly, though, architecture that somehow invokes the avian world is much more common than functions of fowl-specific zoo-keeping would dictate. We like flights of fancy even more than flights of stairs, so our buildings often adopt such symbolic expression accordingly.
Some caution is in order, though, because the rush to evoke the avian world is not always beneficial. Santiago Calatrava's Milwaukee Art Museum of 2001, with its huge, (slowly) moving wing-like brise-soleil, clearly overplays the building-as-bird imagery to the detriment of its budget and art-exhibiting responsibilities.
Indeed, Robert Venturi and Denise Scott Brown, in their seminal 1970s book, Learning from Las Vegas, use the term "duck" to describe any building that uses its external form to express an aesthetic idea rather than to represent its structure honestly. Amusingly, they illustrate the kitschy entry pavilion at an old Long Island drive-in, a building actually shaped like a duck, to support their point. Whether literal or metaphorical, a duck is a bad building, something to be avoided, even if your focus is architecture housing birds.
Springboard principal architect Paul Rosenblatt and his design team members, Bill Szustak and Shannon Ashmore, have avoided the dangers of heavy-handed bird imagery. Rather, they've designed some serenely conceived rectilinear pavilions as their primary architectural expression, with a harmonious secondary order of more freely expressed forms in smaller-scale elements.
Their restraint is welcome, because while the appropriate placement of wings may always be obvious on birds, the same cannot necessarily be said for buildings. In its previous incarnation, the Aviary had two entrances that were too small, disjunctive and crowded to work well. The new entry is an elegant white glass-and-steel vitrine, disposed with a slight asymmetry suitable to its adjoining structures. It sits just back from Arch Street with an appropriate culture-in-the-park mien that had previously been lacking. Perhaps a future construction phase will improve the seemingly unchanged back-of-house parking and support spaces the way they have with the front.
Adjoining the entry pavilion is the Helen M. Schmidt FliteZone Theater, which is, according to the Aviary, "the world's first and only indoor theater constructed exclusively for the presentation of live, free-flight bird shows." You could call it the wing where wings take wing. Those birds in notable variety do fly around the auditorium space with great drama, and they will just barely skim the top of your head. This is surely the most exciting experience of the visit (with various bird habitats following closely behind). Some fastidious and well-composed details orchestrate lights and vents, while otherwise letting the birds be the main attraction. (With this in mind, an oversized video screen should really be reduced.)
Architecturally, the building mass here is an essentially rectilinear volume of beige masonry, like the pleasantly Deco Allegheny Traditional Academy across the street. A sculptural upward projection lends compositional rhythm to the whole building, and closer scrutiny reveals some play in the colors and textures of brick, not unlike the variety of, say, a penguin's plumage that is visible only in person.
Then there is the wing, and by that I mean the wing on the wing. The FliteZone theater has an attached piece of faceted architectural sculpture made of metallic mesh, which carries the identifying text, "National Aviary." With supporting steel trusswork revealed through the transparent skin, this resembles a large airplane wing from the earliest wood-and-canvas days of mechanized flight. This is a secondary order of symbolism that connotes flight without forcing the entire structure into subservience to that single idea.
Still, the exterior sculpture introduces the jovially angular language of thresholds and bulkheads on interior spaces that begins theatrically in the lobby and spreads more subtly through the renovated spaces. Such design vocabulary serves as a suitable foil to the more timeless modern nature of the enclosing structures.
The aviary as a whole is freshened, clarified and renewed. Having a wing-like sign that is one component among such architectural goals reflects a thoughtful, multi-layered approach. It's much better than building something bird-like and hoping that it works as architecture.