It wouldn't be a Pittsburgh wedding without a cookie table. But why keep the tradition exclusive to happy couples? In the spirit of the season,
Pittsburgh City Paper
is celebrating the holiday cookie table. We're reviewing bakery favorites, family recipes, and grocery store staples until the table is full.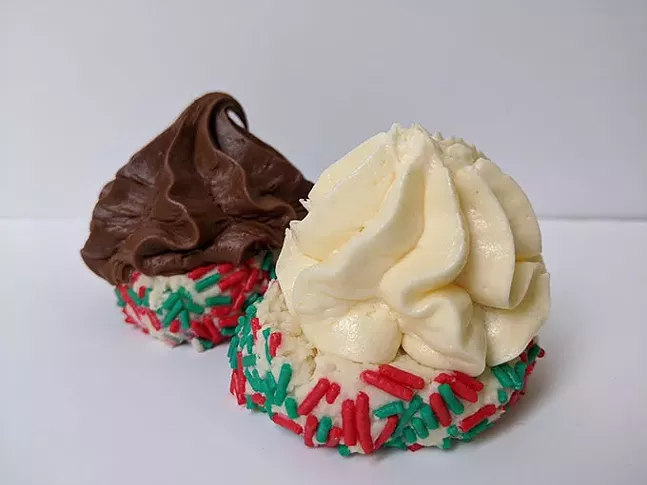 Two inches of icing top every thumbprint cookie from Prantl's Bakery – two inches of sugary, whipped icing on a thin slice of crumbly, sprinkle-studded shortbread. As a finished product, each towering treat stands about three inches tall.

These cookies are a Pittsburgh classic; it wouldn't be a complete cookie table without at least one thumbprint. The treats date back to the 1980s, first created by Kaufmann's Arcade Bakery. Prantl's, with the blessing and help from Kaufmann's original thumbprint baker Kevin Ulrich, has adopted the beloved recipe, now producing more than 60 flavors.
On its own, the shortbread is a few steps away from perfect: buttery and crumbly, falling apart with the slightest bite. Sprinkles, a festive mix of red and green, add a crunchy break to the dense – but not gluey– shortbread.
With the addition of the icing, the sweetness is almost intolerable unless broken into tiny bites. A vanilla French buttercream-topped thumbprint is a bit lackluster, the two inches of whipped icing punching with sugar but not much flavor. The fudge thumbprint is better matched in taste: thick chocolate icing gives the delicate base a welcome richness.
This is not to say, however, that the cookies aren't a joy to eat. You simply need to be prepared for a major sugar rush.