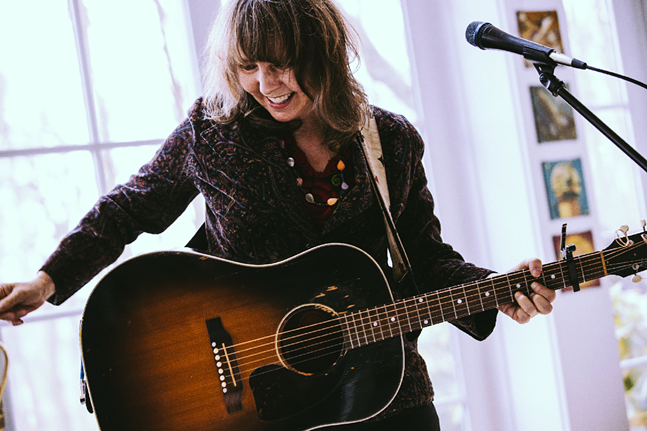 At the end of Amy Rigby's memoir,
Girl to City
, the Mount Lebanon native writes, "I loved the world like I loved New York like I loved Elton John, and I had to keep doing as best I could."
That sentence summarizes four decades of her persistent belief that art, specifically music, makes a difference in the world, that her own body of work — with the bands the Last Roundups and the Shams, and as a solo artist — has been worthwhile.
"There's something about that sentence," Rigby says, slightly choking up during a phone interview. "When I revised the book and was getting it ready a couple of months ago and I got to that sentence, which I had read and re-written so many times, I broke down."
Rigby's emotional coda came nearly 10 years after she started the memoir and more than four decades since she left Mount Lebanon when she was 17 to study at the Parsons School of Design in New York. Rigby went from being an Elton John devotee to a habituè of the burgeoning music and art scenes in Manhattan during the late 1970s. She partied with Jean-Michel Basquiat, served ice cream to Diane Keaton, and saw the seminal punk bands of the era at CBGB and Max's Kansas City.
As she wrote, memories returned about those she loved and the people who hurt or crossed her. In
Girl to City
(Southern Domestic), Rigby writes them as if they are a holy chorus of souls overlooking her life.
"As people die that you're writing about," she says, "you become forgiving, for sure, and their value increases. The more people you lose, the ones who are still here become that much more valuable to you. Even the bad things that happen become treasures."
The not-so-good things that Rigby did also surface in the memoir. Notably in 1993, just when the Shams started to tour nationally, Rigby decided to quit the band to pursue a solo career. But instead of directly informing her bandmates, she sent them faxes.
"It felt important to me to own up to hat, and to even publicly say how awful I felt about it, what a jerk I was," Rigby says.
Throughout the book, Rigby details her often difficult relationship with her father, who was reluctant to embrace her career choices. In 1998, when she played Lilith Fair's local stop at what was then the Star Lake Amphitheatre, Rigby was dismayed to learn her time slot was 1 p.m., when the gates first opened.
After performing, Rigby saw her parents approaching her merch table, her father cursing the festival for not treating his daughter better.
For Rigby, years later, it was a sign of parental support that she had overlooked. "It was only as I was writing the scene that it struck me," Rigby says, "oh my god, he stood up for me."