Editor's Note: Responses were edited for length and clarity.
When photographer Amy Cicconi set out on her mission to photograph Pittsburgh, her publisher, Twin Atlantic, sent her a list of about 200 locations. She visited every one of them, dedicating every free evening and weekend to taking photographs of the Steel City.
The year-long venture resulted in
Pittsburgh Pennsylvania: A Photographic Portrait
, a 128-page book, chock full of photos of Pittsburgh's many landmarks.
But the photographs couldn't stand alone. Nearing the end of her immense list of stops, Cicconi had to find somebody to research the sites. Cicconi's coworker, Christy Repep, jumped at the chance to provide words for Cicconi's photographs.
Now, the book acts as a sort of resource for out-of-towners to see iconic places throughout the city, and hopefully results in folks visiting those places. "It was a challenge worth taking on," says Repep. Cicconi and Repep sat down with
Pittsburgh City Paper
and discussed some of their favorite photographs and experiences putting the book together.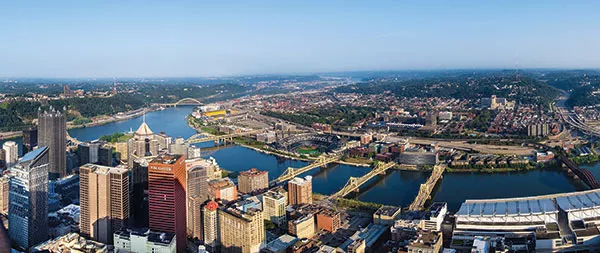 Christy Repep
: Going on top of the Steel Tower was definitely exciting, and I do like heights, so I was excited to do it. I'm a big sports fan, so seeing Heinz Field and PNC Park from that view was really cool.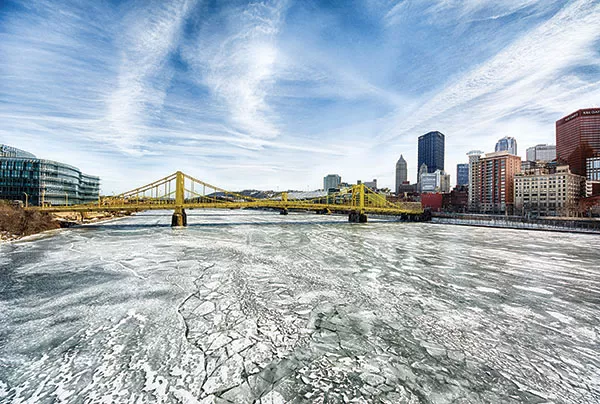 Amy Cicconi
: I love this. You don't see the river frozen very often. I work Downtown, so a lot of days I would go out at lunchtime and just walk around for an hour, and try and check off some of the locations. I just recall it was really cold. This was taken from the center of the Clemente Bridge. You can see that there was something on the surface making tracks. I think at a certain point I figured out that the river patrol was down there, and I think they have some kind of vehicle that can go on the ice. That was really interesting to be able to capture this.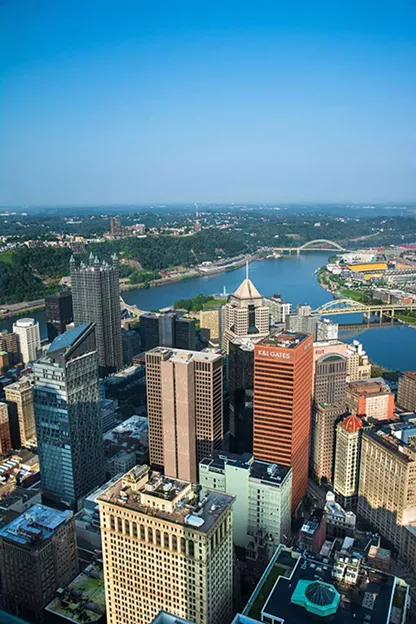 Cicconi
: We had the chance to go on top of USX Tower and a number of the photos — like a lot of aerial photos — were taken up there. It's just a favorite of mine, because, number one, I'm afraid of heights. So I was very nervous to go up there. I didn't know what to expect. It was actually really a lot of fun. We got to go on Labor Day; no one was around. We had as much time as we wanted up there. That was just a really memorable experience. I never thought I'd be on top of USX Tower.
Cicconi
: I always wanted to capture a nighttime city shot, and I'd just never done it. Christy was actually with me on this one, too. This was on Light Up Night. We started out at Station Square and rode up the incline. And then we walked the length of Mount Washington up to the point where you can get this view. We were frozen; it was so cold. But I was happy how it turned out.
Cicconi
: One of the reasons I took this assignment on was I've lived here for 30 years, but there were lots of places in the city that I just have never [seen]. This was one of them. This is a museum [just north of town, the Bayernhof Museum] that is focused on different musical instruments and music boxes. I just thought it was a real interesting place that a lot of people have probably never even heard of.
Cicconi
: Down in Shadyside, there's houses called "Millionaires Row," and they wanted photos. I went down to the Negley-Gwinner-Harter House the first time and the house was wrapped. They had a huge red bow on the entire house, and I was like, "Well, I can't use that as a representative photo." When I came back in the spring, there was scaffolding over the whole front of the house. They were cleaning the front or something. Finally, on the third time, I was able to get a good view of it. That happened a few other times. There were a lot of locations that I went back to, just because I wasn't happy with what I got the first time.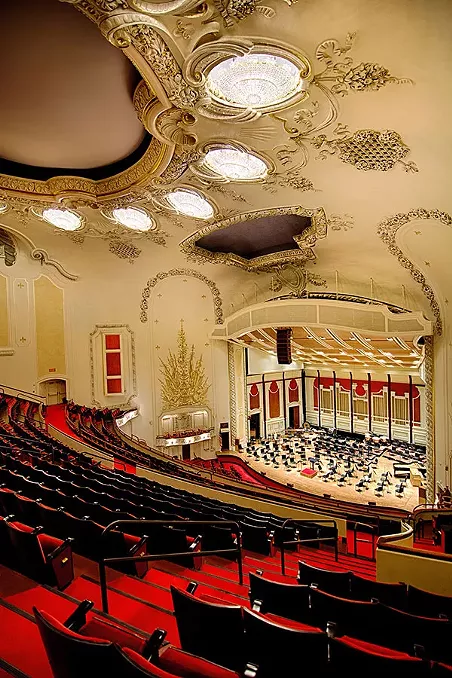 Repep
: Like I said, I'm a big sports fan, so anything sports related I was into. Especially Roberto Clemente and, of course, the Mario Lemieux statues, because we just won the Stanley Cup. I was on location when she took the photo of Heinz Hall. We actually got to go on stage and we were the only ones on stage at the time, so that was really cool.