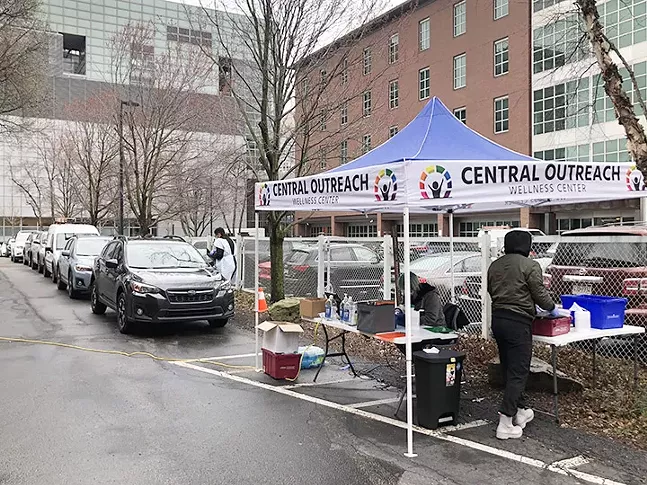 Central Outreach Wellness Center
, a holistic, multicultural, LGBTQIA, HIV, and Hep C health organization located in Pittsburgh, Aliquippa, and Washington, was, like many businesses and health centers, forced to tackle the pandemic head-on.
Without much warning — as RN Nina Jo Washington says, "preparing, we didn't have time to prepare" — the organization adapted its services based on community needs.
The largest LGBTQ+ medical clinic in Western Pa., which is also straight-friendly, Central Outreach was the first clinic in Pittsburgh to offer drive-thru COVID testing. Eventually, testing expanded from its North Shore and Aliquippa locations to the Pittsburgh Zoo. The clinic's fundamental services, focused on HIV treatment and Hep C care, only expanded.
"We have focused on giving everyone access to the care they need, however they need it," says Alex Young, the organization's director of marketing.
"Cultural competency and advocacy are the greatest ways we help patients, along with treatment options from highly trained doctors and nurse practitioners."
We asked a few of Central Outreach's health professionals what it was like to dive into the COVID-19 pandemic. Here are their answers.
Dr. Stacy Lane, D.O.
"Man, sometimes you have to leap and just trust that with God's help, you'll be able to build a parachute on the way down. That's all we did. It was day by day, touch and go. We didn't know until Monday night how many tests we would have available for Tuesday. We didn't know where our next N95 masks were going to come from. We just kept doing the best we could and putting into the universe the things we needed to get it done, all while keeping an open mind for someone with a way to do it better. The local Pittsburgh police directing traffic [at our North Shore location initially] suggested we move to the zoo."
Sarah Miller, CRNP
"Responding to the pandemic in some ways felt familiar because our practice already incorporated community-based testing and public health messaging for the LGBTQ community, so it was easy to jump right into this role for the broader community. For myself and my co-workers, it was not a question of 'Do we respond to this crisis?' but 'How?' I became a nurse practitioner for this very reason, to serve my community and respond to the needs of those around me, so helping in this way only made sense. We continue to focus on maintaining the health and safety of our patients in our daily work during this pandemic. I just love this example: Our staff called each of our patients to check on them and ensure their needs were being met during this crisis. And that meant everything from medications and groceries to emotional support."
Nina Jo Washington, RN
"Preparing … we didn't have time to prepare. I just jumped in. I went into savior mode. We made it happen."
Haley Miller, Medical Assistant
"What was intense for me was all the emotions of the patients we gave care to during that time because you help every one of them and you feel what they're going through. We were the caregivers that they chose to rely on to give them care during a pandemic. So, I'm very blessed to be a part of this team."
Central Outreach is still offering testing at its North Shore location. All tests — COVID, HIV, Hep C, and STI — are free.
---
Central Outreach Wellness Center. 127 Anderson St. Suite 101, North Shore; 95 Leonard Ave Suite 203, Washington; 2360 Hospital Drive Upper Suite 1, Aliquippa. centraloutreach.com