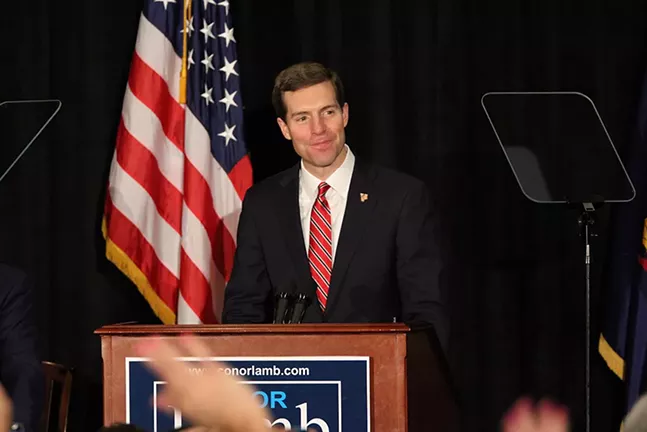 During the 2018 election cycle, there was a lot of money spent trying to ensure now-U.S. Rep.
Conor Lamb
(D-Mount Lebanon) did not win a seat in Congress. According to
campaign finance data
, nearly $8 million was spent in opposition to Lamb before he ultimately won two elections in 2018.
Of that, about $1.1 million was spent by a President Trump-aligned political action committee called
America First Action
. And all of that was spent in just a nine-day window before the special election in March 2018.
But some of the organizations who spent money against Lamb have recently come under intense scrutiny.
Last week, Lev Parnas and Igor Fruman were arrested on campaign finance violations resulting from a $325,000 donation to America First Action in May. Both Parnas and Fruman, Florida residents who are naturalized citizens born in the former Soviet Union, have extensive ties to Trump's personal lawyer
Rudy Giuliani
.
According to the
Miami Herald
, Parnas and Fruman were arrested by the FBI on Oct. 9 and were "charged with running a scheme to purchase U.S. political influence with illicit foreign campaign cash."
America First Action spent more than $1.1 MILLION against @ConorLambPA in 2018. https://t.co/tOeFOYTv2d

— Coleman Lamb (@ColemanLamb) October 10, 2019
Lamb was arguably hit harder than any other U.S. Representative by America First Action. The PAC spent more than $1.1m in just over a week before Lamb's
improbable special election victory
. America First Action spent $75,586 a day on average in efforts to try to get Lamb's opponent,
Rick Saccone
, elected.
Coleman Lamb, spokesperson for the Lamb campaign and Connor's younger brother, made a statement on the arrest and the link to
extensive spending
in opposition to their campaign.
"We knew all of this dark money was coming from far outside of western Pennsylvania. We just didn't know how far."