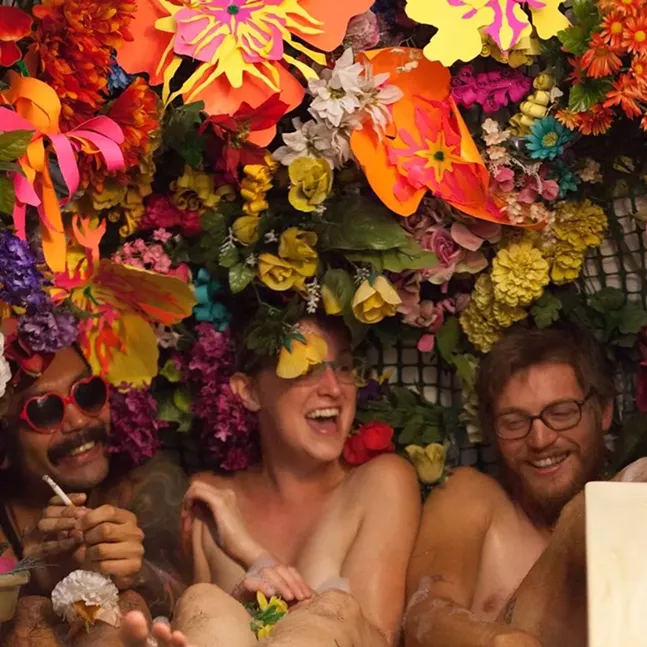 There is a void in the Pittsburgh punk rock music community. Head to a show, and the people who are performing or singing to the crowd all fit a single profile: white, cis, male.
Kensey Bennett, creator and organizer of the upcoming Am I Gross? Fest, aims to change this by bringing the city a more diverse lineup. Or, as she says, "Create the scene that you want to see."
Throughout two days, Am I Gross? Fest will bring a collection of punk and hardcore music to Babyland on Melwood Avenue. The lineup includes local and out of town bands who prioritize the voices and talents of queer and trans folks, people of color, and women.
Among the seven bands performing Friday is Hothead – a Baltimore-based punk band by Laurie Spector who ventured solo after feeling stifled in other male-dominated groups – and Pittsburgh-based Calyx. Poppy and punk with a touch of math-rock, Bennett says that if her high school had Calyx instead of a football team, "the whole town would of all gone to see them every Friday night, eat boiled peanuts and hotdogs, feel happy, empowered, and a sense of community."
Eight acts are slated to play Saturday, including Cloudgayzer from North Carolina and Byrne Bridges from Indiana. According to Bennett, Cloudgayzer is a "raw, fast, hardcore, queer chain to strangle out all the transphobic posers." The group cares hard, yet loves (and growls) even harder. While Cloudgayzer brings the pain, Byrne Bridges will bring dreamy, heartfelt lo-fi power pop that Bennett says is, "romantic, sad, and queer as f*ck!"
Putting together a festival was a dream that Bennett thought about for a few years, but the motivation to finally do so emerged as she attended shows in Pittsburgh and heard the thoughts of those in attendance.
"I was hearing a lot of people complain or feel excluded. And I am very bummed out when I go to a show and every single person playing music and singing to you is a man," says Bennett. "I thought that I had the resources and connections to make something happen where people felt more included." So, she began the process of planning Am I Gross? Fest.
The sole fest creator, who moved to Pittsburgh a little over two years ago, had been booking and playing in shows and festivals for about ten years. Because of this, she has connections with people and bands across the county. In addition to those relationships, Bennett says she has the time and energy to help create a space for other folks that want something like Am I Gross? Fest to happen but don't have the means to do so.
"As a cis white woman, I have privileges and resources and wanted to use that in a good way."
Bennett acknowledges the advantages she has and wanted to use those influences to help women, non-binary people, queer people, and POC in the music scene have a chance to perform and come together in a supportive community. The event is an all-ages, welcoming environment.
Besides giving diverse, underrepresented bands stage time, Am I Gross? Fest is further helping the Pittsburgh community by benefiting Prevention Point Pittsburgh, a local nonprofit dedicated to providing health empowerment services to injection drug users. The harm-reduction organization provides needle exchange services to prevent the spread of injection-related blood-borne disease, along with case management services, assistance to drug treatment, counseling, health education, condom and bleach distribution, overdose prevention with Narcan prescription, and free HIV, Hepatitis C, and STD screenings.
In the punk rock music scene, addiction and overdose are issues that are a big part of the community, but also extremely stigmatized. That is why Bennett decided to donate whatever she can give - it depends on how many people come to the event, as it has been a mostly an out-of-pocket endeavor - to Prevention Point Pittsburgh.
"[PPP] is really out there in the community doing amazing work. It has hit home a lot recently with overdoses in our community," says Bennett. "I think just getting as much of the word out there about what they're doing and what we can do as community members to support friends that struggle with addiction and to help destigmatize all of the shame and negative associations with that and around being an addict [is important]."