One week each spring, the center of the musical universe occupies an area measuring some 12 blocks by 10 blocks in the heart of Austin, Texas. For five days, the music starts at noon and ends just before dawn ... or when you simply can't take it any more.
This is the mammoth music conference and festival South by Southwest, better known as SXSW. Now in its 21st year, SXSW has arguably outstripped the notoriety of New York City's CMJ Festival; it's the mecca for up-and-coming musicians, music-industry professionals, fans and party people.
Last year's fest drew 1,493 musical acts and an official count of 12,002 attendees; this year promises even more. It also promises a heavy Pittsburgh presence, including: Black Tie Revue, Midnite Snake, Black Moth Super Rainbow, Girl Talk, The Cynics, Don Caballero, Rusted Root's Michael Glabicki, and Grand Buffet. There are also recent Pittsburgh exports -- like Breakup Society, Wax Fang and Eric James -- not to mention a handful of Pittsburgh-based artists, managers, and businesspeople.
Some come to Austin seeking a record deal. Others come to represent labels they're already signed with. Some come to test their mettle on the national stage, some to sow the seeds of hype.
But everyone hopes to catch the ear -- or eye -- of someone new.
Tue., March 13 2:15 p.m.
The festival hasn't even officially started, but I'm already behind. Amy Staggs -- a former Pittsburgher who along with her husband, Brett, is putting me up in their North Austin townhouse -- has forwarded me a list of some 40 parties and events, with a clear directive to RSVP for as many as possible.
"Jentzen, I hope you're ready for some epic all-day drinking," Amy had texted me before my departure. But if I'd RSVP'd weeks ago, I'd already hold a hefty clutch of laminated passes; now I'm in danger of finding everything already booked.
This is the unofficial side of SXSW: parties featuring many of the same acts as the official showcases, plus free beer and barbecue. Footing the bill for these extravaganzas are corporate sponsors like Levi's, Miller and Verizon, as well as music labels, Web sites and magazines such as PureVolume, Blender, Spin and Vice.
Does such corporate co-optation trouble me? Put it this way: When the publicist for the Playboy party e-mails to say she's not sure she can put me on the list, I'm suddenly a lot more interested in going.
Wed., March 14 6:15 p.m.
Picking up your official SXSW badge makes a trip to the DMV seem efficient. For myself and thousands of others -- press, music-industry people, anyone who can afford to drop $600 -- it's a multi-hour process, involving four lines at the Austin Convention Center and a mug shot.
Artists, meanwhile, join a much shorter line. There they are tagged, like migrating wildlife, with durable plastic wristbands. They may lose their clothes, their money, even their instruments, but those wristbands will stay attached to them all week.
A hierarchy is being established here, between insiders, musicians and the general public -- people like Amy and Brett, who will finagle spots on guest lists, or attend showcases open to the public. The festival's phonebook-sized directory, meanwhile, sternly warns us not to forget where we came from: "LOSING YOUR BADGE IS BAD and will involve a $600 replacement fee." At each venue, we're told, an RFID (Radio Frequency Identification) chip in the badge will be scanned to prevent counterfeiting.
A press credential -- a laminated pink plastic tag -- will be affixed to my camera, so it won't be confiscated. Freelancing at SXSW is a no-no.
The excitement in line is cut with an edge of paranoia: People are jabbering into cell phones and wondering what they're missing. Right now, they're only missing Pete Townshend's keynote speech ... and, judging from the directory, the "2007 SXSW Golf Tournament." Still, a girl beside me in line looks around at all the calls being made.
"We're just getting here," she nervously whispers to her companion, "and people are already making deals."
Wed., March 14 8:05 p.m.
A man dressed as a large dill pickle -- a sort of mascot -- steps up to the mic. "And now from Pittsburgh: Midnite Snake!"
The pickle gyrates and does crotch-thrusts onstage as the trio kicks into a protean groove. Midnite Snake's three band members look like deranged farmers: ragged clothes, matted hair and disturbingly pubic beards.
Splinters fall in a steady rain from Paul Quattrone's drumsticks. As his powerful strokes join Jim Lingo's baroque basslines in a punishing, inside-out riff, Quattrone sweats through his Steelers "City of Champions" shirt. Stalking the stage in workboots and an ancient cut-off T-shirt from Jerry's Records, Alexei Plotnicov works a beer bottle over his guitar strings, searching again and again for an impossibly high harmonic. He finally hits the sweet spot, and his face twists in an orgasmic leer.
It's the first showcase slot on the first true night of SXSW, and the festival is kicking off Pittsburgh-style.
The showcase is hosted by Birdman Records. Some artists come to SXSW in hopes of getting face time with labels: Anyone with $20 for the entry fee can submit music and a press kit to festival organizers for consideration. But increasingly, SXSW is dominated by acts who've already been signed. Most showcases are hosted by a record labels or other companies -- or even sovereign nations. (Australia, among others, has its own music tent.)
Labels like Birdman host showcases to show off for fans and other industry insiders. Though here too a hierarchy emerges: Birdman's event is at Club DeVille, which is little more than a tacky sign and a cinderblock bunker. A chainlink pen surrounds an outdoor stage area, which has been chipped out of a hillside made of solid rock.
Backstage with the three hairy, sweat-drenched Snakes, a self-conscious Plotnicov is pulled aside for an interview -- it's a promotional video about guitar players at SXSW. Lingo and Quattrone trade slugs from a bottle of Yellow Tail chardonnay and lament last night's theft of a check book and their car stereo.
A SXSW staffer walks up and presents the band with a check. Quattrone explains to me that Midnite Snake has opted to be paid with actual currency, rather than in all-access wristbands.
While SXSW is a 360-degree bacchanalia of music, booze and bodies, it's also very much about money. Not least for Austin itself: Last year's event drew an estimated $38 million to town, according to the city's Convention & Visitors Bureau.
The stakes are much smaller for these guys. Even though they're a signed act, a small label like Birdman isn't exactly sending a Lear jet to pick them up: The band arrived in Plotnicov's station wagon, towing a U-Haul. Cashing the check now -- the SXSW staffer tells them the Hilton will honor it -- seems like a sound investment.
"What time do the liquor stores close?" Quattrone asks the staffer.
Wed., March 14 11 p.m.
SXSW attendees seemingly spend about a third of their time on the phone, furiously texting back and forth such deathless prose as "where r u?" and "leaving party now. meet outside." The festival is also an epidemic of gratuitous Public Important Calls -- whose effect is preferably intensified with a pair of Ray-Bans -- so prevalent that my host Brett christens it Cell By Southwest. Others have called it South By Southtext.
Some of the activity is probably acting -- displays meant to dupe passers-by (and maybe yourself) into believing you're a big shot. But much of it is dictated by the scope of SXSW itself: Every time you catch a band, you miss dozens of others playing at the same time. That's not even counting additional SXSW functions, unofficial shows and parties. At any given moment, you could be missing something everyone else will be talking about.
This too lends the festival a paranoiac edge: The only hedge against missing something is consensus-building with your peers, and on-the-fly calculations of buzz-worthiness.
In fact, ever since the arrival of Black Tie Revue earlier today, bassist Matt Hanzes and I have texted back and forth, arranging to meet and discuss the band's plan of attack for SXSW 2007. The five-man act shows up, punctually, at 11 p.m.
"You've really got to pace yourself," warns guitarist John-Paul McCormick. Back in 2006, the band was still unsigned, and its SXSW trip was of the party-till-you-puke variety. But "things are different when you're signed," McCormick says. "You're representing other people, other businesses."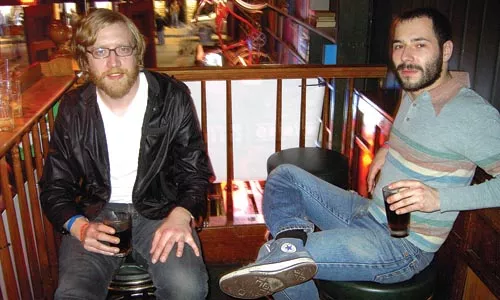 Black Tie's debut, Code Fun, will be released in April, on Gearhead Records. In addition to a couple of day parties, the band is scheduled for the label's Saturday showcase. It will be the first time the group's members have played for label president Michelle Haunold, the woman who -- they hope -- will be signing their checks in the future. Gearhead has already pressed their CD, but a poor performance Saturday could push the group down on the label's priorities.
But Saturday is a ways off. Since we have an hour to kill before Black Moth Super Rainbow's set, McCormick and Hanzes let me in on another crucial business secret: dollar drafts at The Library, a little bar tucked among the large venues on Sixth Street.
Thu., March 15 1 a.m.
The Blender Balcony seems the perfect place to "see" Black Moth Super Rainbow. The band performs in near darkness, the visual focal point being a video screen stage right. The closest thing the group has to a vocalist -- a guy with a vocal synthesizer -- huddles in the far corner, screened from the public by the clustered equipment. The former Ritz Theater balcony still contains seats and risers, and Black Moth delivers a suitably cinematic experience.
"Above the band, a screen showed eye-popping video animations: wildly proliferating plants, cartoon people and food in metamorphosis," Jon Pareles will write the following afternoon, for The New York Times.
I'd hoped to interview one of the band members before the show, but the constant noise and hubbub at SXSW makes recording any conversation nearly impossible. Plus, I've gotten the impression that the band is keeping me, like the rest of its audience, at arm's length. Apart from a brief hello, the closest I've gotten so far is manager Charles Benefiel, who offered that he was "authorized to speak on their behalf."
But there's no hiding now. Camera flashes are exploding in the band's faces, as the synths start to warble and the psychedelic skronk leaps out of the speakers in brain-melting sine waves.
"The band's albums revolve around stories and concepts," Pareles will later write, "but onstage, its music was one glorious buzz."
It certainly is now.
Thu., March 15 12:30 p.m.
Wake up on the floor, in last night's clothes. Not for the first time. An e-mail is waiting in my inbox: Yes, I can go to the Playboy party. But only if I come alone. Intriguing.
Thu., March 15 3:30 p.m.
I'm on my way to see the Walkmen play a day party when an impossibly beautiful woman comes walking toward me down the sidewalk. I momentarily lose control of gross motor skills, recovering in time to notice the sharp-dressed man on her arm: Perry Farrell. Plenty of others at SXSW are on celeb watch too; Farrell is mobbed as he rounds the corner.
At the day party, I run into Matt and Tommy, a couple of industry people I met yesterday. We hustle down the street to yet another patio, where we find one of the very few truly awful bands I'll see at SXSW: a bunch of 20-year-olds who talk between songs -- jokingly, I hope, God help them -- about cocaine. These prove to be MySpace teen fantasies The Pink Spiders.
An audience member standing across the half-empty patio is identified to me as Joe Simpson -- yea verily, the progenitor of Jessica and Ashley. Wearing a Hot Topic-type printed sweater, sunglasses and jeans, and his PDA-clutching assistant much the same, he's part of a breed of talent scout you'll often spot at SXSW. These are, to use Jonathan Lethem's phrase, "men of guile and influence, unyouthful men in youthful clothes." Having run out of daughters to pimp, it seems, Joe Simpson is on the lookout for the next big thing.
Thu., March 15 7:15 p.m.
The banquet room of Austin's posh Four Seasons hotel is jammed with people in jeans and T-shirts. Clustered in groups of four or five, top-shelf cocktails in hand, their myriad conversations add up to a maddening din. Business cards materialize and vanish at a brisk pace.
Music-industry professionals from all over the world come to SXSW. But most of "the suits" just look like overpriced rockers: All that gives them away is that their hoodies, accessories and haircuts look a little too expensive. Even so, there is a note of panic in the air, not surprising given the sorry financial state of the music industry. News of friends recently laid off at major labels, and the implosion of the venerable EMI, flutter on many lips.
I step out onto the relatively peaceful patio, overlooking the Colorado River. Tommy, whom I've followed to the party, is also taking a break. "It's like speed dating in there," he says.
Outside, the gathering is more relaxed and includes Benjy Grinberg, head of Rostrum Records and the business muscle behind Pittsburgh rapper Wiz Khalifa. He's here, at his fifth SXSW, to connect with managers, lawyers, publishers and label reps.
"Whether they're from New York or L.A. or whatever, we're all in Austin at the same time, so it's a good time to have informal meetings and face time," he later says. "It's like a little village for a couple of days, where you can really get a lot done with a lot of people in one little area." Although the industry is being increasingly decentralized by technology, person-to-person contact is still king, and one of the best places to get it is at SXSW.
Wiz himself, however, is nowhere to be seen. Grinberg sees the festival as geared primarily toward rock, not hip hop and R&B. "It was more important to talk about him ... than having Wiz himself down there."
After a while, he excuses himself to meet with a rep from Warner Brothers.
Fri., March 15 12:35 a.m.
Yellow Cab drops me off at the Playboy party.
Fri., March 15 12:40 a.m.
Get recognized at the Playboy party -- by a girl from my conservative Presbyterian college.
Fri., March 16 1:30 p.m.
I'm $26.75 poorer from last night's cab ride home. (The Playboy party? Not what you'd think.) I'm also suffering from the effects of several days' worth of cumulative dehydration, and overdue for a date with Gatorade and my e-mail inbox. During the next few hours, I miss a lot: 20 panel discussions at the Convention Center, countless day parties and several showcases. A selection:
• SXSW Interview: Iggy Pop (Room 18ABC) "Expect candid and funny recollections from rock's true survivor."
• Why Does Today's Music Sound Like Shit? (Room 15). "How can this trend be reversed?"
• Rock and Roll Is for Kids! (Room 19A). "The cool kids music scene is really exploding."
• Sloan playing Jane Magazine's day party. "Invitation only please."
• Thomas Dolby, Ane Brun, The Watson Twins, Sondre Lerche and Daniel Johnston at the SXSW Trade Show stage
• Public Enemy
• Safe Harbor Meeting (Room 13B) "For those looking for a 12-step group."
Once again, the cruelties of the SXSW schedule are apparent: Is it fair to ask anyone to choose between the wisdom of Iggy Pop and that of the Serenity Prayer?
In fact, the SXSW schedule is even less forgiving than it looks. Heavily hyped shows fill up quickly, and even badge-holders must commit hours before the actual set if they hope to get in. To see, say, Sparklehorse, you have to pass on 300-400 other events.
On a good night in Pittsburgh, you have your pick of a dozen.
Fri., March 16 9 p.m.
As "Owner of a Lonely Heart" plays over the loudspeakers, the crowd trickles into Get Hip's showcase at the Habana Calle 6 Patio, on the easternmost edge of Sixth Street. The Pittsburgh-based garage-rock label seems to be attracting an older crowd than the twentysomething hipsters outside, who are strutting down what Rolling Stone calls the "the fashion capital of the indie world."
On the street, it's a swarm of ironic T-shirts, tight jeans, glossy leggings and calculatedly careless accessorization. At the Habana, the look is more vintage garage-rock, or borderline mod fashion: men in natty all-black ensembles and sunglasses-at-night, women in skirts and dresses with stylized blocks of bright color.
"We'd like to ease you into our set," Ed Masley says, "with a bit of a ballad." The drummer counts off and the band explodes into the Breakup Society's trademark furious, self-deprecating power-pop.
Masley, a former Pittsburgh Post-Gazette music writer (and occasional CP contributor) now lives in Phoenix. He's assembled a new, Southwestern version of his veteran band, and he's here to promote James at 35, released on Get Hip.
Holding court in one corner is Cynics vocalist Michael Kastelic, the evening's leather-clad prodigal prince. He's not entirely sure what he's doing here, however: The Cynics founded Get Hip in 1985 to release their own records.
"What, are we trying to get signed?" Kastelic asks. And then laughs loud and long.
As it turns out, SXSW granted Get Hip a showcase on one condition: that The Cynics, who have built a loyal national following over the past two decades, would perform. To some extent, even Get Hip's owner, Cynics guitarist Greg Kostellich, doesn't want to be here. But he does want to promote other acts on his label, and so in the semi-darkness of the patio corner, he unpacks T-shirts, CDs, LPs and 7-inches.
"I don't make plans like, 'Oh, I gotta meet this person, gotta meet that person,'" Kostellich later says. He notes that Get Hip's publicist "had tried to meet a few people -- our international accounts. Never, never pulled it off. There's a few that I'm pissed about, 'cause they owed us money."
Sat., March 17 12:30 p.m.
Wake up on the floor in last night's clothes. Again. The townhouse now sleeps 10, including a band called Ad Astra Per Aspera. The place has been transformed into a warren of sleeping bags, undeniably stuffy with rock-band funk.
Happy St. Patrick's Day.
Ad Astra is a Kansas-based indie act, touring in support of its new release on Canadian label Sonic Unyon. The band doesn't have an official showcase on SXSW, so it's playing three unofficial shows instead. The group is a quiet, unpretentious bunch: three guys, two girls and one mother of a conversion van. As one of the members and I guzzle coffee on the porch, I learn there's some dissension over whether SXSW has been worth the trip.
Nothing seems to be happening here for Ad Astra, some of the group members feel. The low point came during a show at a coffeehouse outside of town: A member of the largely disinterested audience looked up from her laptop and shushed them.
Sat., March 17 9:40 p.m.
Michelle Haunold is ecstatic: Black Tie Revue has just demolished the crowd on the Lava Lounge Patio. The Gearhead president took a significant risk on the Black Tie, based on little more than a good word from an entertainment attorney she knows. "I never sign bands solely based on a demo, but in this case ..." Now that she's seen them, she's excited for their future.
She's not alone.
"Black Tie Revue were the weekend's best surprise," Uncut's John Mulvey will later post on the U.K. music mag's blog. "A quartet with tough melodic songs and plenty of keyboard/guitar interplay, the group played rousing power pop ..."
The band members also seem pleased. Along with the write-ups, the night seems confirmation that Black Tie's businesslike approach to SXSW was the right choice -- and just the sort of encouragement they need to get through the long drive back. By the time the band gets home, they'll have logged 3,763.4 miles in the name of rock.
Sat., March 17 10:30 p.m.
Abstract glowing rabbits and film projections loom over Black Moth Super Rainbow and its collaborators, Austin darlings The Octopus Project, as they finish a triumphant set before the Elysium's capacity crowd. Outside the club, three lines stretch across the street and around the corner. These are the three tribes of SXSW attendees: badge-holders, wristband-wearers and the general public. The last are determined but doomed: Even for those with a badge, entering the club takes 20 minutes, some finger-crossing and a couple of quick shoves.
"The apocalyptic atmosphere on Sixth Street ... made it feel as if all hell could break loose at any moment," MTV news scribe Gil Kaufman will later write, "and that's kind of what it sounded like ... during the scorched-earth show from Pennsylvania psychedelic rockers Black Moth Super Rainbow."
Wednesday's performance was probably sharper, but arguably it was the buzz generated by that show that drew many here tonight.
As the bands load off the stage, Black Moth's manager, Charles Benefiel, waves me over to a bespectacled man in his 30s, lanyards draping his neck. He represents Fanatic Promotion, the company hosting tonight's showcase and currently hyping both Black Moth and the headliner, Girl Talk.
"At this point, I'd say the top artists coming out of Pittsburgh are" -- Benefiel counts on his fingers -- "Black Moth Super Rainbow. Girl Talk. And Wiz Khalifa." He shrugs with a gesture of mock humility.
Not surprisingly, the guy from Fanatic agrees, and I nod numbly. Playing SXSW isn't necessarily about being the most talented band in Pittsburgh. It's about having the skills to thrive outside it -- not just talent, but hustle and a tastefully concealed ambition. The SXSW selection process is almost Darwinian: Bands that survive it have shown an ability to adapt to an environment where hedonism is a business, and business a form of hedonism. The festival tests your ability to wield a business card as much as your skill with a guitar pick. It demands the prowess to show up at 11 p.m. on the dot ... in the middle of a week-long bacchanalian frenzy.
As Benefiel talks excitedly about his Top Three, though, I'm starting to wonder whether I have the tools to survive. After four days of walking, overstimulation and drinking beer in the sun, I am literally falling asleep on my feet.
Two quick Red Bull-and-vodkas later, I'm wide awake and a little wasted. And talking with Pittsburgh artist Mike Budai, clinging to his life preserver of genial, bearded calm and SXSW expertise. It's his second time. We talk about how he's spent much of the past few days displaying his prize-winning art at the Flatstock poster trade show. We talk about how I'm no longer sure exactly what I'm supposed to be doing here.
"So long as you're running into some Pittsburgh people here, it's cool," he suggests. "And if you happen to get a little trashed with them, well, that's part of it." We order a round of Lone Stars, and clink cans.
Sat., March 17 1 a.m.
Greg Gillis -- a.k.a. Pittsburgh's celebrated mash-up wizard Girl Talk -- takes the stage, arranging his laptop and other equipment. Benjy Grinberg suddenly materializes, and we replay some of the steroidal networking at the previous day's cocktail party while jockeying for a reasonable view of the stage.
Also, I'm starting to detect the side-effects of my Red Bull cocktail.
"What's happening? I can't hear anything -- the sound here sucks," I complain.
Grinberg looks at me. "Um, I don't think it's started yet."
Finally it does start. Girl Talk's maniacally catchy mash-up blares from the speakers, video projectors come to life, bombarding the audience with GIRL TALK. GIRL TALK. GIRL TALK. The rail-thin figure on stage twitches spasmodically to the beat, framed alone there for just minutes before the crowd bursts on stage, surrounding him. The room erupts in an orgiastic meltdown of musical genres and gyrating bodies, freakish beats and fanatics.
Suddenly I realize that this is it: the moment that SXSW is here to create and mythologize, where tastemakers buzz, crowds and the talent fuse. The type of moment that can be a tipping point in a band's career. The moment fans will recall as "I was there when ..." The moment that makes publicists and press alike wet themselves.
On some level, everyone at SXSW is here to either create, embody or witness moments like these.
"[I]f you aren't into half-naked computer geeks interweaving, like, X-Ray Spex's "Oh Bondage, Up Yours" with the Pharcyde's "Passing Me By," get over yourself and check Girl Talk out anyway." -- Number 6 on Rolling Stone's Top Ten Can't-Miss Shows at SXSW
"Girl Talk concerts inevitably become a mass of sweaty, half-naked bodies, a place where Beyonce, Wu-Tang Clan and Biggie collide joyously with the Pixies, Kansas and Wings." -- Number 2 on Billboard's list of buzz bands to see at SXSW
"Fans stormed the stage after five minutes into the set and got to thrust and grind with their favorite not-DJ." -- University of Texas newspaper The Daily Texan
This, finally, was what I came to Austin to see. Except I didn't see it. For much of Girl Talk's set, I was at Salsaritas Fresh Cantina with a young woman, a $5.79 burrito and a persistent ringing in my ears.
This same moment is also everything that made the previous week so overwhelming: a surplus of music and hype, networking and fatigue. After a few days at SXSW, things that would have blown your mind the first day are a chore by the end. The Stooges are playing? Yawn. Booker T. is hanging out in that bar? So what? The irony of SXSW -- maybe of any event that tries to sell the buzz -- is that you can leave it as jaded as you came in. No matter what happens to you in between.
Eventually we make our way to a seedier section of Austin, for a small, impromptu gathering of locals. Friends of friends, a songwriter I met on the first night, just off work -- people who just live here. There are a couple of SXSW wrecks on the ramshackle porch, handing around a case of Tecate. Adventures are recalled, jokes told, the merits of Journey and Def Leppard compared.
This, maybe, is the part of music that gets lost in the melee of a SXSW. But it'll still be here after SXSW ends.
Inside, someone begins pounding out ragtime and blues on an old upright piano. Someone else joins in on an organ. Another starts picking an out-of-tune banjo -- that's me, I guess. Then the guy who lives there finally says we can stay as long as we want, but it's 6:30 in the morning. Enough with the music already, he says.