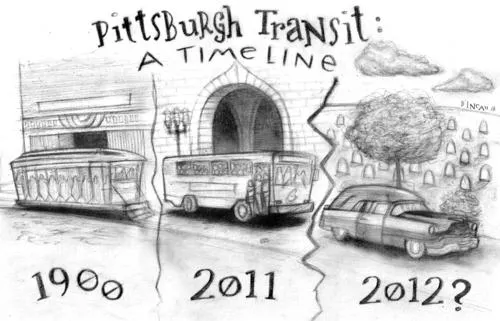 For the past three weeks, buses have been more crowded than ever as a result of a massive Port Authority service reduction. But if riders think things are bad now, bigger problems are looming on the transit agency's horizon.
The 15 percent service reduction on March 27 cut 29 routes, reduced dozens of others and laid off 190 employees. Meanwhile Port Authority officials, Allegheny County lawmakers and transit advocates continue to push the state to fill the funding gap that they say led to the cuts.
"The board's vote [indicated] clearly that the cuts were temporary because of the funding situation," says Jim Ritchie, Port Authority spokesman. "We recognize as an agency there is a demand for service that [has been] cut. If things improve financially, we'll look to restore it."
Some in Harrisburg, however, believe the future probably holds the opposite of what the Port Authority wants: decreased state funding.
"We're at a point where we're looking at minimizing the amount of state support in all aspects, whether education, corrections, transportation," says state Rep. Doug Reichley (R-Berks).
As the Republican vice chair of the House appropriations committee and a member of the transportation committee, Reichley says reduced state contributions are a focus of the Corbett administration and the Republican-led legislature. Without a major influx of revenue, he cautions, local agencies and municipalities will likely be asked to contribute more, although he doesn't anticipate that happening in the next two years.
"People may say that's unprecedented," he admits. "We are in an economic climate that's unprecedented."
Historically, Port Authority has never reversed a service reduction, and it's too early to tell what the agency's next budget will bring. The first presentation to the board isn't until May.
But Port Authority CEO Steve Bland has warned Allegheny County Council that without an increase in funding from the state, the authority could face a deficit between $60 million and $85 million in fiscal year 2013.
And Ritchie acknowledges that once cuts are made, "it's very difficult to rebound from that and put things back in place."
Even if funding is reinstated, there's no guarantee the system will look the same way it did on March 26. Ridership reports since the reduction won't be available until May, but the authority expects to lose up to 13,000 riders. And after a few weeks, Ritchie says, riders find alternative routes or methods of transportation.
"Just because you put a bus on the street doesn't mean you're going to have every rider who rode that bus ready to jump back on."
That isn't stopping a continued effort, however, on the part of the Amalgamated Transit Union Local 85, Port Authority officials and county leaders.
"I don't believe the ship should ever have to sail on restoring the cuts," says Jim Burn, president of county council. "It appears the sides are very close to filling that financial gap."
The sides he's referring to are Port Authority management and Local 85, whose president, Patrick McMahon, offered $18.6 million in temporary wage and benefit cuts to prevent the service reduction and layoffs a day before the cuts took effect. That led to a sometimes ugly back-and-forth between the agency, the union and County Executive Dan Onorato, who proposed two of his own $20 million concession agreements. Onorato rejected the ATU's offer, disputing its worth; the ATU rejected his offer, and the cuts went into effect.
Negotiations are still ongoing. But Port Authority officials caution that though the union's offer was historic [a concession agreement will do little good without reliable state funding.]
"Nothing Pat McMahon could offer would be enough to fix this problem if the state doesn't come through," Bland told county council at a special meeting on March 30.
State funding accounts for about 64 percent of the authority's operating budget; Allegheny County is required to match 15 percent of the state's total contribution.
Last year, the state's transportation funding formula for roads, bridges and mass transit was nearly cut in half when the federal government rejected the state's application to toll Interstate 80. Port Authority's state operating assistance subsequently shrank from $184 million to $150 million.
As City Paper reported in March, there's not much indication that Gov. Tom Corbett will give transportation funding much attention, at least not right away.
His proposed budget called for about $6.3 billion in transportation spending, about a 3 percent decrease from last year, for roads, bridges and mass transit.
And while a task force to study bridging the $3.5 billion transportation-funding gap is in the works, "The governor is focused entirely on the budget," says state Sen. Jay Costa (D-Forest Hills), the minority leader in the Senate. "There's not a whole lot going with [transportation] ... probably not until after the fall."
"I don't think the administration is oblivious to the necessity of maintaining the transit systems," says Reichley. "The question becomes how much" revenue the state will provide.
Some lawmakers, like state Rep. Chelsa Wagner (D-Brookline), worry that the task will fall to already-strapped municipalities. "What the state is saying is, 'Sorry, you have to figure it out yourself,'" she says. "They know local governments can't do that."
In concert with the union's concessions, county council is trying to up its financial support of transit. The Port Authority needs $30 million to reinstate service at previous levels until June 30, 2012. Approximately $20 million of that would have to come from a union-concession agreement, with the remaining $10 million coming from increased county contributions and fare hikes.
Burn's proposal in county council would give the authority an additional $5 million in surplus revenues from the county's taxes on drinks and car rentals. Council also formed a special committee on transportation to develop a plan on funding issues and "legacy costs" -- the cost of pension and other promises made to retirees.
"We all agree we will not go to Harrisburg with our hands out," Burn says. "We want to go to Harrisburg and show them that these are the things we have done to fix the problem."
Lawmakers say that's a smart move. To help avert more drastic service reductions last year, former governor Ed Rendell diverted $45 million in discretionary funds to the agency, which decided to stretch it out over 18 months. The Southwestern Pennsylvania Commission, a 10-county regional-planning board, only narrowly approved diverting the funds to benefit mass transit rather than to repair roads or deteriorating bridges. That move irritated some commissioners from more rural areas.
"Port Authority looks good by taking in steps to rein in costs. Legacy costs are what's killing them." says Costa. "We've helped out, or at least tried to. But [patience is] growing a little thin with the Port Authority."
Bland agrees that the biggest hindrance to a healthy Port Authority in the future is the past. The Port Authority is paying about $32 million of its operating budget toward legacy costs.
"If you start projecting over five years," Bland said, "you can't imagine what the numbers become."