Rich Fitzgerald is the region's No. 1 salesperson. It's Jan. 12, the snowiest day of the year, but the Allegheny County Chief Executive is determined to attend all of his scheduled events, including announcements about the airport and a press conference for the Pittsburgh Marathon.
"Not a lot of people outside the area know about the growth in Pittsburgh," Fitzgerald says, as he exits his office at the Allegheny County Courthouse. "It's about getting that word out."
For his first three events, he chooses to walk, snow be damned, at a brisk pace through Downtown Pittsburgh. On Penn Avenue in the Cultural District, he sidesteps a group of young people strolling too slowly. He wants to walk, but he has places to be.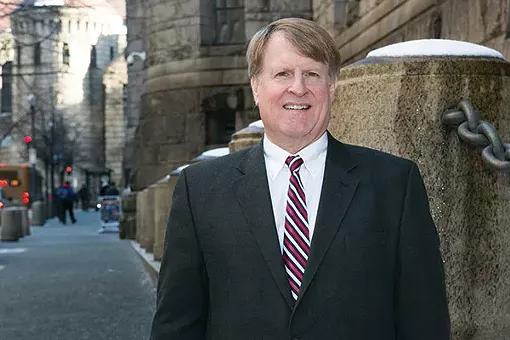 At each event he talks, in his off-book style and thick Pittsburgh accent, about the growing economic vitality of the region, like how the Pittsburgh International Airport added 17 new routes over the last year. And according to estimates, Allegheny County added around 8,000 residents since 2010, the first county-wide population increase in more than 50 years.
Fitzgerald has just completed his first four-year term as county executive, Allegheny County government's highest-ranking official, and in that time, he has become a bit of a polarizing figure. He has gained support from Pittsburgh city officials, many of the region's corporations and Gov. Tom Wolf, all of whom have cited Fitzgerald as a key component of the region's economic growth. But critics have taken issue with some of his decisions and methods, particularly his management style and his role in facilitating natural-gas drilling, or fracking.
Critics notwithstanding, Fitzgerald won re-election handedly and says more growth is on the way for the county.
Pittsburgh Mayor Bill Peduto says the level of cooperation between him and Fitzgerald is "historic."
"I can't recall a time when there has been such a positive relationship between a [Pittsburgh] mayor and a county commissioner or executive," says Peduto. "There hasn't been such a prolonged period where [they're] working on a single agenda together."
Peduto says the partnership has a "yin-yang" balance, where Peduto has good relationships with universities and Fitzgerald has good relationships with the Downtown community. Their collaboration means city and county grants are applied for together, which expedites economic development. It also presents a united front on big infrastructure projects, such as the ongoing push for green solutions for the upcoming ALCOSAN sewage project.
Fitzgerald says cooperation has led to success in his own administration, too. When he first took office, Fitzgerald says, he didn't have many of his current staff members.
"A lot of these folks weren't in place … so I feel like in the next term, we will be able to take it to the next level," says Fitzgerald. "Now, after four years, there is a level of comfort and confidence with what [my staff] can do."
But some think this so-called cooperation hasn't been so easily won. Some of his opponents have criticized his methods. In 2012, shortly after taking office, Fitzgerald compelled many county board members to sign undated resignation letters, which would allow him to remove board members at will. He ended the practice in April 2013.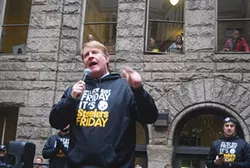 Allegheny County Controller Chelsa Wagner, Fitzgerald's most vocal opponent within county government, expressed criticism over this tactic, and has claimed that Fitzgerald exerts too much influence over county council. Since he took office, only two out of more than 500 pieces of Fitzgerald-sponsored legislation have been defeated, according to council records.
Fitzgerald says his relationship with the county controller has improved over the past eight months, but he did not provide any specifics. After each official was re-elected, last November, they agreed to work together.
Fitzgerald says he has been able to accomplish a lot during his first term, including what is arguably his proudest goal, making the county financially stable again.
"When I first took office, we had just a little more than $5 million in the [reserve fund], and when I met with the rating agencies, they were ready to downgrade us," says Fitzgerald. "And I made a commitment in front of them … that we were going to raise the fund balance, and we did that."
The county's fund balance, or rainy-day fund, currently sits at around $40 million. Since 2011, says Fitzgerald, the rating agencies have upgraded the county three times. (By comparison, state government's fund balance is an embarrassingly low $231,000.)


The sky is now cascading snow and the streets are covered in blankets of white. Fitzgerald is contemplating whether to drive to the airport for a scheduled press conference for Frontier Air. "Well, the [Frontier rep] flew all the way out here, we can make it to the airport for 'em." On the Parkway West, traffic is jammed due to the weather.
"Take 65," Fitzgerald calmly instructs his driver. Just like earlier on the Penn Avenue walk, Fitzgerald would rather not wait. Closer to the airport, Fitzgerald points out county-owned land and details the opportunities it presents.
Last spring, a General Electric research facility was OK'd to build in nearby Findlay Township. Fitzgerald says he would like to lease county-owned land near the airport to more businesses like G.E., bringing increased revenue and jobs to the county.
But some critics wonder whether the job growth is reaching those who need it most. Transit advocate Chris Sandvig, of the Pittsburgh Community Reinvestment Group, told CP in September that areas near the airport were developed "without transit in mind." Workers without access to cars would have trouble accessing jobs in the airport region because bus service is infrequent and sparsely routed.
"For us to be a successful region, we need to be able to accommodate a diversity of development and jobs," says Sandvig. "And the locations of those good-wage jobs need to be where people have affordable access to them."
Fitzgerald acknowledges the need for more equitable growth. "Pittsburgh's growth is really heading in the right direction ... but we also want to make sure that some of the folks that haven't been included before are included in the future." However, Fitzgerald says he has no immediate plans to try to increase public transit along the airport corridor, even though he has verbally supported a bus-rapid-transit line between Downtown and Oakland, a corridor that already has buses arriving every five minutes.
One Fitzgerald-backed project where equitable growth might occur in the near future is in McKees Rocks. In December, a $60 million CSX intermodal rail station broke ground in the McKees Rocks Bottoms. Dennis Yablonsky, CEO of the Allegheny Conference, a consortium of business leaders who drive regional economic development, says projects like these are "the best of all worlds," because there is investment, jobs and "you start to affect a neighborhood that needs it."
Community College of Allegheny County president Quintin Bullock also notes Fitzgerald's support of equitable job growth. Bullock says the county executive frequently references CCAC in speeches and details how the county-run college collaborates with businesses and industry to "help produce a well-trained workforce." This has led to successful job placement for students in programs like nursing and especially welding, which has a job-placement rate of 100 percent, according to Bullock.
Bullock says this potential workforce comes from a variety of backgrounds. "Our student body is very diverse, with all levels of students, from persons who may be eligible for financial aid to persons who are self-paying."
Fitzgerald says that in his first term, building coalitions of government officials, business leaders and educators has contributed to his success. But one group has yet to join Team Fitz: environmental activists.
John Detwiler, of the environmental group Protect Our Parks, has regularly attended county-council meetings and organized protests since early 2014, when Fitzgerald announced intentions to allow fracking underneath Deer Lakes Park.
"I think the executive has tied his future, and the future of the county, to these old extractive industries," says Detwiler. "He has chosen re-industrializing the county over sustainability."
Fitzgerald says money from fracking on airport land has led to lower gate fees at the airport, which means adding more routes, and that money from Deer Lakes drilling has gone toward enhancing the park and cleaning up its lakes.
"We anticipate between $500 to $800 million over the next 20 years," says Fitzgerald of airport fracking revenue. "That is money that the taxpayers won't have to put into the airport … [and] the fact that we are able to fix up the parks without raising people's taxes in my mind is a win-win."
Detwiler objects to Fitzgerald's claims on two fronts. Philosophically, he's worried that relying on third-party money to pay for public services holds county residents hostage to third-party interests. He also says there is irony in saying fracking money will go toward fixing and cleaning up Deer Lakes Park, considering fracking's association with water pollution.
To influence the county's future fracking plans, Protect Our Parks amassed more than 1,800 signatures and sponsored legislation in December 2014 that called for a two-year fracking ban on county-owned land (except Deer Lakes Park) so that studies could be done on the economic and environmental costs and benefits. It was the first piece of citizen-sponsored legislation in county history, but it failed by a 13-1 vote.
"We differ with [Fitzgerald] on his goals and we differ from him on his methods," says Detwiler. "He has been anti-transparent, he has been bare-knuckled against opposition."
As CP reported in November 2013, both activists, citizens and several members on county council took issue with how he handled the Deer Lakes situation. Residents who came to a public hearing on the matter and weekly to county council meetings were adamantly opposed to drilling in the parks. Other county councilors took issue that the negotiations for the drilling contract did not receive proper public vetting.


The two lanes of Ohio River Boulevard are accumulating snow as fast as they're accumulating traffic, but Fitzgerald is confident he will make it to the airport press conference in time. On the drive, he says he is pleased with the county's progress and can't think of any failures from his first term.
When asked about the health-care problems at the Allegheny County Jail, he slightly changes his tune. In 2013, the county, looking to cut costs, hired for-profit health-care provider Corizon for the jail. By May 2015, 11 deaths had occurred under Corizon's watch, twice the national average at jails. Fitzgerald then announced the county would not be renewing Corizon's contract.
"[Corizon] is probably something I wouldn't have done [again]. Looking back on it, it just didn't work. And once we figured that out, we decided to make a change."
At long last, Fitzgerald arrives at the airport. A crowd has formed in front of Frontier's new desk. Just before the car comes to a complete stop, Fitzgerald pops open the door and hurries inside. He'd rather not wait — he has a county to sell.