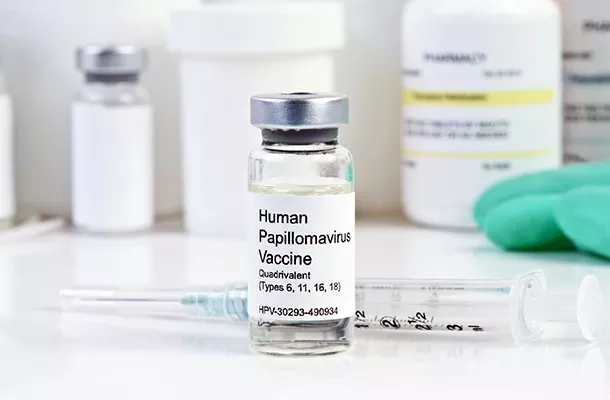 After more than two hours of public comment and board discussion, the Allegheny County Board of Health voted not to move forward with an idea to mandate the HPV vaccine for kids entering the seventh grade.
The
human papillomavirus (HPV)
is the most commonly sexually transmitted infection — so common that most sexually active people will contract at least one strain during their lifetime, according to the Centers for the Disease Control and Prevention, which now recommends the vaccine for boys and girls at ages 11 and 12. Seventy-nine million people in the U.S. are currently infected. While most cases clear up on their own — a point used to argue against the vaccine — cases that do not go away can cause genital warts and cervical and throat cancers.
The board did pass two other motions. One approved "enhanc[ing] efforts to improve HPV-vaccination coverage" (board member Caroline Mitchell abstained) and, separately, "address[ing] public concerns about safety and efficacy of vaccines" (passed unanimously).
The votes did not come without contention, with several in the audience who were against HPV vaccination yelling and interrupting board discussion.
Since the board's June 22
public forum
on the idea of mandating the HPV vaccine, it's
received more than 1,100 phone calls, emails and letters
— 641 in support, 510 in opposition.
Delivering the numbers, Abby Wilson, of the department's public-policy and community-relations bureau, said the subject was one of the most-ever commented on at the health department.
Quoting from some of the most popular responses, Wilson cited "issue of independent parental choice," "overreach of government," "HPV does cause cancer" and "the HPV vaccine prevents cancer and genital warts" as submissions for and against mandating the vaccine.
Of the 13 speakers who provided three-minute comments at the top of the meeting, the speakers opposing the vaccine mandate outnumbered the supporters by three.
"As doctors, we recognize there are a variety of things that cause cancer — tobacco, the sun. For 40 years we've known HPV causes women's cancer in uterine," Dr. Jonas Johnson, a throat-cancer surgeon, told the board. "We've noticed an epidemic. By 2020 [it's predicted that] there will be more HPV-caused throat cancers than [cervical cancers]. What are we going to say to kids who get HPV-caused cancer 15, 20 years from now?"
Some parents addressed the board claiming their children have suffered complications following vaccine injections spoke as well.
"I resent that you're proposing to mandate [the HPV vaccine]," said Michelle Sprague, who says her son suffered adverse reactions from vaccines. "Our officials are paid by pharma ... every one of you are afraid to stand up to them."
(The board explicitly stated there was no regulation to vote on yet, and that the meeting was for public discussion on whether to move forward with the idea. Later in the meeting, board members announced their affiliations; none named any affiliation to the HPV-vaccine industry.)
After public comments, chair of the board,
Dr. Lee Harrison presented
for roughly 20 minutes.
"People emailed comments that said, 'There are no randomized controlled trials.' That is not true," Harrison said. "Other comments included, 'There is no documented proof this vaccine prevents cancer.'"
Harrison then cited a study that showed 98 percent effectiveness in people who were vaccinated before becoming infected with HPV, bolstering the argument to vaccinate kids at ages 11 and 12 — before "sexual debut."
In response to the argument that national Vaccine Adverse Event Reporting System database entries proved the HPV vaccine is harmful, Harrison said, "Anyone can submit a report ... [VAERS data] cannot be used to make inferences."
At that point, health-department director Dr. Karen Hacker intervened to quell shouts from the crowd, including "Post your resumes online!" and "Three minutes is not enough. When can we make a half-hour presentation?"
(Prior to his talk, Harrison disclosed that he is a voting member of the Centers for Disease Control's Advisory Committee on Immunization Practices; that he has consulted with the vaccine industry but not regarding the HPV vaccine; and that his son and daughter both received the three-dose schedule.)
Shortly after the presentation, board member Anthony Ferraro, joining by conference call, made a motion to campaign for higher HPV-vaccination rates without intent to mandate.
The board deliberated publicly for nearly an hour, going back and forth about the language of the motion and calling Wilson back to the podium to give stats of other cities' vaccination rates. (The regions with the highest HPV-vaccination rates, she said, are Washington, D.C., Rhode Island, Philadelphia and Chicago — all which obtained CDC funds devoted to the issue.)
At one point, board member Caroline Mitchell, who identified herself as a constitutional lawyer, expressed doubt with the proceedings, prompting Wilson back to the podium to assure that the board was within the Sunshine Act's legal parameters.
One by one, the county-appointed board members disclosed affiliations. There was a psychiatrist, a retired OB-GYN, and so on, but none identified as being connected to companies making the HPV vaccine.
"I'm a strong advocate for vaccinations," said board member Dr. Donald Burke, an infectious disease doctor, who shared that he's worked his entire life on vaccine development — with the U.S. military on vaccines for Japanese encephalitis in Thailand, at Walter Reed Hospital on hepatitis A, and at Johns Hopkins. "I've watched them [vaccines] work over the years."
After the first motion passed, Burke introduced a second motion asking the health-department staff to create a plan to address the public's apprehensions about vaccines. It passed unanimously.
In the hall after the meeting, Francine Pugliese, of Penn Hills, said she was "not happy but it could've been worse." Pugliese, who wanted to speak but says she couldn't because the speaker list was full, says her daughter was diagnosed with a nervous-system condition called
dysautonomia
after receiving the Gardasil vaccine at age 12. She says at age 21 her daughter still takes multiple medications a day.
"They are definitely not stating all the facts in there. I hate to use the word 'rigged' but it's just very aggravating. ... I'm not sure why they want to make this such a big vaccine when it is not airborne. These cancers come from life choices and that should be something between a parent, their child and their physician."
The health-department staff is now charged with making a roadmap for how to increase HPV-vaccine coverage in the county.