For years, a peculiarity of Pittsburgh was that one of our finest dining experiences was situated far from Downtown's hotels and expense accounts, and the well-heeled enclaves of Shadyside and Squirrel Hill, in one of the city's grittier neighborhoods. Alla Famiglia had a reputation for its intimate ambience, impeccable service and refined Italian cuisine, and people would always add incredulously, "It's in Allentown!"
Pittsburgh's restaurant bandwidth is so much broader now, we wondered if Alla Famiglia's star had faded, or if it was still as impressive as ever. We set forth for Allentown to find out.
We weren't alone: We knew enough to make a reservation at the exalted spot, but the earliest one we could get on a Friday was at 8:30. When we arrived at the tiny second-floor bar for cocktails at 7:45, three of the five stools were occupied by people having full dinners — no small feat as the portions, are, in the Italian gustatory tradition, enormous. Having left the main dining room, with its copper-hooded open kitchen, behind on the first floor, we ascended to the restaurant's third-floor space, a dim, almost ecclesiastical chamber decorated with stained glass and a trompe l'oeil night-sky ceiling.
Accordingly, our table was set with "holy oil" — a seasoned olive oil — for dipping warm, crusty, chewy Italian bread into while we perused the menu. More substantial condiments were also provided, including a superb gustoso — a chunky bowl of three plump cheeses with earthy chickpeas, all in luscious olive oil. This was a promising start.
The frequently changing menu is reprinted daily but always anchored by Alla Famiglia classics like beans and greens and a meatball appetizer, where we decided to start. The meatball was massive, somewhere between a baseball and a softball, both stuffed with and smothered in cheese, and served in a chunky marinara that brightened the plate while deferring gracefully to the savory meat and cheese.
Beans and greens was a broth (but not soupy) with lightly braised escarole, creamy white beans and coarsely crumbled salsiccia sausage, which hovered elegantly on just this side of spicy. Locatelli Romano cheese finished this lovely dish with mildly nutty notes.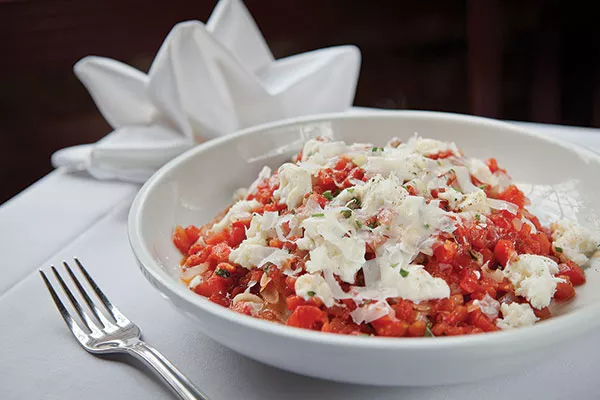 Black mussels diavola came in a sweet plum-tomato broth whose piquant edge derived from spicy banana peppers. The mussels themselves were succulent morsels.
Famiglia's signature item is the double-cut chop of Wisconsin formula-fed veal. This is the costliest thing on the menu at $65, but it's two ribs' worth of chop, with frenched ribs still attached. It's available in three extraordinarily refined preparations: Milanese (crumb-coated, pan-fried, and served with lemon, pignoli and Indonesian blue lump crab); griglia (stuffed with Parma ham, sage and provolone, char-grilled, and finished with a wild-mushroom cabernet demi-glace); and pizzaiolo. The last, which we ordered, featured a chunky tomato sauce with bell and banana peppers plus morsels of sausage, onions and provolone. 
All of this seemed like it would overwhelm mild veal, but because of the considerable heft of the chop, it did not. The meat itself was beautifully cooked, the thickness permitting a lovely grilled exterior and ultra-tender, pale pink interior, adding up to a rich flavor that shone through the hearty sauce, picking up the various sweet, savory and spicy notes without getting lost. As an added bonus, the sausage — which might seem like lily-gilding — was no standard Italian, but a relative of Greek loukaniko, a mild sausage flavored with orange rind for notes that are distinctly fruity without overt sweetness. This was, simply, a magnificent dish.
From the maccheroni list, our friend chose tonno salmoriglio, or Genoa oil-poached tuna tossed with tagliatelle pasta along with imported olives, onions, garlic, pignoli, spinach and anchovies. Again, the ingredients were many, but they played harmoniously as one, with the two fishes bracketing the overall flavor profile: the tuna big and meaty, the anchovies small but packing a briny punch. The other ingredients filled in with toasty, earthy, pungent and mineral notes for a dish that satisfied every taste bud.
In fact, though the name and menu specialties have remained, the restaurant is continually evolving. In his nine years as chef/owner, Jonathan Vlasic has: added new dining areas, including an outdoor terrace; opened a sister restaurant in a small church in the South Hills; and even purchased a farm that is being restored to full function in order to provide fresh produce for both locations. Alla Famiglia has become an elder statesman of Pittsburgh fine dining, but we were delighted to find it not stuck in the past.