A momentary silence descends inside Exclusive Cutz as barber Master PeeWee kills the razor's power. But the quiet doesn't last long: Loretta Harris, who has just been getting her eyebrows trimmed in the second-floor Centre Avenue barbershop, has some sharp words for the new Pittsburgh Penguins arena being built a few blocks away.
"They ain't doing nothing but selling us empty promises," says Harris, sitting in the lone barber's chair.
Harris and her barber have heard about the community-benefits agreement (CBA) signed by the team and local leaders in August. They've heard promises about new jobs and resources for Hill District residents. But they aren't buying it -- yet.
"They're just 'saying'," PeeWee says. "You can say you'll give us a job, but are you going to give us a shot?"
Such skepticism isn't surprising coming from the Hill, where residents still remember the devastation caused by the Civic Arena's construction nearly 50 years ago. They haven't forgotten the 8,000 people displaced or the 400 businesses removed. They say it'll take much more than a 17-page legal document to convince them that the new arena will be any better for them than the first one was.
"They screwed us once before!" exclaims Harris, 56. "They took my street when I was a baby on my mother's arm, and they never gave us anything back."
This time will be different, officials promise. And many want to believe. "You've got to believe there's some hope," says 46-year-old Anthony Ballard, who sells hot dogs, lemonade and ice balls out of a trailer at the corner of Wylie and Soho. "Because if you don't have vision, you'll perish."
"It's just something where we have to wait and see," agrees 82-year-old Harry Williams, sitting on the sidewalk along Wylie Avenue on a sunny September day.
There's reason for optimism: The CBA is promising a neighborhood grocery store -- something residents have long desired -- and it could produce jobs as well. If it delivers, it may change not just the Hill's future, but the way the entire city approaches development. While the fear is that a CBA will be just another in a long line of broken promises, the hope is that it will, at long last, do something to help the barber on Centre, the hot-dog vendor on Wylie.
Because as Williams says, "We've been waiting a long time for the Hill to come back."
"Urban renewal" decimated Pittsburgh's Lower Hill District in the early 1960s. Much of the housing wiped out by the arena was badly dilapidated, but in getting rid of the blight, city officials also swept away famed jazz clubs and other black cultural institutions. Even the buildings still remaining from those days, like the New Granada theater on Centre Avenue, are little more than empty shells.
In order to make sure history wouldn't repeat itself, the neighborhood formed the One Hill Coalition in the summer of 2007.
Often, when development is planned for an area, resident concerns are expressed by a neighborhood organization that represents the community in talks with the developer. But the Hill has many such groups, which have sometimes worked at cross-purposes. So once planning for the new arena got underway, community leaders created an ad-hoc coalition made up of dozens of organizations. Groups such as the environmentalist Sierra Club, the Service Employees International Union (SEIU) and the Hill House Association, a nonprofit neighborhood organization, all joined the Hill District's fight.
The coalition, which called itself One Hill, modeled its fight after economic-justice movements that have taken place around the nation.
The city of Los Angeles is credited with the first CBA in 2001. When leaders there proposed to expand the Staples Center into a larger sports-and-entertainment district, activists fought for a CBA that delivered 2,500 living-wage jobs and a job-training program. Since then, more than a dozen CBAs have been established in cities such as New York, Milwaukee and San Diego.
At the heart of the CBA concept is the idea that involving the entire community allows for a "broad program of solutions," says Gabe Morgan, director of SEIU Local 3, which represents 9,000 service-sector workers.
Creating One Hill "was the single most important thing" the Hill District did, says Morgan, who helped lead negotiations with the Penguins. "What we were able to accomplish was based on the strength of that."
"We had to get all our partners on board; it was a broad process," One Hill chairman Carl Redwood told City Paper shortly after the organization's creation. "It's not a closed room with a few people; [otherwise], we won't have all the support that we need. Our issue is to make sure the folks Downtown understand that we speak with one voice."
It wasn't easy. For one thing, the Penguins had already signed a 30-year lease for the new arena with local and state officials in March 2007, months before One Hill was formed. Once the lease was signed, the community lost a lot of leverage. And relations between One Hill and the Penguins were rocky from the outset, marked by distrust.
Although Pittsburgh Mayor Luke Ravenstahl, Allegheny County Executive Dan Onorato and the Penguins signed a letter promising "to work in good faith" on a CBA, the letter also pledged that the project would not be "delayed or disadvantaged" by discussion of the agreement.
Community leaders saw that as an attempt to weaken their position: "We don't trust them," Redwood told CP at the time. So when the Penguins pushed arena plans through the planning commission, whose approval the team needed, One Hill members were there hoisting signs and shouting disapproval. When the Penguins backed away from the negotiations around the time they made their Stanley Cup playoff run, the coalition threatened to protest the games -- a move that could have meant bad PR for both sides.
But eventually, the two sides settled on a deal. On Aug. 19, team officials, politicians and community members joined for a signing ceremony at the Hill's Freedom Corner -- the spot where black leaders tried to halt redevelopment a half-century ago.
At the ceremony, Onorato described negotiations as "sometimes happy, sometimes sad, sometimes angry." On many occasions, he said, all parties "questioned that [the CBA] would ever get done."
Here's what the coalition won:
A pledge from the Penguins to offer jobs ranging from $12-30 per hour, plus benefits.
A "First Source" job center, which will train Hill residents for, and give them first dibs on, those jobs -- and on jobs created by a development officials hope will take place on 28 acres nearby.
$2 million ($1 million contributed by the Penguins, and the rest by the city's Urban Redevelopment Authority) for a grocery store. Two grocery-story chains have expressed interest in Centre Avenue locations.
A state tax-credit program that could provide up to $6 million over the next 12 years for neighborhood support, including youth services and drug-and-alcohol programs.
The creation of a nine-member steering committee which will allow community members to help determine how to develop the 28 acres nearby.
One Hill didn't get everything it asked for. It had, for example, sought a community-controlled economic-improvement fund, toward which some coalition members wanted the Penguins to contribute $10 million. Instead, the team contributed just one-tenth of that to the grocery store. That prompted criticism from people like Cliff Christian, a Hill District business owner who participated in CBA negotiations for months. "I was appalled at how they let the Penguins off the hook," he told CP in May. "The agreement sucks."
But from day one, says One Hill lead negotiator Evan Frazier, "There was great resistance" to the fund. If the coalition didn't compromise, he says, One Hill risked getting nothing at all.
And the agreement had come a long way since January, when Onorato and Ravenstahl proposed an agreement of their own. That three-page proposal pledged that the Penguins would provide "opportunities for Hill District youth to participate in sports [and] attend Penguins games," but few other specifics. It expressed "support" for a grocery store, for example, and stated that employers "will be encouraged" to hire from the community.
Officials weren't trying to gloss over the Hill's concerns, says Onorato spokesperson Kevin Evanto. Both the mayor and county executive wanted to help undo the destruction caused by the Civic Arena, Evanto says, which was why they came to the negotiating table in the first place. But One Hill issued a scorching response to the proposed agreement -- literally. Coalition members burned a copy in front of TV cameras.
As ominous as that gesture seemed, it may have helped light a fire under the negotiations. As Frazier says, "Since January, we've made significant strides."
Looking back, says Onorato, "The only difference [between our proposal in January and the CBA] is that maybe there was some more detail added to it. ... [O]bviously some people that had to sign it thought that they needed more meat."
Indeed, the final version of the agreement provides very specific steps for fulfilling the promises Onorato and Ravenstahl made in January. The previous proposal merely "encouraged" developers to hire from the Hill; the CBA, by contrast, spells out the funding required for a job center, which will receive $300,000 from the city and county in its first two years.
"It's a landmark agreement," says Kathleen Mulligan-Hansel, director of research and communications for the Partnership for Working Families, a national organization that has worked on CBAs with the Hill District and community groups across the country. "I don't think anyone can look at it and not be impressed."
The most critical provision, she says, is the First Source center, which Frazier expects the Hill House Association to have up and running by early 2009. Mulligan-Hansel says the center is "a really good foundation for making sure not only that local residents have first crack at the jobs ... but also that there will be a process for training residents."
And the jobs won't be minimum-wage positions, either. The SEIU's Morgan says the agreement requires that jobs created in and around the new arena pay union-standard wages. For example, arena janitors will earn roughly $12-15 per hour, while construction workers employed on the site will make about $25-30 per hour. With plans for the 28 acres near the arena still being drafted, it's hard to know how many jobs that will be, but Morgan expects anywhere from 300 to 1,000 new jobs to be created from the entire development.
The Penguins are already showing good faith, he says: According to Morgan, the Penguins recently notified One Hill that they are seeking candidates for an information-technology and public-relations position.
But while the agreement pledges opportunities, it stops short of guaranteeing actual jobs. That isn't lost on skeptics like Loretta Harris.
According to Harris, many Hill District residents have criminal records, hurting their employment prospects. Without a quota written into the contract, Harris worries the Penguins "probably said, 'Just agree to it, and their records will stop them. Would you sign up to give [Hill residents] jobs knowing we've got two, three strikes against us?"
According to Penguins' senior consultant Ron Porter, the Penguins have to be as careful as any employer about who they hire. "If people have a record of violence, for instance, we have to be prudent about bringing those people in," he says.
Porter declined to say if residents could be denied jobs for non-violent crimes. Each crime should be analyzed individually, he says. But he adds that "it's in everyone's interest to create processes that will allow people who are currently unemployable to become employable."
Frazier says the coalition never pushed for a quota system. Instead, he says, the job center's purpose is to show Hill residents where jobs are, and provide training so residents can fill them.
And Mulligan-Hansel says that's the most effective approach. A study conducted by the Partnership for Working Families, she says, concluded that "just doing a quota system on its own is unlikely to produce a lot of results." The ideal system, she says, would consist of both a quota and a First Source training/placement process, "but if I had to pick one or the other, I would always pick the process." Quotas can't provide job training, and Mulligan-Hansel says they can "handcuff" employers. But a hiring and training process helps communities offer "the best possible candidates that [businesses] can't turn down."
Some are already trumpeting One Hill's CBA as a model for others to follow. Pittsburgh City Councilor Bill Peduto, for example, says the city "should embrace them." In fact, he'd like to require a CBA process whenever a development uses large taxpayer subsidies or requires a master plan.
"It's not progressive to be a city that fights against CBAs," Peduto says.
And there is at least some reason to think CBAs produce more benefits than more traditional means of negotiation.
In 2006, when Don Barden proposed building the Majestic Star casino for the North Side, community leaders didn't form a new ad-hoc coalition. Instead Barden followed a more familiar process of working with groups that already existed. He sought the backing of the Northside Leadership Conference (NSLC), a nonprofit community-development corporation composed of 15 North Side organizations.
NSLC Executive Director Mark Fatla says his community group never endorsed Barden's casino plans. Instead, it told Barden that if he made binding pledges on jobs and investments, the group would tell state gambling regulators that "we were comfortable that we could work with him."
After roughly four months, the NSLC got its agreement, and Barden got his license. And even though Barden later gave up control of the casino, its new majority owner, Chicago billionaire Neil Bluhm, ratified the NSLC's deal on Sept. 15.
Much like One Hill's 17-page agreement, the NSLC's three-page pact includes financial commitments to the neighborhood. The casino pledges to provide $3 million for various projects, including housing development and business-district revitalization -- specifically along East Ohio Street, Western Avenue and Upper Federal Street.
But in some ways, the North Side pact is less specific. According to the NSLC deal, the developer "shall provide a hiring preference for its open-employment positions to residents of the North Side." One Hill's agreement, by contrast, spells out exactly how that "preference" is to be shown: It pledges that "[F]or the first week following the notification of the [job center] of the job opening, hiring will only be of applicants that are Hill District residents."
And while One Hill's CBA provides at least $300,000 in establishing its job center with the help of the Penguins and government officials, the NSLC agreement has no job-center requirement at all. Instead, it states that the "NSLC shall ... supply workforce-development services to the Casino ... as well as coordinate training services through the Community College of Allegheny County or similar service providers."
But Fatla hails as "historic" one provision of his agreement. "If future problems arise with respect to Casino impact [on] surrounding North Side neighborhoods," it states, the casino will "cooperate with NSLC to enact further programs to remedy such problems." The agreement does not define "sufficient funding," or specify how to determine whether a casino is responsible for a problem. ("We can't look down the road and know everything that might happen," Fatla says.) But if a spike in prostitution can be attributed to the casino, say, the pact requires the casino to "provide sufficient funding to implement ... programs" necessary to address it.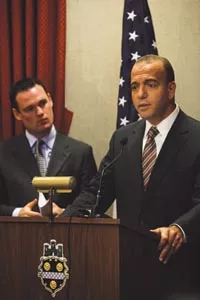 What's more, leaders in both the North Side and the Hill say that if promises are broken, their agreements give them the ability to take the developer to court.
"We wouldn't have negotiated it if we didn't think it was enforceable," says Fatla, a practicing attorney.
Similarly, "We're completely comfortable going to court with this agreement," says lawyer Mike Healey, who helped One Hill draft the CBA. "We were careful early on to draft legally enforceable language."
But state Rep. Jake Wheatley, who represents both the Hill and portions of the North Side, says the real question isn't whether there's an agreement to fight over, but "Do you have the capacity [to fight]?" And that question may be especially hard for One Hill, with its patchwork coalition, to answer.
Wheatley himself has long been skeptical of the involvement of unions in the Hill's CBA process. There is a long history of distrust between blacks and trade unions. On projects like the original Civic Arena, after all, construction workers were almost exclusively white, even when the residents displaced by the project were black. Wheatley wonders whether the SEIU is looking to bolster its membership, and whether it will jump ship once that happens. If they leave, he cautions, One Hill might not have the resources for a lengthy court battle.
"One of my major struggles in this [CBA] conversation is, how much of an outside influence are unions who have ... a certain need that they want?" Wheatley says. "Let's see how long they stay at this table to make sure this community benefits."
The SEIU's Morgan says the union can't help but stand by the agreement. "Unions have been involved [because] their members live in the Hill," he says. "Our members have a direct stake." But he stops short of guaranteeing financial support: Any monetary commitment to One Hill would have to be supported by union membership. "The union is open to doing whatever it can to help One Hill," Morgan says. But, he adds, "I don't have an open checkbook."
In any case, while having promises on paper is important, "The implementation is a critical component," says Frazier. The nine-member steering committee in charge of determining how the Hill District's 28 acres around the arena are developed could determine whether the CBA succeeds or not, and it's too soon to tell how well the committee will function.
Four committee members will be chosen from the One Hill Coalition; the other five will be held by elected officials representing the district: Ravenstahl, Onorato, as well as city Councilor Tonya Payne, state Sen. Jim Ferlo and Wheatley. No decision can be made by the committee if there are more than two dissenting votes.
Frazier says he'd have preferred to have coalition members, rather than elected officials, make up the majority. But he notes that the two-dissenting-vote maximum should prevent One Hill from being steamrolled. "What the supermajority does is force more conversation, as opposed to, 'Here's the vote -- it's gone,'" he says. "[T]here are checks and balances within the process."
Of course, the supermajority cuts both ways: It's unlikely that One Hill could do much to defy the political establishment, either. Onorato and Ravenstahl are political allies; Ferlo sits on the Urban Redevelopment Authority board; and Payne, who usually votes with Ravenstahl on council, has accused Penguins critics of "extortion."
Wheatley, meanwhile, could be a wild card: He has denounced the Penguins, but he has also criticized One Hill. It got only "chump change" from the team, he says -- and when asked whether he could work with the group, would say only, "That's going to be seen."
Even assuming the One Hill coalition voted as a bloc -- a big assumption -- it's hard to imagine the community peeling away the three elected officials they'd need on a position Ravenstahl and Onorato didn't support. What would be more likely is gridlock, with neither side able to muster seven out of nine votes needed for a divisive issue.
And time would not be on the community's side. The CBA makes clear that if a master plan for the district isn't approved by Feb. 19 of next year, the Penguins can proceed without the board's approval. In a serious dispute, the Penguins could get their way simply by waiting the community out.
Frazier, though, is upbeat. "Will people have different perspectives? Clearly," he says. "It's something that the steering team will have to work through."
In the meantime, though, calls for a CBA are already echoing elsewhere in the city.
Earlier this summer, the city's Stadium Authority -- which controls the land between PNC Park and Heinz Field -- sold developer Continental Real Estate two plots of land along the city's North Shore, one for a hotel and the other for an entertainment complex. Continental bought the hotel plot for roughly $8 per square foot. In contrast, another would-be hotel developer, William Kratsa, paid nearly $76 a square foot for a parcel of land just a few blocks away.
For members of Northside United -- an alliance of unions and neighborhood groups similar to the One Hill Coalition -- that is reason enough for another CBA. (The group also cites $4 million in tax subsidies Continental is seeking for its entertainment complex.). The group wants Continental to promise living-wage jobs for North Siders, along with funding for youth-training and home-improvement programs. But so far, says Rev. Michael Glass, Northside United's co-chair, Continental "basically said that they weren't going to do any of [those] things."
Neither Frank Kass, Continental's chairman, nor Barry Ford, who directs development in Pittsburgh, returned phone calls for comment. But Kass made his feelings clear at an Aug. 6 Stadium Authority hearing on the land transfer. Before a crowd of roughly 40, Kass held up a copy of the Northside United blueprint and exclaimed, "I don't understand any of this! All we're doing is building a hotel."
Having been rebuffed by the developer, Northside United is trying to garner support from the mayor and county executive. "They have a unique opportunity to ... show the rest of the city and county that they are, in fact, servants of the electorate," Glass says.
But earlier this summer, Glass says, Ravenstahl told him "he had no plans of seeing another CBA in the city of Pittsburgh. Period." Since that meeting, Glass says North Side residents have sent roughly 100 letters to the mayor and county executive, pleading for their support, and have received no response.
Ravenstahl's office did not respond to a half-dozen phone and e-mail requests for an interview. But for his part, Onorato says flatly, "You don't need a CBA on the North Side. It's too early to tell" if the Hill's CBA will be successful. "Maybe we got it wrong. ... Let's slow it down until we see how [the Hill CBA] works."
In the meantime, he says, residents should follow the Don Barden model of working with established groups: "I don't think we need to be doing community-benefits agreements everywhere." Especially since they may scare developers off, he cautions: "We don't know ... and that's why I say slow [the CBA movement] up."
"I don't think [CBAs] are going to scare anyone away at all. ... That's ridiculous," counters Glass. And the problem with the NSLC's dealings with Barden, he says, is that they take place "behind closed doors. ... Everyone in the neighborhood should have the right to say, 'Here are my concerns. Here's what's affecting my neighborhood. And here's what I would like to see done.'"
Fatla, of the NSLC, says his group did hold public meetings over three months, inviting public input. And the agreement was voted on by the conference's 15 member organizations. "It was an open, democratic process," he says. "Could you find people that didn't know [about it]? Absolutely. We can't expect to reach every individual."
Fatla says he doesn't "begrudge" Northside United's efforts. In fact, he says he encourages the coalition to get more for the community: "We never said that the Leadership Conference's process is the only process." But he worries that Northside United's approach is needlessly antagonistic. The group has staged protests at public meetings, stormed Continental's Pittsburgh headquarters in Homestead and, most recently, filed a lawsuit challenging the legality of the Stadium Authority's land transfer to the hotel developer.
"At the end of the day," says Fatla, "we best serve our neighborhoods by having working relationships with these institutions. ... The goal is not to beat up or embarrass the other side -- the goal is to let the other side know that you could beat them up or embarrass them."
Something else may prevent Pittsburgh neighborhoods from repeating the Hill District's success: Few have been such notorious examples of redevelopment's failure. The historic resentment over the Civic Arena gave Hill residents additional clout, and it helped bring officials like Onorato to the table. Rightly or wrongly, the political stakes may be lower in areas where failed developments were less conspicuous.
That has some lifelong North Siders frustrated. Glass lived in Manchester back when the Route 65 extension was built in the 1960s. "My family ... had to move so that ... people from Beaver County could get into the city," he says. Thanks to that project -- and the construction of I-279 elsewhere in the area -- "I literally watched the community fall down around me," Glass says.
So just as the new arena hopes to reverse the mistakes inflicted on the Hill, Glass hopes developers like Continental will do the same with projects on the North Side and elsewhere.
"We're not trying to put a gun to their heads and saying, 'Give us billions of dollars,'" Glass says. "We're saying, 'What do you think makes sense for you to show that you're interested in the welfare of the people of the city?'"
(Adam Fleming contributed reporting to this story.)