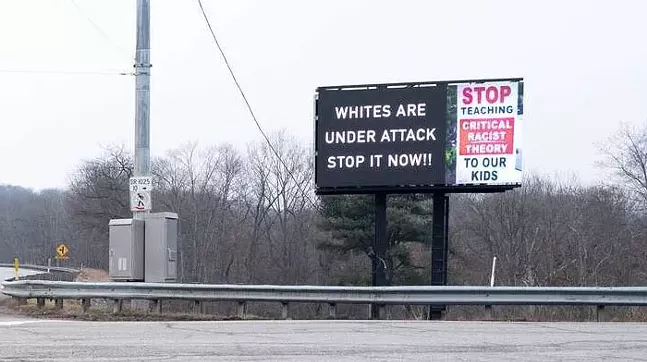 NEWS: Swastika signs appear in Butler County
Local leaders, led by the YWCA Butler, convened a meeting last week to map out a community-wide response to a newly installed billboard featuring a swastika and other offensive messaging.

The billboard reportedly began displaying messaging Jan. 9 at a prominent intersection in Summit Township. The swastika accompanies the message, "FBI corrupt & dangerous THE GESTAPO." The board rotates through a range of other slides that contain homophobic and white supremacist statements.

Elizabeth Short, YWCA Butler's executive director, told Pittsburgh City Paper that over 50 people gathered for a Jan. 11 meeting to discuss a response.

"There is a significant number of people who are not willing to sit by and let this hate speech go unchallenged," Short said.

The billboards are reportedly located on private property and the presumed owner has a history of displaying similar messaging in neighboring Armstrong County. Township officials who supplied the permit told the Butler Eagle it could not intervene because the billboard constitutes freedom of speech.
Laura Cherner of the Jewish Federation of Greater Pittsburgh told City Paper that her organization has been in contact with local law enforcement and has security protocols for responding to possible anti-Semitic threats.
NEWS: Goats Eat Trees
According to executive director Gavin Deming, Allegheny GoatScape's landscaping goats could use a treat to break up the winter monotony: your Christmas tree! Deming says Christmas trees are full of vitamin C and natural dewormer, making them a tasty and healthy winter pick-me-up for his hard-working goats.
POLITICS: Weinstein Enters Race
Longtime Allegheny County treasurer John Weinstein has officially entered the crowded race for county executive. The six-term incumbent launched his bid for the county's top office with a lavish party on Jan. 12, where guests were encouraged to donate $1,000 for their attendance.
POLITICS: Rieger Drops Out
Chris Rieger has dropped out of the race to replace Tom Duerr on Allegheny County Council, citing family health concerns. Competitor Dan Grzybek remains in the running for the soon-to-be vacated District 5 seat.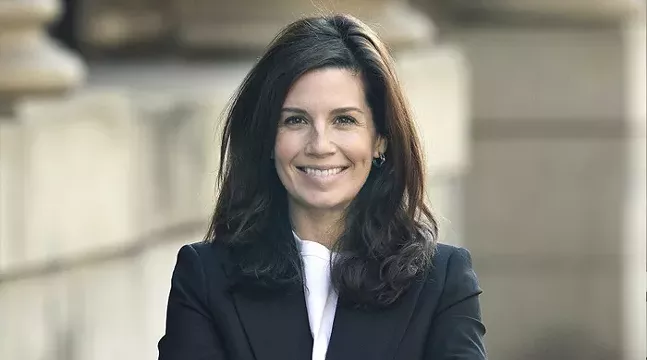 POLITICS: Doven Drama Continues
After CP reported last week on Joanna Doven's thorny Twitter history, the county council candidate drew further criticism when she sought to credential herself as an LGBTQ ally by publishing a statement from Gary Van Horn, the controversial former president of the also controversial Delta Foundation.