It took 14 years, but Tim Walther finally got the nod of approval he'd been waiting for.
It was July 10, 2010, around 12:45 a.m., and Walther was standing just offstage at All Good Festival, the annual music festival in West Virginia that he founded. The night's headlining band was Furthur, featuring Phil Lesh and Bob Weir of jam-band godheads The Grateful Dead. As the applause of more than 20,000 people rained down onstage, Lesh slowly walked toward Walther and leaned in.
"You guys throw one hell of a party here."
With that, 14 years of hard work running All Good all seemed worth it -- especially as 2010 was the festival's biggest year to date.
A year later, Furthur is back as the crowned Friday-night headliner and Walther says ticket sales are set to outpace 2010. But he can't daydream about another smiling compliment from his heroes quite yet.
"We're managing 1,300 staff at this point, and 500 volunteers," plus more than 40 bands, he says from the All Good office in Jefferson, Md. "It's a lot to manage. People think I've got this glamorous job as a rock-concert promoter, but we're working 24/7 as of a month ago, and this is a year-round project. It's 90 percent work and 10 percent enjoyment. But I'm getting close to the enjoyment part."
So are more than 20,000 attendees, jam-band fans from across the country. Now in its 15th year, All Good has slowly grown into one of the most beloved jam-band festivals in the land, rooted on top of Marvin's Mountaintop outside Masontown, W.Va., 90 miles south of Pittsburgh. This year's lineup, per usual, is a veritable who's who of the jam band world as spawned by the Grateful Dead -- Yonder Mountain String Band, Umphrey's McGee, Dark Star Orchestra and moe., in addition to Furthur.
Once a Deadhead who "started out in the parking lot of Dead shows, dreaming of being involved in the scene down the road," Walther credits the band for the scene that supports All Good in the first place. "I'd just as soon have [Furthur] at All Good every year until they stop playing, because there is no better act for the festival," he says.
But Walther's fest has come a long way. The first All Good, held in 1997 in Brandywine, Md., drew less than 1,000 people.
"My partner and I were the only staff, plus a sound guy and one security guy," explains Walther, now 44. "Backstage was wide open. There was half a keg and potato chips. It's grown piece by piece for 15 years. It's amazing where we're at now."
But as summer music festivals have become popular road-trip destinations in the last decade, it's arguable that All Good could've been somewhere else by now -- somewhere much bigger. This year's Bonnaroo Festival in Kentucky, for example, drew about 80,000 people.
"There were times when I considered jumping a few steps, but I thought it was wiser to grow at a grassroots level, a little bit each year," says Walther. "We're not a five-star resort hotel, but I'd like to think we've grown into a five-star hippie campout festival."
Then again, Bonnaroo -- once a jam-band-centric festival like All Good -- sported Eminem as its headliner this year, while All Good maintains its bookings under the jam umbrella, which includes bluegrass, electronica, funk and reggae acts. Without radio-friendly acts, the festival may never become a Lollapalooza-sized behemoth. For that, All Good's fans and bands are thankful.
"I like the fact that All Good has a personality of its own," says Warren Haynes, guitarist of Gov't Mule and touring member of The Allman Brothers, who this year appears as the Warren Haynes Band. "Every fest isn't trying to be Bonnaroo, and it's important that the people you're bringing can relate to the music you book."
In its jam focus, All Good is fairly unique.
"Promoters steer away from that -- they want as many people as can possibly come. But that isn't a priority to Tim," says Chris O'Brian, drummer of reggae act Giant Panda Guerilla Dub Squad. "He books exactly the bands he wants to book, and if you like one of these bands, you can basically watch this music all day and you'll love it. Pretty prime-time shit right there. There aren't too many festivals you can max out like that."
All Good's "no overlapping sets" policy has also made it a band favorite, easing the stress of a bad time slot or, you know, playing 100 yards from Eminem. Playing less-than-ideal afternoon sets in 2010, Papadosio and Pimps of Joytime became the talk of the festival.
"Any band playing All Good will get the attention they deserve," says Papadosio guitarist Anthony Thogmartin. "In our club shows this year, we saw a good 10 percent of new people showing up because they heard about our All Good set."
"A huge music festival is an opportunity to gain six months or a year's worth of fans in two hours," says O'Brian.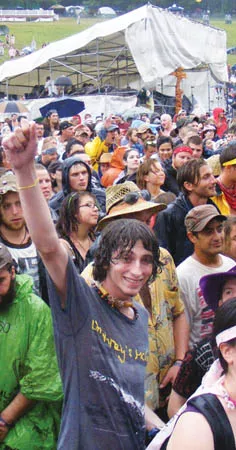 Even seasoned veterans understand the power of a festival.
"You're playing for double, triple or quadruple the number of folks you usually play to," says Adam Aijala of Colorado's Yonder Mountain String Band. "Playing festivals still helps us out, and we're old as dirt."
In the festival world, so is All Good. At 15, it's one of the longest-running multi-day camping festivals around, and fans know what to expect: non-stop music; outdoor camping on a mountainside; and (at least for the intrepid fans) a small, hidden creek to cool off. But it's not without surprises.
"I have something really sweet that I can't talk about," says Walther. But he assures me that the surprise will be, yes, all good.
We note five acts you might want to stick around for at the festival
ALL GOOD MUSIC FESTIVAL. July 14-17. Marvin's Mountaintop, Sunny Hill Road, Masontown, W.Va. $169-199. www.allgoodfestival.com