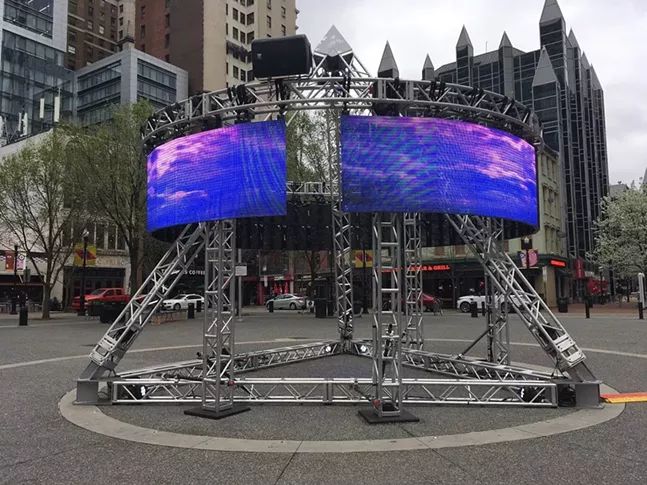 Visitors walking through Market Square in Downtown Pittsburgh will get to see a dramatic new work by local artists Alisha B. Wormsley and Ricardo Iamuuri Robinson.
Presented as part of the Market Square Public Art program (MSPA),
Streaming Space
will tower over pedestrians as a 24-foot-tall pyramid mounted with LED screens and speakers. On view through May 12, the multimedia installation pairs Wormsley's videos and sound pieces by Robinson, with screens looping "meditative" montages of nature and space imagery, vintage jazz concerts, and films.
"Ricardo and I are really excited to share this new work with Pittsburgh," Wormsley stated in a press release. "Our hope is that
Streaming Space
encourages exploration into mindfulness, transcendence, and healing."
Inspired by Afrofuturism and Black utopian ideals, with an emphasis on the contributions of revolutionary jazz musicians Ornette Coleman, Alice Coltrane, and Sun Ra,
Streaming Space
will also serve to confront racism, war, and Western power structures.
The MSPA program was launched in 2014 as an initiative of the City of Pittsburgh through the Public Art and Civic Design Division, Department of City Planning, to engage the city's residents and visitors with public art. The program is produced by the Pittsburgh Downtown Partnership with technical assistance from the Office of Public Art.
Though MSPA has existed for the past several years,
Streaming Space
marks the first installation by Pittsburgh-based artists. MSPA began with an interactive work by the U.K.-based media art duo KMA and has since presented works by various national and international names, including Dutch performance, sound, and installation artist
Allard van Hoorn
and
Jennifer Wen Ma
, a Chinese-born artist based in New York City and Beijing.
"For the last several years, The Market Square Public Art program has commissioned inspiring work by artists from around the globe," states Pittsburgh Downtown Partnership president and CEO, Jeremy Waldrup, in a press release. "For the first installation by Pittsburgh-based artists, we could not be more pleased to present
Streaming Space
. Alisha's and Ricardo's work is vital, timely, and provides an important opportunity for reflection."
As part of the installation, the Office of Public Art will present complementary programming in the square, including an artist talk and performance by Wormsley and Robinson, a live show by Houston-based Lisa E. Harris, aka Li Harris, a panel discussion, and a yoga and meditation class. On May 8, the screens on
Streaming Space
will play videos ranging from animation to documentary by 14 Pittsburgh artists. All events are free and open to the public.