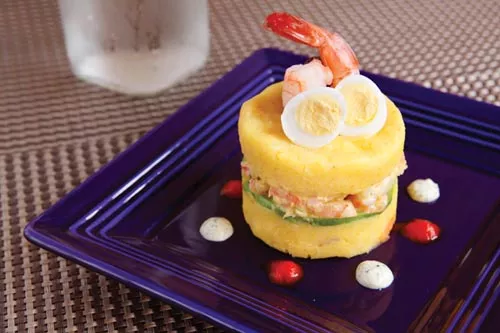 Trying a new restaurant is, for us, much like going to the movies: We don't like to know too much going in. So when we say we were bowled over by how much we liked Aji Picante, a new Peruvian restaurant in Squirrel Hill, it's not because our expectations were low. But, unfamiliar as we were with the cuisine of Peru, there was a limit to how much we could project onto Aji Picante in advance.
There was no mistaking the Latin and Spanish themes in the menu: fried banana, guacamole, even paella were all on offer. But while the ingredients, even the names, of dishes were familiar, virtually every preparation was unique.
Ceviche, for example, is one of Latin America's signature dishes, but we've never had ceviche like the Peruvian style at Aji Picante. The lime marinade was spicy with chiles and almost creamy in texture, clinging to strips of fish that were meaty, not flaky like cooked fish, nor tough as raw fish can be. A clam and a mussel added distinct briny notes, while a quarter of a corncob, served cold and a bit overboiled, offered some sweet relief from the piquant sauce. We found the orange-glazed sweet potato to be distractingly sweet, but the real surprise player in the dish was cancha. These "Andean fried kernels" of corn were large, light, crunchy and addictive, and deserve a place alongside wasabi peas on every bar.
Which brings us to another source of influence on Peruvian food: Asia. Peru has small, but significant, Japanese and Chinese populations, and they've added their own flavors to the cuisine. The menu described lomo saltado as a Chinese-influenced Peruvian favorite, but in this version, at least, the Chinese was merely whispered. In simplest description, it's a steak stir-fry served over hand-cut fried potato wedges and garlic rice. But instead of thin strips of meat, here were substantial pieces of tender sirloin. Comparably sized pieces of tender-crisp red onion and tomato, cooked almost into the sauce, made for a substantial meal, while the fries were excellent, thin and crisp.
Potatoes, of course, are native to Peru, and appear in various guises at Aji Picante. An especially satisfying, and slightly upscale, example was causa de langostinos. This appetizer was served in the form of a cylindrical tower of chopped shrimp and avocado in cilantro aioli layered between gorgeously yellow mashed-potato cakes, all topped with a large shrimp and a halved, hard-boiled quail egg. The presentation was striking, but it's really all about the flavors. Lime and aji amarrillo -- a yellow chile sauce -- added zest to the potato's earthy flavor without overwhelming the more delicate shrimp, avocado, citrus and herbs.
Half-dollar-sized corn fritters were pancake-fluffy within but extraordinarily crisp on their outsides, and were served with a trio of sauces: guacamole, red aji and black Andean mint, plus red-onion salsa. The mint sauce, faintly reminiscent of Greek tzatziki, had a nice cooling effect after a taste of the aji. Angelique wanted to put the sweet-sour, escabeche-style red onions on everything.
Then there was an oddly Germanic interlude, when two entrees arrived looking uncannily like the food of Angelique's homeland. Apanado a lo pobre featured a chicken breast pounded flat and fried until it looked exactly like wiener schnitzel. It was even topped with a fried egg. But the resemblance to German food stopped at the fried banana, which lent a soft sweetness to the savory flavor of the cutlets. With a spritz of lemon and a forkful of the tacu-tacu white bean cake (a deceptively humble-looking lump on the side of the plate), plus some more of those marvelous onions, this dish satisfied all the taste buds.
Seco de cerdo consisted of a naked, roasted pork shank, a preparation known to Germans as haxe and unaccountably rare in the States. Shank meat is tender, moist and flavorful, and can withstand the long cooking required to transform the skin into gorgeous cracklings. Aji Picante did the Germans one better, however, by preparing the shank as confit -- that is, slow-cooking it in fat -- and then crisping the exterior. The result was by far the best pork shank we've ever had. The interior was perfect, the exterior extraordinarily crisp without any toughness, and the whole beautifully seasoned. It was served on a bed of Navy beans, some pureed into a thick sauce, and topped with an autumnal mix of caramelized winter squash, carrots and peas in a dark beer-cilantro sauce.
Only quinotto -- quinoa risotto -- was less than superlative. This dish combined an ingredient native to the Andes with an Italian technique for what sounded like a satisfying vegetarian dish. Unfortunately, quinoa doesn't produce the starchy creaminess of arborio rice, which is the chief joy of risotto, and the array of vegetables -- no fewer than nine were listed on the menu -- failed to cohere into an identifiable flavor profile. This would have been better suited as a side dish to one of Aji Picante's stronger entrees.
For dessert, we splurged on chocolate creme brulée and suspiro de limeña ("sigh of the woman from Lima"), a poetically delicious variation on dulce de leche caramel topped with whipped cream spiked with port wine. The wine added an almost floral dimension, while the dulce was somehow both rich and light in flavor. The brulée was bittersweet, with the native flavor of the cocoa bean thinly veiled, not masked, by sugar.
While we were at Aji Picante, a Mexican acquaintance stopped by our table and told us he considers the cuisines of his country and of Peru to be the greatest of Latin America. After this meal, we wouldn't disagree.
Aji Picante
1711 Murray Ave., Squirrel Hill. 412-422-0220
Hours: Tue.-Thu., Sun. 5-10 p.m.; Fri.-Sat. 5-11 p.m.
Prices: Appetizers $6-8; entrees $17-22
Liquor: BYOB