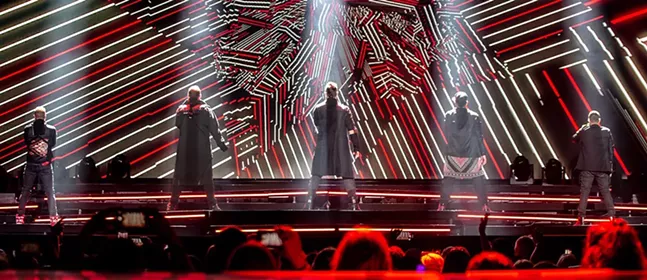 Backstreet Boys played PPG Paints Arena on Saturday for their DNA World Tour, delivering a mammoth, yet surprisingly svelte 33-song set list. There were costume changes and music videos and playful banter and each Boy had solo time on stage. It was my first BSB show. Here are some things I learned.
1. The new album,
DNA
, is good as hell. The opener, "Don't Go Breaking My Heart," is a near-perfect pop song. It's probably my fault for not paying attention, but other people did. The album was their first number-one record in almost 20 years.
2. I was never a big fan of the BSB's more sentimental fare - I prefer the dancey shit - but they knocked "Show Me The Meaning of Being Lonely" out of the park. It's a ridiculous song, but if you're taking things too seriously at a show like this, you're missing the point.
3. The old trope of bands torturing their audience with "the new stuff" got flipped on its head here. Classics from the first three albums were strategically placed to pad the new stuff, with each member getting a solo moment on stage to talk about the new record. Some tracks played only in excerpts or as abridged versions, which was sometimes a bummer (see point No. 1).
4. PPG Paints sells Fox's Pizza. Not bad!
5. I went with a friend who's seen BSB more than a dozen times, including at their Las Vegas residency. She gave the show an 8/10, losing points for the aforementioned shortened versions of
DNA
tracks, since this is was supposed to be the
DNA
World Tour.
6. It's hard and probably unfair to gauge the mental health and happiness of celebrities from a distance, but it looks like these guys are doing great. They were clearly having a blast, and even the cheesier performative banter was charming and seemed genuine.
7. What a crazy journey it's been for these dudes. ("Journey" is a word and concept that came up frequently.) Starting as teenagers (actually, Nick was 12), having Lou Pearlman
steal
their money, being mocked frequently in pop culture, facing dwindling sales in the 2000s, then coming back with a banger like
DNA
. Far out. Well done, fellas.
8. Not to be a dick, but in terms of solo singing, I'm not huge on Brian and Nick. Nobody has a bad voice in BSB, but those two are a little too clean and treacly for my tastes.
9. AJ McLean rules. I remember him as the "bad boy" because he had/has tattoos, but at least in this show, he appeared to be the de facto leader. He was funny, genuine, high-energy, and sang like a saint.
10. There were a number of costume changes throughout the night, but our crowd seemed to resonate best with the all-white getups (circa "I Want It That Way" video), and the collection of Pens/Steelers shirts. AJ is married to a Pittsburgher, and wore a JuJu Smith-Schuster jersey and rocked a terrible towel.
11. Our Lyft driver afterwards overheard my girlfriend and I discussing the show and he asked us if they "even play any instruments." We said they did not in this particular show, and he said that, as a musician, he was offended by that. My girlfriend rolled her eyes so hard that she nearly passed out.