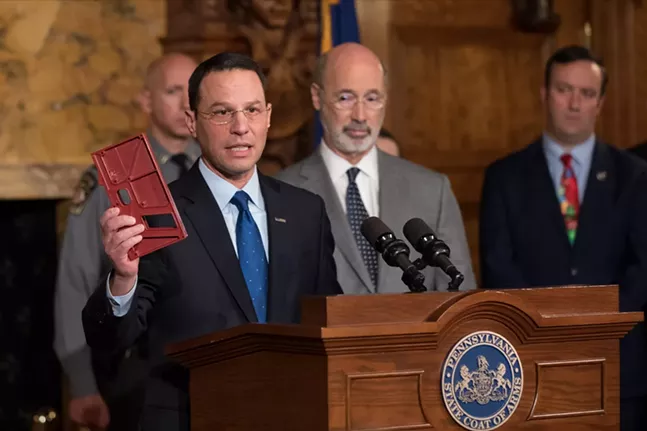 On Monday, Pennsylvania Attorney General Josh Shapiro (D-Montgomery) issued a legal opinion, with support from Gov. Tom Wolf (D-York), broadening the definition of firearms to include "80% receivers," which are partially complete guns that can easily be made functional with a DIY kit.
Shapiro's opinion was issued to combat the growing worry about "ghost guns," which are firearms without a traceable serial number or identifier. They are often possessed by people who would otherwise not pass a background check for purchasing a firearm.
According to the Bureau of Alcohol, Tobacco, Firearms, and Explosives (ATF), 80% receivers are
defined
as "an item that some may believe has not yet reached a stage of manufacture that meets the definition of firearm frame or receiver found in the Gun Control Act of 1968."
"Until this opinion, there was uncertainty over whether 80% receivers can be regulated the same way as fully finished receivers," reads a press release from Wolf and Shapiro. "This gap in enforcement made these weapons easily accessible to criminals and those prohibited from purchasing firearms in the Commonwealth, including convicted felons and domestic abusers."
At a press conference with Wolf, Shapiro referenced a
November shooting
in Santa Clarita, Calif., when a 16-year-old shot five of his classmates, killing two, by using a ghost gun with a partially built receiver. Shapiro's
press release
also mentioned that 100 ghost guns have been recovered in Philadelphia this year.
"My Office is taking the initial step of clarifying - through my official, legal opinion - that under Pennsylvania law, 80% receivers are firearms and can be treated, regulated, and enforced as such," said Shapiro at the press conference. "The proliferation of these untraceable weapons strikes at the heart of our public safety, hindering law enforcement's ability to protect our communities."
Wolf emphasized that Shapiro's opinion won't prevent people from buying guns from kits, but will attempt to close a loophole that prevents those who legally cannot own guns from doing so.
"If something is manufactured to expel a projectile, by an explosive, it's a firearm. Whether it needs a few holes drilled in it, or some assembly," said Wolf at the press conference. "Changing this classification will not hurt legal, responsible gun owners – This change will stop criminals, terrorists and other people who can't pass a background check from acquiring a gun through the loophole."