A highlight of Yoko Ono: One Woman Show, 1960-1971, recently at the Museum of Modern Art, was a listening room that, while mostly archival, was so well curated that it offered guidance that felt like personal discovery.
Ono was part of a multidisciplinary milieu of avant-garde artists that included the influential John Cage.
A version of Cage's screenprint "Fontana Mix" initiates the exhibition Aftersound: Frequency, Attack, Return, at Carnegie Mellon's Miller Gallery. It represents an indeterminate, shifting and unpredictable musical score.
Aftersound is curated by Melissa Ragona, associate professor of art history, media and sound studies in CMU's School of Art, and Miller assistant director Margaret Cox. According to press materials, the exhibit "explores sound's infiltration into contemporary discussions of aural and visual culture, with a particular focus on sound visualization, the physics of sound, political uses of sound, i.e. sonic warfare and DIY, as well as the resurgence of neo-metaphysical experiments with sound as a portal to new sensory experiences." More simply put, it's a show about aural perception and sound as an unfixed phenomenon.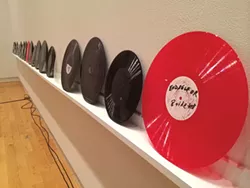 An aftersound is similar to an afterimage: We continue to hear sound even after the source has stopped. Like Cage, the show's contemporary artists examine the physical manifestations of sound and grapple with its definitions, transmissions and notations.
Several works are newly commissioned and, in her yet-unpublished catalogue essay, Ragona places them into musical categories — "Frequency," "Attack," "Return." In Marina Rosenfeld's "Turn of My Century: Dub plates and test pressings, 1998-2014," performers play a score over the course of the exhibition using turntables and custom-made acetate records. Victoria Keddie transforms nontraditional formats, such as electromyograms and sound and video feedback systems, into musical scores, videos and performances. Paul DeMarinis and Jesse Stiles explore sound's physical properties by making frequencies and wavelengths visible through the use of flames, sensors and resonators. Sergei Tcherepnin's interactive "Subharmonic Sparks" offers tongue-like copper protrusions connected to transducers that can be gently manipulated to create new compositions.
Aftersound is so full of additional and extraneous material and objects that it is ultimately confounding. The interpretive guidance and editorial skills of a more experienced curator could have made this unruly exhibition one of discovery rather than obfuscation.
Editor's note: This review was revised after initial publication to correct an error in the original text.