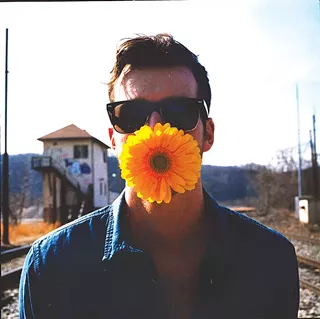 Last October, Jon Bindley gave Norah Jones a book. 
The Pittsburgh-born singer-songwriter was back in his hometown, driving a limousine to make ends meet after two years living in Nashville, when he was sent to pick up Jones from the airport. Some musicians might carry demo CDs for this reason (run-ins with nine-time Grammy-winners), but Bindley opted to hand over his copy of John Steinbeck's The Winter of Our Discontent. He'd already read it three times.
"It feels so much better to give something than to get something," Bindley recalls. Jones put him on the list for her show.
These days, Bindley — who also performs under the name Bindley Hardware Co. — is still connecting with people through art, though not with multi-platinum recording artists. He's a full-time staff educator at Saturday Light Brigade Radio Productions, a local public-radio program founded in 1978 that partners with schools and nonprofits to "encourage and amplify self-expression by youth." According to its website, SLB serves about 8,000 local students per year. For a working musician and former substitute teacher, it's a perfect fit.
"There's a lot of different approaches to this project," says Bindley, 25. "I chose to pursue rallying the artist community around Wilkinsburg students because they naturally gravitate to creative things." 
When you ask Bindley about his work with SLB, he launches into proud-parent mode: sharing videos of his students singing around a piano, showing off prints they made at The Andy Warhol Museum, reciting a Goethe quote he had them memorize ("I have come to the frightening conclusion ..."). 
Ask him about his music career and the answers are shorter. A handful of shows this summer, some studio time booked for August. Style-wise, he takes a page from early Bob Dylan: colorful characters cast in lyrical, literary, country-fied folk. Maybe it's the time in Music City, though to Bindley, Nashville was less about a taste for fiddles and more about learning life as a professional musician. He knew didn't want it. 
"What does success look like? Does it look like money?" says Bindley. "To me, it looks like people. Being able to rally people."