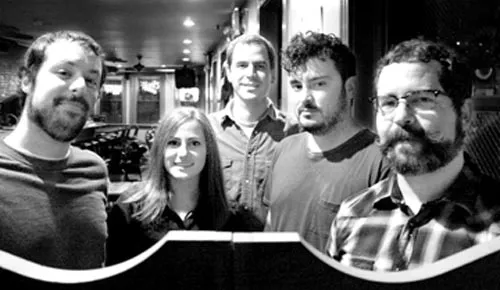 When a band is born, it'll usually release some sort of recording not long after it starts playing shows. But this weekend sees the release of debut albums from two local bands that have been around a while -- and had some issues that prevented them from releasing anything sooner.
For The Red Western, the delays largely result from a revolving door at the drum kit: The rock-infused alt-country band is now on its fifth drummer since its inception in 2007. Other obligations, cross-country moves and the shifting of one drummer, Jon Gunnell, to guitar have left the band searching for a percussionist more often than not. Now, Sean Finn (Life in Bed, Manifold Splendour) has taken over, anchoring the five-piece that's the songwriting vehicle for longtime friends Sean Soisson and Jay Leon.
Loves You is the band's first album, 11 tracks of largely upbeat country-rock featuring the vocals of the more-than-capable Lauren DeLorenze. It's been done for nearly a year now, but with all the band members in one place, and Finn as committed drummer, the band will finally hold an official release show Fri., Dec. 9, at Brillobox.
The same night, not far away, Delicious Pastries releases its own debut, after three years as a band. Some early lineup changes and recording delays plagued the almost-twee pop-rock band, but a hard deadline -- the looming departure of bassist Jacob Eisenstein for a job in Georgia -- left it rushing to get a finished product together in time for this week's release.
"I'd say 'scrambling' is an understatement," says drummer Jesse Ley, explaining that he and co-founder Jonathan Chamberlain were up until 6 a.m. last Saturday night, mixing the album with producer Derek White.
The four-piece (which is rounded out by guitarist Burr Settles) lays it on in the new album, a seven-track affair that, in its complexity, might surprise those who have seen the band live. "When we play live, it's fun and it's energetic, but it's not a true representation of how we sound," says Ley. "It's a really wild record."
THE RED WESTERN CD RELEASE with TRIGGERS, GRAND PIANO. 10 p.m. Fri., Dec. 9. Brillobox. 4104 Penn Ave., Bloomfield. $7. 412-621-4900
DELICIOUS PASTRIES CD RELEASE with GOOD NIGHT, STATES. 10 p.m. Fri., Dec. 9. Thunderbird Café, 4023 Butler St., Lawrenceville. $7. 412-682-0177