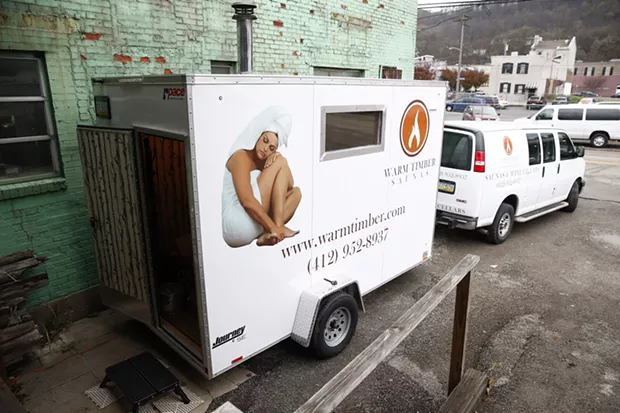 Summer ends. Leaves change color. Next thing you know, your workday is bookended by darkness. Now you're depressed. Maybe you were depressed before fall. I'm not sure, I barely know you.
As a Pittsburgh City Paper employee who dabbles in depression and anxiety in my spare time, I volunteered to examine the purported positive effects of saunas for our Health Issue.
I started this experiment by researching the way any professional journalist would: WebMD. "Short periods of elevated body temperature (hyperthermia) can be an antidepressant," it says on the website — good start. So, I called up John Barbour who owns and operates Warm Timber Saunas in Fox Chapel. Barbour, who builds custom saunas and wine cellars for his clients, also runs a mobile sauna available for backyard parties, corporate events, or even an amateur medical study haphazardly performed in a Strip District parking lot.
Barbour was more than happy to tow his authentic Finnish sauna down Smallman Street so that my colleagues and I could see each other topless, and I could determine the effects that extreme heat therapy could have on the anxiety caused by this exercise.
It's a unique experience to be half-naked at 3 p.m. in front of a florists' loading dock. But there are
no surprises once you step into the sauna. You're greeted by the attractive wood seating, a welcoming wood-burning furnace, and a bowl of heated rocks with a wooden ladle and water for heittää löylyä — a Finnish phrase meaning "throw steam." And it's hotter than a Flag Day sectional sale at Levin's! Sweating begins almost immediately.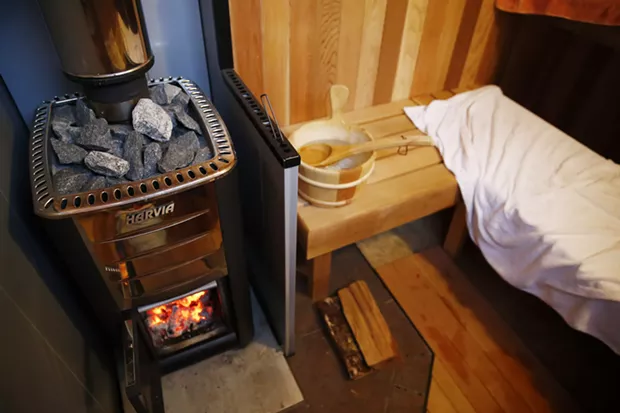 As the three CP employees sat in the sauna for a little over an hour, Barbour regaled us with sauna history and explained how he got into the business. The temperature gauge hovered around 190 degrees Fahrenheit for the bulk of our shvitz. But I would have believed it was 300 degrees when we cut loose the löylyä. After the water hit the hot rocks, an alarming yet relaxing wave of heat plowed its way through the sauna, hitting each participant in sequential order.
Some of us took breaks to enjoy the contrast between the cold Strip District air and the sweltering sauna. After about four trips in and out of the sauna, we decided to return to the 72-degree office to which we're accustomed.
I had taken an online stress test prior to the sauna to see if there would be any differences if I took the same test afterward. But after the sauna I didn't give a crap about anything, so I didn't take it again. WebMD was right. It always is.