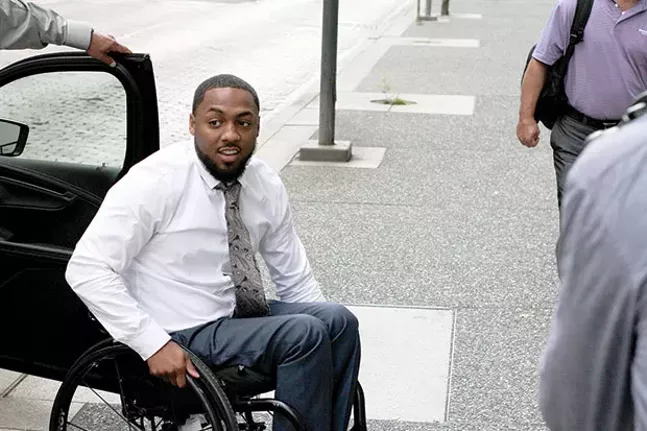 In 2012, now 24-year-old Leon Ford was paralyzed after being pulled over by Pittsburgh police officers for running a stop sign.
The encounter began just like any traffic stop. Ford was asked to show his license and registration. He gave them to the officers and everything checked out.
But there was one problem. The two officers, Andrew Miller and Michael Kosko, didn't believe Ford was who he said he was. Although Ford had the documentation normally required to verify his identity, they believed he was another man, Lamont Ford, who'd had a warrant issued for him.
Minutes into the stop, another officer, David Derbish, was called to the scene. The officers asked Ford to get out of the car and when he refused, they attempted to forcibly remove him. By the end of the 16-minute traffic stop, Ford had been shot five times and lay handcuffed on the ground bleeding.
In the years since the incident, Ford has undergone extensive physical therapy to regain his ability to walk. In 2015, he was cleared of all charges related to the incident. This month marked the beginning of his civil trial against the officers who Ford says violated his civil rights.
"Leon might not be able to walk for the rest of his life," says Brandi Fisher, director of the Alliance for Police Accountability, a law-enforcement watchdog organization. "There's no monetary value you can put on that, but I hope he is compensated as much as possible to get an inkling of justice in this case."
For years, Ford's civil suit has hung like a pall over the city, a reminder of a more tumultuous past. A time before Pittsburgh Mayor Bill Peduto was elected and hired a police chief focused on improving community-police relations.
Appointed in 2014, former Chief Cameron McLay ushered in a wave of reform many believed helped change the culture of the department and minimize the number of police-brutality allegations.
Respected by the community, but not by some of the officers in his command, McLay announced last November that he was leaving Pittsburgh after little more than two years in charge. In the months since his departure, a number of incidents have reignited concern in the community.
Last December, 57-year-old Christopher Thompkins was shot in his own home and killed by Pittsburgh police who were responding to a burglary call there. In May, a Pittsburgh police officer was filmed kicking and kneeing a man pinned to the ground. And last week, a viral video of a violent arrest outside of PPG Paints Arena prompted further cries of police misconduct.
"When the public looks at that video, what are they going to be left with but the impression of a bunch of thugs beating up somebody on the street," says Beth Pittinger, executive director of the Citizen Police Review Board, of the most recent incident. "We have these incidents coming around like we haven't seen in a while. And that's a terrible shame because the bureau has worked very hard over the last several years to improve their image and improve the relationship with the community."
In the wake of these incidents, and as Ford's case raises the specters of police brutality from Pittsburgh's past, many are calling on the Pittsburgh Bureau of Police to re-examine its policies and practices and to hold officers accountable for violating them.
The Alliance for Police Accountability has worked with Ford and other victims of alleged police brutality for a number of years. Fisher says the organization is currently looking into the Sept. 19 incident at PPG Paints Arena.
In the video of the Sept. 19 incident, a Pittsburgh police officer can be seen repeatedly punching Daniel Alderman, 47, of Ravenna, Ohio, in the head and slamming his head into the ground. Afterward, an officer tells Alderman to "stop resisting."
"There are a lot of questions around the way officers respond," Fisher says. "Just looking at the [Sept. 19] video itself, you can clearly see that the individual seems to be responding to the fact he was getting pummeled, the way he was being punched and his head being hit off the concrete. I think anyone would try to get out of that situation or at least maneuver themselves in a way to protect themselves from harm. Far too often when individuals are trying to protect themselves, that's used to demonstrate they were resisting arrest.
"I think after getting punched so many times you're bound to protect yourself and that can't be seen as resisting arrest."
According to police, Alderman had attempted to interfere with the arrest of another man, David Jones, 34, who can also be seen in the video lying face down next to him.