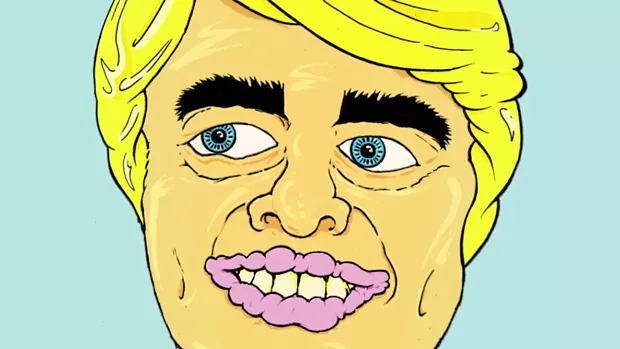 Prepare to have your face melted off. Or, to at least watch someone else's face melt. Portland rapper Aesop Rock paired up with Pittsburgh's TOBACCO – from Black Moth Super Rainbow – for a collaborative album
Malibu Ken
.
Aesop Rock posted on his Facebook page that the two artists have toyed with the idea of a joint project for over a decade. The hip-hop musician toured with TOBACCO and the synth-heavy, psychedelic BMSR group back in 2007.
Malibu Ken
is scheduled for release on January 18. The lead single "Acid King," which premiered today with a music video, gives fans a preview of the upcoming album. The animated video was directed by Rob Shaw, who regularly works with Aesop Rock.
"Acid King" mixes TOBACCO's signature synth-saturated sound with Aesop Rock's skillful wordplay. The video features a close-up of a blue-eyed blonde man – likely Malibu Ken – rapping the lyrics to the song. As the track advances, the man's face becomes progressively more unpleasing. Pimples form and pop, worms slither in and out of pores, until finally his hair falls out and his face actually melts off, leaving behind a bloody, muscle covered mess. So fair warning, it's gross.
This is not, however, the first time the two have made music together. In 2008, a year after they toured, TOBACCO dropped, "Dirt," a lyrically abstract song featuring Aesop Rock that debuted on the album,
Fucked up Friends
.