Susan Hicks was riding her bike Oct. 23 the exact way Pennsylvania law required her to: as if she were driving a car.
The 34-year-old University of Pittsburgh educator pulled her bike behind an SUV, just as she would have a car, and waited for a left-turn signal at a red light on Forbes Avenue, in Oakland. Another car then pulled behind her. When a third vehicle rammed into that car from behind, the chain reaction crushed Hicks between the car and the SUV. She was taken to the hospital but died of her wounds hours later. According to news reports, the driver who initiated the chain reaction, who was uninjured, did not appear to be drunk and did not flee the scene.
"[Hicks] was doing what everyone told her to do; she was not breaking any rule," said Kevin Stiles, board president of the Oakland Planning and Development Corporation at an Oct. 29 vigil in Oakland. "Bikers do not present a life-threatening risk when they have a momentary lapse in concentration."
Hicks' story has rallied the community; every news outlet covered the aftermath, and Mayor Bill Peduto called for safer streets. But bike experts say Pittsburgh is still at least 10 years away from a more complete and safe bike infrastructure system citywide. How to keep the growing number of cyclists safe until then?
The answer could come from a combination of tactics. Some are being pursued — protected bike lanes, increased education about bikes on city streets. Some, like creating new state laws to increase safety for cyclists and pedestrians, need state legislators to act. But for the immediate future, safety for cyclists might come down to simply enforcing laws on drivers who crash into bikers.
No charges have been filed in Hicks' case against the driver who started the chain reaction, and Hicks' death was ruled accidental by the Allegheny County Medical Examiner's office. The incident is currently under investigation, but local bike advocates say crashes like these seldom end with punishment of the driver.
"If a driver is intoxicated or flees the scene, it enables the authorities to pursue prosecution," writes Jane Kaminski of Bike PGH, a cyclists' advocacy group, in an email to City Paper. "[However], lack of state law related to distracted and careless driving makes it all too easy to define these incidents as accidents instead of preventable crashes."
Marc Reisman, a local lawyer who specializes in bike crashes, agrees and says that typically "not much happens" to a driver who initiates a bike crash, "even if the driver admits fault."
Reisman says that pursuing a vehicular-manslaughter charge against a driver demands satisfying a "high legal standard." For the charge to stick, he says, a driver must be considered grossly negligent or to have been recklessly driving (i.e. speeding while tailgating and erratically changing lanes or falling asleep at the wheel).
But a manslaughter charge is not the only enforcement avenue available. Reisman says that minor citations could also be issued to drivers involved in bike collisions. Among the hundreds of bike-related cases he has worked on, Reisman says, he rarely has seen a citation issued even if an officer notes on a police report that a violation could be issued.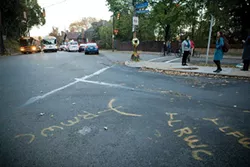 According to Reisman, possible citations include: failing to yield the right of way; turning left at an intersection in front of an oncoming cyclist; careless driving; and violating the state law requiring four feet of clearance when passing a cyclist. Reisman says he has heard of only one four-foot violation issued in the city since the law took effect in 2012. Pittsburgh public-safety spokesperson Sonya Toler did not return calls and emails requesting comment for this story and for updated numbers on cited violations of the four-foot rule. At the time that CP last reported on the four-foot rule, in August 2014, Allegheny County had recorded 12 citations in that first two-year span, according to court data.
Drivers going uncited in fatal crashes is not a new phenomenon. In July 2012, Anthony Green was struck on Penn Avenue near the Pittsburgh/Wilkinsburg border by Danielle Thompson, who was driving without a valid driver's license. Green died as a result of the crash. Scott Bricker, director of Bike PGH, says he followed up for months after the incident but never received word whether Thompson would be charged. Allegheny County criminal records show no charges associated with a Danielle Thompson matching the case.
"Why is there no accountability when a driver hits a cyclist?" asks Ed Quigley, a cycling advocate from Beaver County.
Quigley has been involved in memorial rides and setting up ghost bikes (bicycles painted white to mark a location where a cyclist died) in Beaver County and western Allegheny County. Four cyclists have died in the region since 2013, and three of those died on an eight-mile stretch of State Route 51, which is designated a State Bicycle Route by PennDOT. PennDOT Bicycle and Pedestrian Coordinator Roy Gothie says that at a September meeting, PennDOT requested that a bicycle subcommittee re-evaluate the segment of Route 51 where crashes have occurred.
As in Hicks' case, one recent death on Route 51 occurred while the rider was following the letter of law. Arthur Bell was commuting from his home in Center Township to his engineering job in Downtown Pittsburgh. Just after dawn, Bell was hit by a flatbed truck while he was riding in the right lane of southbound Route 51 near the Ambridge-Aliquippa Bridge. Bell was transported by a helicopter to a local hospital and later died.
According to Arthur Bell's brother, Brian Bell, Arthur was an experienced and conscientious rider, who once rode across Pennsylvania and Ohio and always wore a fluorescent-yellow vest and a helmet. Quigley believes that Arthur was riding in the right lane instead of the shoulder because the shoulders of Route 51 are usually filled with debris, like "glass and wires." But he notes that, according to Pennsylvania law, Bell is allowed to ride in the lane. Video taken by news crews after the crash show the rear red light on Arthur Bell's bike still flashing as emergency workers assessed the scene. The Allegheny County medical examiner ruled the death accidental, but Hopewell Township Police Chief Brian Uhrmacher says the case is still under investigation by the township, Beaver County Police and the district attorney.
Brian Bell says he hasn't received a report from Hopewell Police after multiple requests but "believes they are considering pressing charges."
Even if drivers were charged in cases like Bell's and Hicks' (where vehicular manslaughter could be easily ruled out because the drivers did not appear to exhibit gross negligence), punishment under current Pennsylvania law regarding careless driving resulting in the death of another person is a $500 fine.
Reisman says nine other states have recently instituted far steeper penalties for careless-driving deaths through vulnerable-road-user laws. VRU laws institute higher penalties when careless driving results in the death of cyclists, pedestrians and others not driving or riding in a motor vehicle. Oregon, the first state to pass these laws in 2007, can seek penalties including 100 to 200 hours of community service and a mandatory traffic course. If the driver fails to complete the traffic course and community service, a $12,500 fine and a license suspension are issued.
Gothie, of PennDOT, says the department is not aware of any proposals for VRU legislation. "PennDOT takes the safety of cyclists and pedestrians seriously, and would review any legislative proposal carefully," writes Gothie in an email to CP. "To date, the department has focused its efforts to improve cyclist and pedestrian safety on education and outreach, as opposed to increasing fines or penalties."
But Pennsylvania is currently in the process of passing a new state law geared at increasing bike safety. House Bill 1361, sponsored by state Rep. Anthony DeLuca (D-Penn Hills), amends the driving code to require cyclists who ride at night to wear "high-visibility safety apparel ... that is retro-reflective," in addition to the front-white and red-rear lights the law already requires.
Bricker, of Bike PGH, says while this bill is well intentioned, it requires cyclists to purchase and carry around more equipment. He says this creates another barrier to getting people to ride bikes as transportation, and transfers the onus of being more responsible away from drivers.
"It seems like a slippery slope," says Bricker. "If there are higher numbers of pedestrians struck, do we require them to wear reflectors and flashing lights at night too?"
While there have been multiple bike fatalities initiated by vehicles lately (another cyclist was hit and killed by a tractor-trailer in Upper Burrell, on Nov. 5), bike-crash fatalities by drivers — 12 in 2015 by CP's count — are down from last year and still sit below the past decade's average of 15 per year. But while the number of fatalities is down, cycling advocates still hope that some action will come out of the recent deaths.
Mayor Bill Peduto's office has announced that over the past year, the city has added 2.62 miles of protected bike lanes and 4.25 miles of additional bike infrastructure. Another protected bike lane is currently being added to a small portion of East Street, on the North Side. And Bike PGH teaches classes on how to ride on city streets.
The city's bicycle and pedestrian coordinator, Kristin Saunders, did not return requests for comment for this story. But on Nov. 9, she told 90.5 WESA-FM that drivers should be aware while sharing the road with cyclists, and suggested that to understand cyclists' perspective, drivers try riding a bike on city streets.
But bike lawyer Reisman believes that more can be done for enforcement. He says police could set up "blanket enforcement" centers on high-bike-traffic areas in the city, where cops sit on corners and issue warnings and tickets when violations occur.
In response to Hicks' death and the deaths of two other pedestrians in Oakland, Pittsburgh police called a meeting with Bricker and Bike PGH on Nov. 2. Bricker says he told officials he'd like to see officers increase enforcement of moving violations against drivers who speed, hurry through traffic lights, or fail to yield to pedestrians.
Above all, Bike PGH wants to see some of the culture around cycling change. And for the advocacy group, that starts with a simple change in terminology. Says Bike PGH's Kaminski: "As a culture, we absolve everyone of fault before an investigation even occurs because we use the term 'accident' instead of 'crash.' 'Crash' is a neutral term, and 'accident' is not."