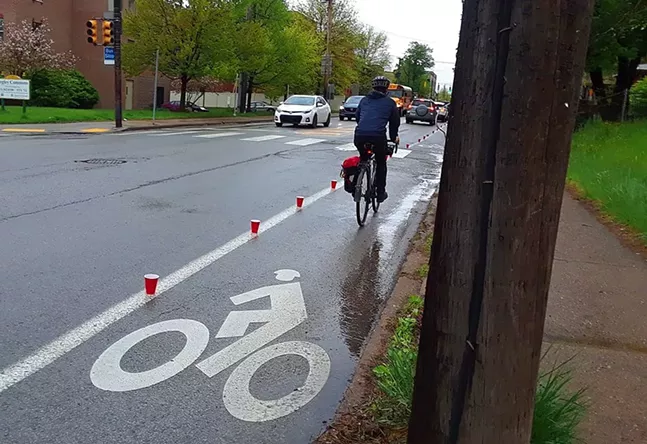 Many municipalities in Pennsylvania, including Pittsburgh, struggle to keep up with the safest cycling infrastructure.
One area where the city is lacking is in parking-protected bike lanes, which move parking spots a few feet away from the curb and convert that new open space into bike lanes. The parked cars act as barriers that protect cyclists from moving vehicles.
But because of Pennsylvania state rules, it is very difficult for Pittsburgh to install parking-protected bike lanes on its own. Pittsburgh residents and bike advocacy group Bike Pittsburgh are trying to bring awareness to this issue.
Today, Bike Pittsburgh and volunteers participated in the
#RedCupProject
, which involves placing red cups filled with water along the lines marking bike lanes. The idea is to show how often vehicles drive into the bike lane, as illustrated on Twitter by Bike Pittsburgh, which showed all the red cups placed Negley Avenue in East Liberty were crushed in just over an hour.
So far, 3 cups have been run over and about 7 have been blown over by cars speeding past them . #DemandMore #RedCupProject pic.twitter.com/5uJKa9CwU0

— BikePGH (@BikePGH) April 26, 2019
According to Bike Pittsburgh, PennDOT maintains only 13 percent of the roadways within Pittsburgh, yet state roads account for the majority of bicycle fatalities and serious injuries. PennDOT installed a one-block parking-protected lane on one side of East Ohio Street in the North Side last year, but others have been harder to come by.
For example, the bike lanes installed on
Forbes Avenue
in Oakland in 2017 were supposed to be parking-protected lanes, but instead were created with plastic-bollard barriers. Cyclist
Susan Hicks
was killed in fatal crash on Forbes in 2015, before any bike lanes were installed. Allegheny County has the
most car crashes
of any county in Pennsylvania.
With today's demonstration showing all vehicles entering the bike lane on Negley often, even over a short time span, Bike Pittsburgh wants to encourage Pittsburghers to advocate for bills recently introduced to the state legislature that will change the rules and allow municipalities to create parking-protected bike lanes more easily.
"We've heard from multiple municipalities who would like to install parking-protected bike lanes, but had to change or water down designs," said Bike Pittsburgh director Scott Bricker in a press release. "This small change in the vehicle code will yield huge benefits in safety, just like it does in other states."
Both
Senate Bill 565
and
House Bill 792
would alter the state's Motor Vehicle Code to allow municipalities to easily create parking-protected bike lanes. An identical version of this bill passed the state House last session but was never brought up in the state Senate.
Pittsburgh legislators that have co-sponsored the legislation include state Sens. Jay Costa (D-Forest Hills) and Wayne Fontana (D-Brookline) and state Reps.
Dan Frankel
(D-Squirrel Hill),
Sara Innamorato
(D-Lawrenceville) and Adam Ravenstahl (D-North Side). Pittsburgh Mayor Bill Peduto and Pittsburgh City Council are also supportive.
And it is not just Pittsburgh. Bike advocates in Philadelphia are also calling for the change.
"Pennsylvania has a serious public safety problem with an increasing trend of pedestrians and bicyclists being killed in traffic crashes," said Bicycle Coalition of Greater Philadelphia director Sarah Clark Stuart in a press release. "The Commonwealth's outdated vehicle code needs to be brought into the 21st century so that Pennsylvania's traffic engineers can redesign roads and streets to make them safe for its most vulnerable users. This legislation is long overdue and must be passed as soon as possible."