We Americans can get so caught up in our melting-pot mythos that we sometimes forget that immigrants shaped the cultures — and cuisines — of many other countries, as well. It was immigrant influence that brought schnitzel to Argentina, Cuban-Chinese restaurants to New York and, closer to home, a Venezuelan-Italian restaurant to Bloomfield.
Adolfo's menu is not fusion, and since most Italian immigration to Venezuela happened in the postwar years, neither is there a complex interplay between the cuisines. Instead, Adolfo's presents a menu of dishes culled from both culinary traditions.
The Italian side was familiar enough, especially in Pittsburgh's self-proclaimed Little Italy, although the daily specials might offer opportunities to try something new: The night we dined, there was a squid-wrapped veal. On the other hand, Venezuelan food, and the food of northern South America in general, is pretty unknown around these parts. In addition to some dishes of meat with rice and beans, Adolfo's offers a selection of arepas, which are thick corn cakes, similar to gorditas or pupusas, which are split and stuffed like sandwich rolls. Fried mini arepas can be had, unstuffed, as an a la carte side, while the full-size ones come stuffed with various combinations of shredded meats, cheese, avocado and more.
We ordered two stuffed arepas, not realizing just how substantial they'd be; one with a cup of soup or salad would make an ample lunch. Shredded chicken was moist, flavorful and complemented with melted mild cheddar cheese; shredded beef had the luscious mouthfeel of braised short ribs, flecked with vegetables and seasonings. The arepa itself, with its distinct corn flavor and light but not airy crumb, had more presence than a sandwich bun, and its interior was tender like a cake of polenta.
Speaking of soup, chef/owner Adolfo Vaccarello makes a mean bowl, good to know as autumn creeps near. We were sorry to miss, by one day, a special of sopa de costilla (beef rib), but the regular menu's pastina, the classic Italian chicken-noodle soup made with tiny pieces of pasta, was a delicious consolation. The broth was intensely umami without being too salty, while the garnishes of basil, cheese and egg added heft and distinguished Adolfo's version from plainer American ones.
Fried calamari were also a step above. We were already pleased with the tender squid — a mix of perfectly cooked rings and those bite-size miniature creatures — and light, crispy coating when we first tried them served with olive oil-garlic sauce. Normally, this comes with sautéed calamari, and marinara comes with the fried, but we ordered a dish of both. Infused not only with finely minced garlic but also with crushed red chili and scallions, the olive oil was mildly piquant, aromatically herbal and revelatory on the calamari, adding big flavor without hiding the essence of the squid. The marinara was also good — thick and balanced between pungent and sweet — but it was the olive-oil dish we mopped clean.
Similarly, linguine pescatatori is available in white or red sauce, and Jason opted for white. Here, garlic and wine enhanced the succulence of the mixed seafood and coated the al dente pasta without dominating the plate. Mussels and clams in their shells, plus shrimp and more squid, were all tender, briny and sweet. This is a deceptively simple dish, with nowhere to hide flawed technique or ingredients, and Adolfo's was superb.
Pesto-cream sauce is paired on the menu with tortellini, but since these were unavailable, we tried it with ravioli. They had a creamy filling and tender wrappers; more cream in the sauce added silky texture and a hint of richness to the pesto without weighing it down or diluting its wonderful herbal intensity.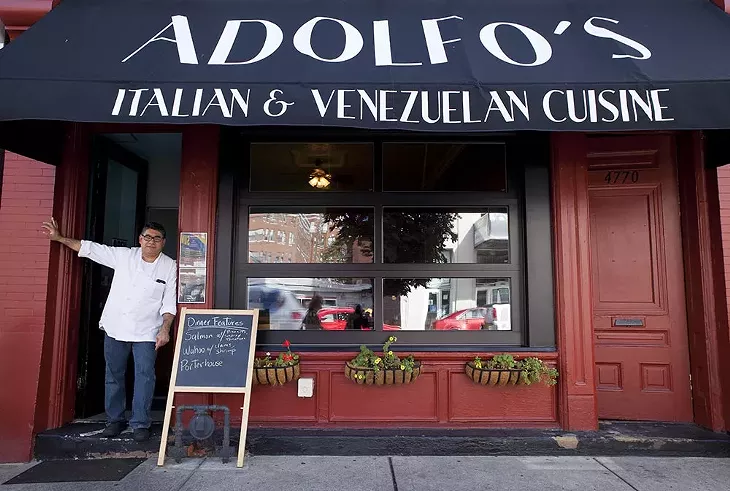 10 slides
Venezuelan cochino frito — nuggets of seasoned, fried pork – was served with rice, cheese-drizzled black beans and strips of fried yucca with a garlic-ranch dipping sauce. Every element of this substantial dish was excellent: The pork was moist and generously salt-and-peppered; the rice and beans were enhanced by the creaminess of just enough cheese; and the yucca was supple and receptive to the charms of the tangy, zesty dip.
Pirates fan Jason loves it that, at the same time the Buccos added an Italian-Venezuelan catcher, whose excellent play and Dean Martin walkup music have made him a fan favorite, Bloomfield added an Italian-Venezuelan restaurant. Mark us as fans of Adolfo's, too.