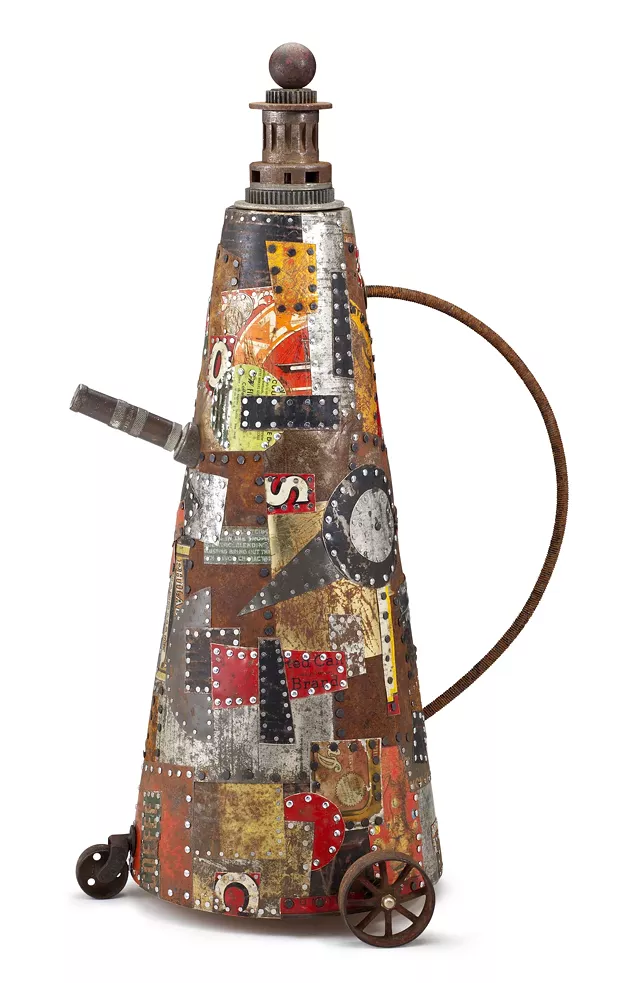 Decorative teapots — that gift you buy your grandmother every year when you can't think of anything else she could possibly want (it's either that or birdhouses — my own Nana preferred the latter). But at the Morgan Contemporary Glass Gallery in Shadyside, the item takes on a much more artistic form as part of Teapots!, an exhibition showcasing vessels from Pittsburgh and abroad.
Now in its 13th iteration, the show —on display through June 8 — features more than 60 new teapots made from glass, ceramic, and other materials. The pieces are loosely categorized into four themes: the more imagery-driven nature and animals, and the material-driven industrial and fiber art, chosen to coincide with the upcoming Fiberart International exhibition coming to Pittsburgh during the last week of the show. Teapots from previous shows are also displayed in the front of the gallery.
All the teapots are for sale and will remain on display until the show's conclusion, even if they've been purchased.
Gallery owner and director Amy Morgan says she was inspired to start Teapots! by a late friend who hosted her own teapot shows at her art gallery in California. Since then, the show has evolved from exclusively featuring glass teapots to ones made of metal, found objects, and other media. The criteria are simple: each piece must have the basic components of a teapot (a spout, a handle, and a lid). Functionality is optional; only a few of the items on display can be used to pour hot liquid.
Part of the show's appeal is that Morgan often requests artists who have never before made teapots to apply their own style to a piece. That aspect is showcased throughout the current show, notably in "it's always tea time ..." by Jennifer Halvorson, a haunting, frosty blue, cast-glass piece resembling a ghostly dress topped with a tam o' shanter as the lid. Along with several others, another first-timer is Jen Violette, who contributed a set of glass, curio cabinet-ready, prickly-pear cacti.
While some pieces lean more traditional, such as the gorgeously ancient-looking stoneware teapot by Derek Decker, others play freely with the parameters of what, in this case, constitutes a teapot, the results veering wildly from beautifully detailed and delicate to downright strange. One of the most outstanding pieces, "Tea for Two" by Julia and Robin Rogers, uses blown glass and oil paint to create a topless, armless woman, her erect nipples serving as the spouts (yes, this is one of the functional ones). It manages to convey surreal sexuality (it immediately reminded me of the milk bar in the film A Clockwork Orange) and gentle femininity, with accents like bluebirds and soft tufts of fur.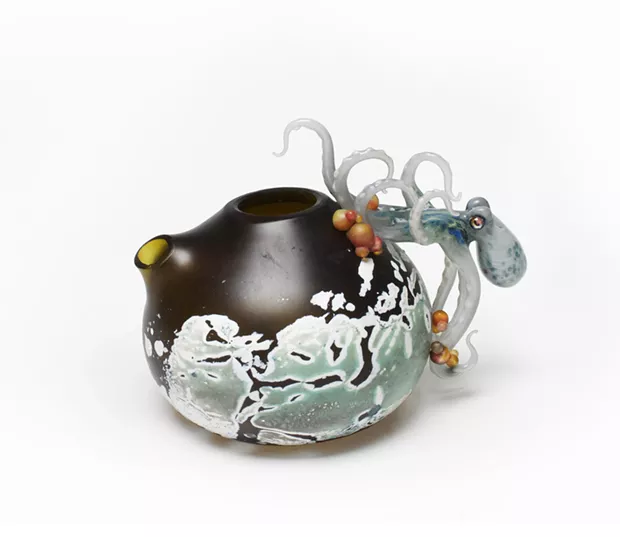 On the other end of the spectrum are the more fanciful works of Jean Shortall, which feature little creatures like raccoons, birds, and anthropomorphic bears, and "Cloud Maker" by Natasha Dikareva, an eye-catching stoneware piece seemingly inspired by the fantastical imagery of early maps. There's also American sculptor and photographer Hap Sakwa's "Red Can Rolling," a large metal and plywood piece on wheels that wouldn't look out of place in an out-of-the-way antique barn.
Like any artwork, many of the teapots go beyond conversation pieces by commenting on a number of issues. Some are overt, like the two pieces by Meryl Ruth emblazoned with #MeToo text and Rosie the Riveter imagery. Others are more subtle, like Mike da Ponte's "I'm a Little Teapot," an effectively creepy blown and inscribed sculpted glass piece topped with a toothy, grinning Xenomorph-like head. As explained by gallery assistant, Alexis Henry, "I'm a Little Teapot" serves to comment on the opioid crisis in the U.S. and the artist's own struggles with substance abuse (to drive the point home, it's displayed surrounded by little red and white pill capsules). Hawaii-based artist A. Kimberlin Blackburn sends a clear environmentalist message with "A Farmer's Life with Luna at the Waterfall," a teapot made from a combination of glass beads, acrylic, thread, ceramic, and bamboo.
How Teapots! has managed to continue for so long could be contributed to an enduring culture of teapot enthusiasts and collectors (in 2018, for example, a rare, early-American teapot was sold at auction to New York's Metropolitan Museum of Art for $520,000). It makes sense, as teapots have for centuries been a staple to tea-drinking cultures all over the world, most notably China and Great Britain. With its diverse new show, perhaps the Morgan Contemporary Glass Gallery will not only surprise visitors but create a few teapot-obsessed converts along the way.