Standing amidst a lifetime of old furniture, two brothers debate its worth. The younger, a New York City policeman named Victor, has just sold the lot -- the last of their parents' estate -- to an elderly dealer named Gregory Solomon, for $1,100. The older, a successful surgeon named Walter, thinks Victor should have gotten a better deal. Victor's wife, Esther, agrees: something north of $3,000.
A peeved Solomon notes that on first seeing his family's old dressers, gramophone and such, Walter called it "junk."
"I didn't mean it in that sense, Mr. Solomon," says Walter, agitatedly. Until today, with the building scheduled for demolition, he hadn't seen his brother for 16 years. "When you've been brought up with things, you tend to be sick of them. ... That's all I meant."
So, Victor asks, why $3,000? "[I]t's a feeling, that's all," says Walter. Then Esther asks her husband why he accepted $1,100. Indignant, Victor replies, "I simply felt it was probably more or less right!"
The scene is from The Price, a 1968 play by Arthur Miller, in which Miller shows how the brothers' appraisal of the furniture reveals much else in their lives. The play will be staged starting this week at Pittsburgh Public Theater, in a production directed by Tracy Brigden.
The play also assumes metaphorical overtones about theater itself. In a world of cheap, ready-made entertainment, a night of live theater can feel like a room full of bulky, outdated furniture: It's an emotionally rich part of our cultural inheritance, yet one that's easy to lay aside, and hard to put a price on. Even for its fans, theater's worth is intangible.
It likewise feels apt that The Price pairs the Public with Brigden, who is the artistic director at City Theatre. City and the Public are Pittsburgh's two oldest independent professional theater companies, and both have managed to survive financially and prosper artistically. Yet while they've worked side by side for 35 years, never before has the artistic director of one troupe helmed a show for the other.
Unlike The Price, the theaters' team-up reflects collegial choice, not circumstance. But as with the characters in Miller's play, it feels like a good time to assess where they've been, and perhaps where they're going.
Enter the Companies
Arts groups, it surprises people to learn, don't consider each other competitors. At least not according to Brigden and Ted Pappas, the Pittsburgh Public's artistic director. The two friends tell of attending the other's shows, only to be coyly asked by fellow patrons, "Checking out the competition?"
"I've never thought of theater in my life as competitive," says Pappas. Brigden says City competes with other stage troupes no more than it does with HBO, or a hot new restaurant.
Brigden came to City Theatre in 2001. She was 36, off a successful run as associate artistic director at Connecticut's prestigious Hartford Stage. Pappas, whom she knew from her days in New York, beat her to Pittsburgh by a year; the director and choreographer, whose credits ranged from the New York City Opera to Saturday Night Live, was several years older, and very welcoming. "He was the high school senior," quips Brigden.
Pappas still recalls being impressed by the first play of Brigden's first season: Helen Edmundson's historical drama The Clearing, which Brigden directed. "I knew right away we were dealing with a director with taste, with courage and with technique, most importantly," he says.
Pappas is in his 10th season, Brigden her ninth, at theaters with linked but diverse histories. Both were launched in 1975. The Public was founded by arts patrons who sold 7,100 season subscriptions before the first show even opened. City, by contrast, began as the City Players, a federally-funded city program that often gave free performances in schools, parks and housing projects.
For a few years, both groups used the city-owned North Side venue later renamed the Hazlett Theater. (Controversy -- including the resignation of City's artistic director -- ensued in 1979, when the larger, better-connected Public convinced the city to extend its lease to nine months a year, briefly rendering City homeless.)
By the '90s, the groups had assumed their current forms. Since 1991, City has occupied a smartly repurposed church building on the South Side. The Public's 1999 move to Downtown's new $20 million O'Reilly Theater, meanwhile, cemented it as an institution whose distinctions included the professional premieres of two August Wilson plays. City remains the smaller of the two: Its budget is about half of the Public's $6.3 million, and its main performance space has 270 seats to the O'Reilly's 600. City has about 3,000 subscribers, the Public about 6,500.
City stages only newer plays, often world or U.S. premieres, like the recent production of Stephen Massicotte's fable-like The Clockmaker, which Brigden directed. Other Brigden-era highlights have included 2003's Pittsburgh premiere of John Cameron Mitchell's rock musical Hedwig and the Angry Inch (whose heroine is a transgendered glam-rock singer). The theater's 100-seat Lester Hamburg Studio Theatre has also housed edgy plays like the recent Blackbird, David Harrower's riveting play about a young woman confronting the man who raped her when she was a child.
The Public, meanwhile, might be best known for its lushly mounted productions of classics, like the recent Pappas-directed A Midsummer Night's Dream and last season's A Moon for the Misbegotten. Still, in recent years the Public has staged not just The Odd Couple, but provocative contemporary work like Dael Orlandersmith's racially charged Yellowman and Caryl Churchill's heady A Number (about cloning). And City Theatre has its share of crowd-pleasers: Chief among them is the "Sister" series, plays like Sister's Christmas Catechism that are based on a comedic authoritarian nun character created by Maripat Donovan. Brigden calls these heavily improvised shows "an enormous boon," attracting a suburban audience that doesn't see other theater. (A few Sister fans have even ended up subscribers, Brigden says.)
The Price gives Brigden the chance to take a crack at a classic -- the kind of play she'd never program at her own theater. Though it's less well-known than some of Arthur Miller's other work, like Death of a Salesman and The Crucible, Brigden calls The Price "one of the truly great plays in the American canon," for its subtle exploration of family dynamics.
Like many artistic directors in theater, both Brigden and Pappas direct about half the shows they produce. Most of the rest are directed by out-of-town talent, and it's rare for an artistic director -- busy running a company -- to work with another troupe.
But marketing data suggests that patrons of the two theaters don't cross the rivers very much: Only about 13 percent of the Public's subscribers also have season passes to City. Directing The Price lets her reach a different audience: "There's some people who might see my work at the Public ... who'd think, 'Oh, I should go see something at City.'" And perhaps City patrons will follow her Downtown and discover the Public (whose production of The Price stars Joseph Adams, Sherman Howard, Noble Shropshire and Chandler Vinton).
Pappas said he asked Brigden to direct The Price partly because she'd powerfully express the play's realism. But he admits an additional motive: "I thought it would be a terrific message for a healthy arts scene to have my colleague come over and helm this very important play at the center of our season."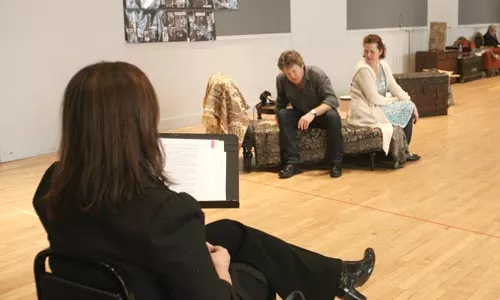 Exit the Audience
The Price is the sort of play that's not written much anymore. Where contemporary plays typically have many roles, it has four. Where recent work trends cinematic -- five-minute scenes, multiple sets, multiple costumes -- The Price is resolutely theatrical. It has just one set, and its action (all talk, basically) is performed in real time, broken only by an intermission.
Such qualities are among the things that Brigden likes about it. But what works for audiences?
The question occupies theater companies everywhere, especially in the wake of a tough year for the arts. Nationally, 2009 witnessed a dwindling of foundation, corporate and individual support -- revenue that most nonprofit arts groups depend on for at least half of their budgets.
Tax-supported entities, including those that fund City and the Public, also cut back. The Pennsylvania Council on the Arts sliced its budget by about 30 percent. The county's Allegheny Regional Asset District, which awards about $7 million in sales-tax revenue to arts and culture each year, flatlined spending.
Across the country, some established companies went belly-up, while others slashed budgets. City Theatre, for instance, dropped its annual festival of new-play readings and, when Brigden's associate artistic director moved away, the organization elected not to replace him; it also cut artist pay. The Public managed to avoid cuts in programming and staffing, but has a budget about 8 percent smaller.
Bad news continues to trickle in. Early this year, the 90-year-old landmark Pasadena Playhouse closed down. Despite having 8,000 subscribers, the theater succumbed to long-term debt. "It's all everybody in the theater's talking about," Brigden said in early February.
This year, with stock portfolios recovering, things look slightly brighter. "I think the worst of the financial crisis is over for the arts," says Pappas, echoing many. At the Public, for five years starting in 2002, gross receipts had dropped annually, for a 10 percent total decline. But sales have since turned around, Pappas says, and the company remains debt-free.
Meanwhile, even in a down economy, funders respect both Pittsburgh groups. "[T]hey've both been very smart about communicating both to their supporters and the funding community about what they need," says Germaine Williams, program officer of the Pittsburgh Foundation, which supports both companies.
But long-term worries remain, including the perennial concern that the audience for traditional arts -- museums, symphonies, dance troupes, live theater -- is shrinking and aging.
"Attendance at mainstream nonprofit arts organizations is in a steady decline," said advocacy group Americans for the Arts' 2009 National Arts Index. Between 2003 and 2008, the group says, performing-arts audiences dropped 17 percent. In 2008, reported the National Endowment for the Arts, fewer than one adult in 10 had attended a non-musical theater performance in the previous 12 months.
Unsurprisingly, the reports found that more Americans are consuming the arts on TV, radio and the Internet. And those who do attend live performances aren't getting any younger. Cultivating Demand for the Arts, a 2008 Rand Corp. study, found that arts audiences include fewer 18- to 24-year-olds than ever. At City Theatre, for instance, patrons are more likely to be past 60 than is the general public, and less likely to be ages 19-39; and the Public estimates that its average subscriber is in his or her 50s.
Even as audiences dwindle, the number of nonprofit arts groups has ballooned. In 1960, the U.S. had 7,000 such groups. In 2010 -- after phenomenal growth that included "a new arts organization created every three hours" between 2003-08 -- there are about 104,000 such groups, reports Americans for the Arts. A third of those have never had a balanced budget, the group says.
Spurred by tighter budgets -- and nudges from funders -- arts groups are working together more. Witness, for example, the 2006 merger of Pittsburgh Filmmakers and Pittsburgh Center for the Arts. Or local dance troupe Attack Theatre recently moving its studios to the headquarters of Pittsburgh Opera, with which it has partnered artistically. Or Beautiful Dreamers, an upcoming co-production by Pittsburgh Irish & Classical Theatre and Pittsburgh Opera Theater.
Brigden directing for the Public doesn't constitute that kind of institutional collaboration. But it continues a pattern of cooperation.
"People are more interested in cross-pollination and collaborative marketing opportunities," says Mitch Swain, executive director of the Greater Pittsburgh Arts Council, an advocacy group.
Swain adds that the recent hard times have everyone scrambling for answers: "I think it does cause us all to rethink what we do and who we do it for."
The New Traditionalists
Fun fact about Pittsburgh theater: If you want young audiences, stage old plays.
Not just any old plays: Classics work best. But the Public's experience, at least, is that those are the shows that really lure Generations X and Y.
The evidence dates back 12 years, when the Public created a discount for patrons 26 and under. Today, $15 gets them the best available seat (a potential $50 value) for any show on any night. Lou Castelli, the Public's director of external affairs, says the numbers jump when Shakespeare, say, is on the marquee.
Conventional wisdom holds that young people want edgy, new work, or at least plays about other modern young people. And some do (as smaller local troupes like barebones productions and Bricolage have shown). But in Pittsburgh, most theatrical risk-takers are veterans.
"The older folks who've seen every kind of theater you can see want more adventurous programming," says Castelli. Young people, by contrast, prefer something they read in high school: "That's going to be an easier first experience for them." For 36 Midsummer performances, a record 3,054 non-student patrons claimed the discount -- 21 percent of the total audience.
Even those who can't use the discount feel the Shakespearean draw. On the Friday before Valentine's Day -- alongside silver-haired patrons who knowingly discussed other shows they'd seen Midsummer cast members in -- you found folks like Matthew and Stephanie Blankenship. The West Virginia couple, an aviation mechanic and a nurse, hired a sitter for their 5- and 10-year-old and made Midsummer the first play they'd ever seen together. "We were skiing last night in Maryland and said, 'Let's make a whole weekend of it,'" said Matthew, 31.
Patrons like the Blankenships are part of the fastest-growing audience in theater nationally: single-ticket buyers. For decades, performance troupes have banked on patrons who'll front $100-200 for season tickets. And companies still much prefer subscriptions, offering buyers better seats, plus perks like free parking and restaurant discounts.
Nonetheless, the Public has seen subscriptions dwindle: Twenty years ago, it boasted more than 16,000 subscribers, compared to 6,500 today. Single-ticket sales, meanwhile, are skyrocketing -- up 35 percent from this time last year, says Castelli.
Single tickets boost revenue because they're more expensive. But they're also about 50 percent costlier to market, according to the Theater Communications Group, a New York-based professional organization.
Companies have responded by offering customized, partial-season flex plans. (Any three shows, say.) Some go further. In July, Seattle's ACT created something the company's executive director compares to a gym membership. For $25 a month, members can attend any of the dozens of events staged by ACT and its tenants -- including individual performers and smaller theater groups -- as often as they like. Some 350 members have joined.
Many theater companies also reach out with social events, like the Public's pre-show singles mixers, or City Theatre's Ladies Night Out, which features craft vendors, cocktails and food in the lobby. "I like to think these are the kind of things that are gonna keep us going," says Brigden. In the age of home entertainment, she says, such programming complements what theater already offers: "We have even more desperate need to come together in groups and have a shared experience."
City Theatre and the Public are well positioned to capitalize on such connections, observers say. "Some of the groups that become very large, they have an almost arm's-length relationship with their audience," says Charlie Humphrey, who heads Pittsburgh Filmmakers/Pittsburgh Center for the Arts. "You go to the Public Theater and Ted's there. He remembers people's names. Same with Tracy."
Theaters are testing social media, too: City's busy blog features actor interviews and essays from Brigden. And last fall, about 40 people played an innovative, cell-phone-based South Side treasure hunt created to market City's production of Dr. Jekyll and Mr. Hyde. (The Jekyll-and-Hyde-themed game was text-message-based, with pre-recorded clues voiced by the actors; participants earned ticket discounts.)
The transition to new media isn't always smooth. On the Public's Web site, for instance, Pappas' last blog entry is dated Aug. 28. But the company says its patrons enjoy the short video previews, featuring Pappas, it began e-mail-blasting for each show starting last year.
In any case, what matters most is "what happens on stage and what the audience feels about it," says Pappas.
Here, too, companies are experimenting. Around the time of the Public's hit run of A Midsummer Night's Dream, for instance, Boston's American Repertory Theater had an even bigger hit with The Donkey Show -- an immersive, interactive, musical spinoff of the same Shakespeare comedy, except set in a disco and featuring scantily clad actors. The show's run has been extended into summer. "You have to make theater an event," ART artistic director Diane Paulus told the Boston Globe.
Meanwhile, ART was also producing Sleep No More, a visiting British troupe's take on Macbeth in which audience members wearing masks traverse a haunted-houselike series of macabre tableaux, surreal and wordless (including both a Last Supper and an orgy).
Brigden learned about Sleep No More from a City Theatre staffer who'd seen it. It "sounded absolutely amazing," says Brigden. "I said, at the time, 'That's the future.'" When they leave their houses, she adds, "People are wanting to participate, not just view."
Pappas sounds more the traditionalist. "If [people] want to go to a rock concert, they go to a rock concert," he says. "When I produce classics here, I get a huge audience. ... I prefer the approach that seems to work for us, which is drawing in thousands of young people."
The Show Goes On
Indeed, there's evidence that the best way to sell the arts is to learn what potential patrons have previously enjoyed. That might sound obvious, but for years arts groups marketed to their own customer lists (which they guarded jealously) and to demographics -- say, middle-aged affluent types in likely ZIP codes.
In Pittsburgh, that started changing several years ago, when the Pittsburgh Cultural Trust and locally based Elliot Marketing Group created something called the SmArt database. Mitch Swain, of GPAC, then ran the Trust's Shared Services division, which helped groups combine resources on purchasing, ticketing and marketing. With Elliot's help, they compiled a list of several hundred thousand arts-goers and began sharing information extensively.
Two profiles of likely patrons emerged: (1) those who'd already made multiple purchases of any kind of ticket; and (2) those who'd patronized similar events, even at other venues. It's "kind of an Amazon.com model," says Swain.
Organizations like City Theatre and the Public laud the SmART model. For one, it focuses on the small portion of the total population who actually buy tickets: 46 percent of all purchases are made by just 7 percent of all purchasers, says City Theatre managing director Greg Quinlan. But the threshold for creating repeat buyers isn't insurmountable: "Once they go three times, you pretty much have them," says the Public's Castelli.
The approach also helps identify audience overlap, like the 19 percent of City patrons who also attended the Public last season. While the Public's audience overlaps even more with the Pittsburgh Symphony Orchestra's, such a figure affirms that the theaters aren't remorseless competitors.
"A lot of the arts groups in the city work, whether or not we know it, in collaboration," says Pappas. "And together we are building an audience for each other."
Pittsburgh Public Theatre presents The Price, by Arthur Miller. Thu., March 4, through April 4. O'Reilly Theatre, 621 Penn Ave., Downtown. $15-50. 412-316-1600 or www.ppt.org