As the teen-ager prepares to read a speech off her laptop screen, Dave Adams takes notes. And then he takes aim.
"What happens when you give a speech to a Senator or in Congress? You can't use a laptop," he barks. "You have to be more prepared."
Clad in a navy blue tactical suit, with a black, military-grade utility belt — which on most occasions holds a 9-millimeter Glock handgun, mace, a compass and walkie-talkie — Adams sits in the back of a classroom in the Cathedral of Learning, in Oakland. As the teen's speech concludes, he applauds. 
"Think of how much better that would have been with preparation," he says.
In this room, the uniformed Adams commands authority. But he isn't a cop. Or a drill instructor. Or anyone with official authority at all. But as CEO and president of The Conscience Group, which aims to create "citizen-based solutions to everyday societal problems," Adams hopes to lead citizen-based behavior change to curb the city's drug problem and the crimes associated with it.
Though it has no paid employees, Conscience Group's agenda is broad but focused: bringing a federal drug initiative into Southwestern Pennsylvania; implementing Adams' neighborhood crime-awareness plan; starting a foundation; and creating political leaders. It currently has 11 members. This Friday-night meeting, where Adams is teaching them how to speak publicly, is just part of his mission.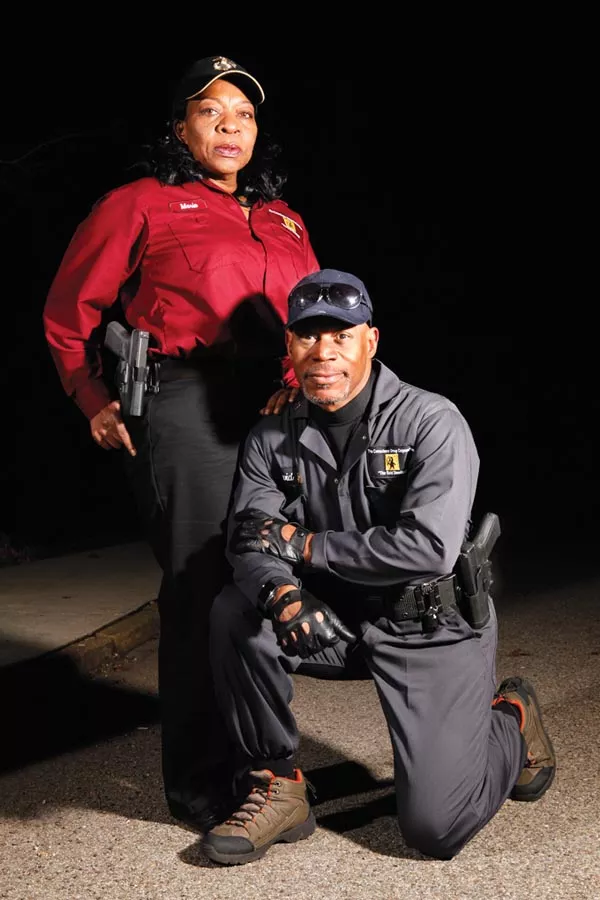 The East Hills resident has been touting his plans and group since 2005. Support has been uneven, so Adams often goes it alone. But such solitude and stubbornness comes with a price. 
Few anti-violence advocates say they know of him or his initiatives. His critics have called his tactics aggressive. And that aggressiveness has, at times, scuttled any headway he has made. A campaign he led to apply for a federal drug-prohibition program collapsed in 2009, when his motivation was questioned by public officials who originally supported it. He's also lost a bid to run for city council in District 9.
But Adams isn't perturbed by the setbacks. The 53-year-old Pittsburgh native, who says he's served stints in the Army, Navy and Marines, frequently takes matters into his own hands. When an overgrown shrub was being used as a shield for drug trades near his East Hills townhome, Adams chopped it down. When a car drove down his street that he believed was associated with drug activity, Adams flagged him down as a City Paper reporter watched, pointed his finger in the opposite direction and told the driver to leave … and the driver complied.
Adams has been making plans and shopping them around for years. He's tired of waiting on someone in a political office, or wearing a uniform and a gun, to help his community. 
Now he has his own uniform and his own gun. And he's ready to help himself and his neighbors. Some members of his group have also armed themselves, with plans to canvas city neighborhoods for criminal activity. 
 "This isn't a passion. It's a conviction," he says. "We don't have it. It has us."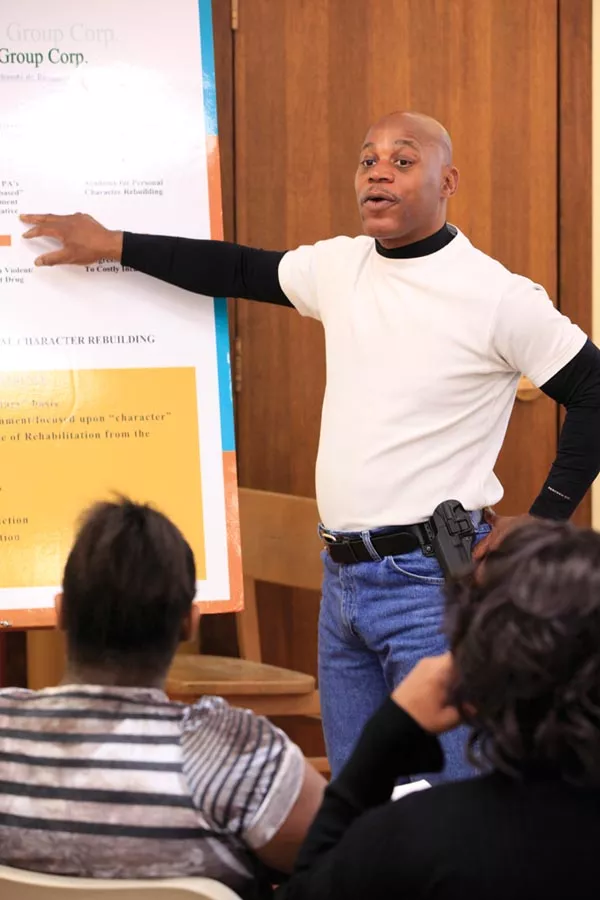 Of the Conscience Group's laundry list of goals, two are priorities. The first is Adams' "Neighborhood Awareness Statewide Crime and Cultural Crime Prevention Program," which focuses on citizens taking the lead in crime-fighting.
The plan calls for citizens to develop "trust-based" relationships with police and local government, while training citiznes to identify criminal activities. That information would be reported back to authorities, and residents would maintain anonymity by using a personal reporting number. Residents could choose to work in crime-prevention through initiatives like neighborhood patrols and mentoring programs, or in awareness projects. Ultimately, Adams says, he wants the community to shift its behaviors from tolerating and supporting drug and crime activity.
"We cannot wait on government anymore. We take the asking out and we're going to develop the power," he says. "We want to show law enforcement that it's not a one-size-fits-all approach. You can't go into Squirrel Hill with an initiative and take it to Homewood. It's not the same thing."
The neighborhood program is designed to coincide with Adams' other goal: to bring a federal "High Intensity Drug Trafficking Area" prevention initiative to Southwestern Pennsylvania. HIDTAs assess drug-trafficking threats and use local, state and federal authorities to design and implement strategies to address that threat, and to develop anti-drug plans. The HIDTA effort isn't new; Adams — who works full time for the University of Pittsburgh, in facilities management — previously worked on a task force to develop a petition for one in the region. But that project failed in 2009, when support eroded. 
According to an email provided by Adams from then-Washington County District Attorney Steven Toprani, the chairman of the task force, Toprani and others questioned the Conscience Group's credibility. Adams was pushing the plan only for profit, they contended. 
"What remains clear is that Mr. Adams is solely using the credibility of this HIDTA effort to advance the Conscience Group's 'neighborhood-awareness program,'" Toprani wrote. "Clearly the Conscience Group is seeking federal funding to support a program which can only be characterized as a for-profit business venture with no means to measure its benefit to the community." 
Toprani and other officials involved with that HIDTA plan did not return City Paper's calls for comment. 
Adams disputes those claims and argues that the programs coincide. 
"It needs done. This is what leadership is," he says. "When you look for those willing to step up, you need to just not talk about it but be about it."
Adams says the Conscience Group is a 501(c)4 organization, classified under IRS guidelines as a "social welfare organization." But he won't disclose any financial information. According to his 2010 tax forms, the organization neither collects nor spends any money.
Adams won't say how much he or other Conscience Group members have spent on their projects, other than to say that it's all been out of their own pockets. "We're not going to be judged on how much money we make. We're going to stand on the integrity of our work."
Today, he's gearing up to form a new coalition to start a new HIDTA petition. His team of volunteers is working on drug-threat assessments of neighborhoods. 
The HIDTA petition and the neighborhood crime-awareness program both have the support of city police chief Nathan Harper, who says manpower and department resources will be made available "as appropriate." Harper wouldn't comment on the specifics of either plan, saying that neither is finalized.
"We utilize any lawful means of reducing crime, and the HIDTA efforts have proven capable of reducing the trafficking of illegal drugs," Harper says in an email. "The Neighborhood Crime Awareness Plan is another tool for encouraging citizens to be more responsible in combating crime in their respective neighborhoods."
While Adams touts "points of difference" between his efforts and those already out there, his method of setting himself apart by wearing uniforms, and in particular carrying a gun, may differentiate him too much.  
"I have been in a tremendous number of meetings on violence and I've never seen anyone carrying a gun. I can see where it would send a mixed signal," says Tim Stevens, chair of the Black Political Empowerment Project. "But if one feels that they're in danger and they need to protect themselves in that manner, I guess you can't blame them."
Adams says his group doesn't intend to carry out regular patrols. Instead, it will survey criminal activity to help compile the HIDTA petition. But he believes that the firearms and the uniforms displaying a patch that reads, "The Conscience Group, the Gold Standard," makes his team more professional, and more of a deterrent to crime. His members belong to the National Rifle Association and have received firearms training.
"Our problem comes from the bureaucracy of law enforcement — they're not looking for citizens to be empowered," he says. 
 The guns are for personal protection, Adams says, because of the danger around illicit drugs. "We could get killed just by talking about it," he thunders. The members wear uniforms and tactical suits when scoping out neighborhoods for drug threats, or when they receive calls of illegal activity. He has climbed into sewer pipes and through shrubs looking for weapons or drugs to report to the police. 
"It sets us apart," says Marie Blair, of Homewood, the Conscience Group's vice president. "We don't want to be like the other groups. We want to represent the gold standard."
"We're not vigilantes," adds Adams. "But if something happens, we're not afraid to do what we have to do."
Chief Harper says he does "not see the necessity" for the guns. And to some observers, the carrying weapons seems counter-intuitive to Adams' mission of curbing crime.
"If you go out for looking for it, then you've gone off the deep end," says Dennis Giever, a criminology professor at Indiana University of Pennsylvania. "You're almost challenging [criminals] to do something if they see you have a gun."
But the biggest stumbling block to Adams' plan may be Adams himself. Some local activists, who declined to speak on the record, say Adams is too aggressive and has a negative reputation among community groups. They add that Adams has been critical of local black leaders in a newsletter he distributes, which has deterred support for his plans.
Adams doesn't buck at such perceptions, and says that at times, he is misread. But he's not backing down.  
"I want to hold a mirror up to the black community and say, 'Look at yourself,'" he says. He says his organization hopes to embarrass other organizations "by doing progressive, measured work [and] by supporting law enforcement in ways they have never seen before." Achieving concrete results, Adams says, will force other "nickel-and-dime operations … that are doing nothing but sucking the taxpayers dry" to be more accountable to the community or close their doors. 
He's been a vocal critic of other city antiviolence programs, like the Pittsburgh Initiative to Reduce Crime, and the organizations and politicians that support them. He's even critical of those who support his plans, like Harper. 
"Harper has never brought me to the table. Why? … What good is support with no action?" says Adams. "I think support is overrated."
While he's voiced frustration over a lack of support, he also argues he doesn't need — or even want — it. And if others in the crime-prevention community say they don't know Adams that well, that seems to be largely by Adams' own design.
"I've heard of him and what he's doing. He's pretty vocal," says Richard Garland, executive director of Allegheny County's anti-gang program One Vision, One Life. "We don't have enough violence-prevention programs from my standpoint. If he's trying to do something good, I don't have a problem with it, but I don't much know much about it."
Criminal-justice experts, meanwhile, question how a citizen-based plan can get off the ground without collaboration.
"If you don't have a good working relationship with other advocacy groups, you'll either step on their toes or you'll essentially put up walls between the groups," says Giever, the criminology professor. "It doesn't help anybody to go out rogue."
"I don't know how anybody can have an anti-violence plan if they aren't willing to meet with people," says Stevens, of B-PEP. "The problems are too wide and too deep. ... We are constantly meeting with people to get their buy-in and their commitment to participate in the prescribed solutions."
But Adams contends he's been shunned by community groups for being critical of them, and that he's merely filling a void where their missions have failed.
Not that he'd likely accept more support anyway.
"I'm not looking for praise or a pat on the back. We stay under the radar but we're saving lives," Adams contends. "They didn't thank Jesus Christ when he came down. Why would they thank me?"