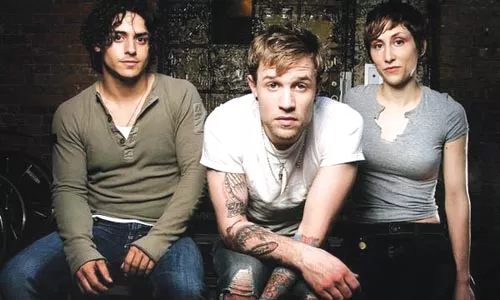 Guess what, kids -- there's life after emo. And not just for listeners, either. If you happen to be an ex-frontman of Further Seems Forever, your odds of transcending the whine fest of the past several years look pretty good. Sure, Chris Carrabba famously made an odd elder-statesman move this past year by working with super-producer Daniel Lanois (U2 and Bob Dylan, for starters). But Carrabba's replacement in Further Seems Forever, Jason Gleason, has made an equally surprising move away from the emo that launched his career.
After bailing on the band, Gleason made his way from Florida to New Jersey (six of one, half-dozen of the other, I guess), where he joined up with Salvatore Ciaravino and Chrissie "Bella" Verhagen, former members of Element 101. Living together, working on a carpentry crew and playing music afterhours for a couple of years eventually yielded ActionReaction, and the band's own Hope Division imprint on Equal Vision Records.
Now, I tend to open CDs from Equal Vision and Victory Records -- especially those by bands with names like ActionReaction, Action Action, whatever -- with considerable skepticism. Some good bands -- it's the brands that are tiresome. So ActionReaction's 3 Is the Magic Number proved a weird surprise. (Not as weird as learning that James Brown died while you were unwrapping Christmas presents, but still an odd mix of emotions.)
Some time in the process of listening to the disc, I started to think, Hey, maybe ActionReaction is actually this really fun and inventive alterna-pop group. For instance, when "Can You Hear the Sun?" kicks off with a windswept, lonesome-prairie stomp, you wonder where the hell the band is going with this, before the music lunges into a Weezer-worthy guitar anthem on the order of "Sweater Song."
Gleason's pleasant, gravelly voice is the album's obvious centerpiece, and sure, the usual rock guitar and drums dominate songs like "Sinners' Algebra." But it's the little sonic touches densely populating the catchy periphery that make 3 Is the Magic Number an eventful listen. Like Bella's keyboards burbling in the corners and washing over the superb vocal melody on "At the Moon," and the Cure-like pizzicato strings and handclaps driving "Sinners' Algebra."
Reports from the rock mags indicate that ActionReaction has been stealing the shows it opens. So, with all due respect to current headliners Kill Hannah and Pink Spiders, I'd plan to arrive early to this show.
ActionReaction, opening for Kill Hannah and Pink Spiders, with Love Arcade. 7 p.m. Sat., Jan. 6 (doors at 6 p.m.). Mr. Small's Theatre, 400 Lincoln Ave., Millvale. $12. All ages. 412-821-4447 or www.mrsmalls.com