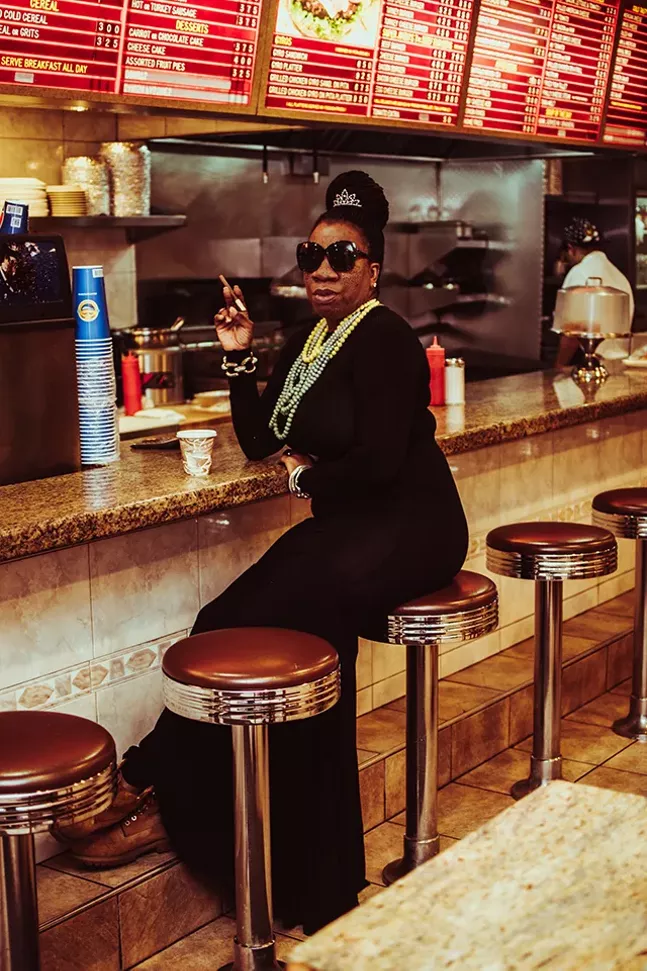 The Manchester Craftsmen's Guild is an unassuming stumpy building, next to a UPS center, a construction company, and other mundane businesses. But inside, MCG is home to Action Movement Revolution, a bright and lively exhibit in the Connie Kerr Gallery.
The exhibit, which opened Jan. 14 and will run through April 5, showcases photography work from three Pittsburgh artists, Kenneth Neely, Martha Rial, and sarah huny young (huny). Each artist is also involved in teaching workshops with students in the MCG Youth & Arts program, who come from Pittsburgh Public Schools.
Though the artists all share the same medium, their styles and subjects vary from playful, to somber, to celebratory.
Pittsburgh native Martha Rial won the Pulitzer Prize in 1998 for her work documenting genocide survivors in Burundi and Rwanda. Her work exhibited at MCG focuses on a different humanitarian crisis, showcasing the lives of refugees with similar pasts but varying futures. "Refugees are just like anyone else," Rial writes in her artist's statement. "Except they have lost everything." Her two sets of images capture Congolese refugees settled in Crafton Heights, and refugees trapped on the Greek island of Chios from the Middle East and across Africa.
In her statement, Rial says that she chose "to portray refugees as the ordinary people they are," and indeed, the images of Crafton Heights show people going about their days, indistinguishable from non-refugees: a woman working in a packing facility wearing Crocs, a kid playing basketball in the street, two tween girls entranced by their phones. Similarly, the Chios refugees, who originate from Eritrea, Somlia, Yemen, and elsewhere, go about their daily tasks, putting away clothes and doing yoga. For her workshop, Rial took students to City of Asylum, where they photographed the participants in the Exiled Writers Residency.
MCG Youth & Arts provides free afterschool programs and workshops, transportation included, to mostly high school students, including photography, ceramics, design, and digital art. Rial's style and genre of photography involved photographing people in their daily environments, which stands in contrast to that led by huny. She brought Youth & Arts students to the Ace Hotel for portrait-shooting workshop using model friends. Huny's works in Action Movement Revolution include 55 images from her "American Woman" portrait series, which captures Black women across the country in their chosen settings, in an aim to critique the mainstream — and white — image of the "all-American girl." One wall of huny's work features women in the Pittsburgh area, including portraits of huny's mother and daughter. The other wall features artists, writers, activists, and entrepreneurs from Los Angeles, New York, Chicago, New Orleans, Atlanta, and D.C.
Each portrait is stunning, capturing women hanging out in spaces and wearing outfits they feel most comfortable in: lounging in the park with a book, laughing in a graveyard, posing by the pool. One of the largest and most eye-catching is of activist Tarana Burke sitting in a diner, in a Breakfast at Tiffany's-inspired outfit. Audrey Hepburn, the classic image of white beauty in America, remixed to broaden the standards.
While the other two artists use straight photography to capture their subjects, Neely takes his own photos and works them into multimedia art, painting the background or cutting it up into a collage. The pieces are reminiscent of childhood art, but they're not childish. Neely manages to offer both a celebration and critique of his community. Photos of kids hanging out or playing basketball are given backgrounds of rainbow colors, flowers, and hearts. Neely's long-term project, Welcome to Pittsburgh, is a documentation of the changing landscape of the city, and he brings some of that social commentary to these works as well. A cut-up and painted image of a demolition site criticizes the financial motivation involved. A Black Lives Matter collage pieces together quotes from magazine articles and famous activists. The images are colorful and eye-catching, giving a playfulness to each piece, regardless of its subject.
A public reception on Feb. 28 will feature a panel discussion with the artists led by students involved in their workshops.