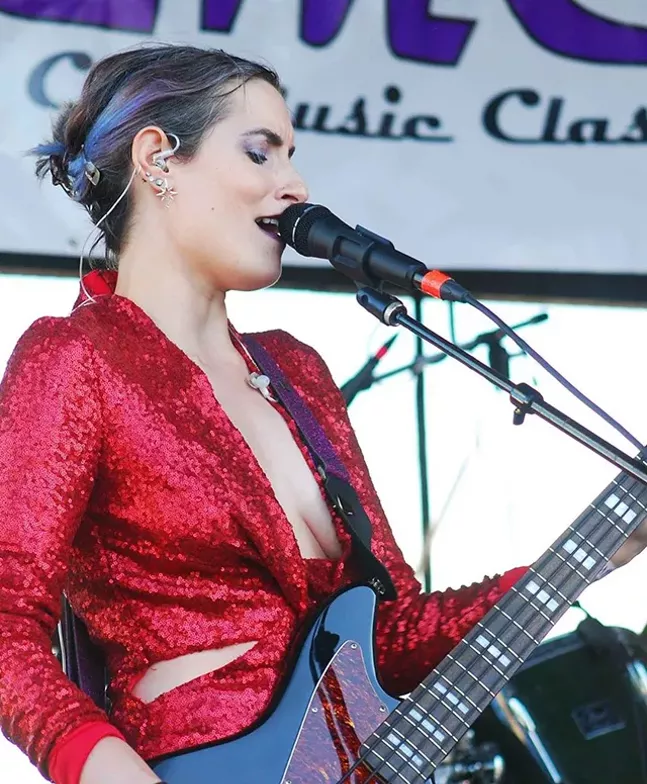 If Action Camp were a person instead of a band, they would be full of teenage angst, tears, and agony.
"It's kind of crazy, we're at the point now where our band is technically in seventh grade," says Bengt Alexsander, Action Camp co-founder, guitarist, and vocalist.
To celebrate the step into teenhood, the trio is doing what they do best: putting on a show centered on doom and gloom. The anniversary show, called Splatter Platters and Death Discs, takes place Sat., Feb. 9 at Club Cafe. Action Camp plans to cover a set of dark, pop or teenage tragedy songs from the '50s and '60s, which will be recorded live.
"Looking at those songs through the lens of time, a lot of them don't hold up," says Alexsander. "They have an old-world view of gender roles and stuff like that, so it's fun to musically take them apart and look at it from today's perspective. It was kind of the golden age of pop music. Pop music now, the way they're formatted and written, a lot of those styles and rules of catchy pop songwriting come from that era, so you still see those styles now, but they started that."
Apart from an outdated viewpoint, some of the songs are extremely graphic, even by today's standard. Take "Last Kiss" by Wayne Cochran, one of the songs Action Camp will perform. Cochran sings about waking up from a car crash with blood dripping from his eyes. Another planned cover, "Leader of the Pack" by The Shangri-Las, is a classic example of a teenage tragedy song that ends with a boy named Jimmy crashing his motorcycle and dying.
"There's one song that we're doing called 'Nightmare' which is insane," says Alexsander. "It's by a group called The Whyte Boots. It's this made-up group, [and] is like The Shangri-Las on steroids. Basically, [this girl's] boyfriend was getting hit on by some other girl, and her friends are like 'Well you shouldn't take that, get her.' And the chorus is 'Get her, get her, push her to the ground.' It leads up to a fight, and she shoves the girl to the ground and punches her, and she kills her. Then the song stops, and she's like 'What should I do?' and then all her friends are like, 'Run!'"
Adding to the dark themes of the '50s and '60s, Maura Jacob, Action Camp co-founder, vocalist, and bass player, came across Valentine's cards from that era, and on Jan. 21 Action Camp began posting them, along with history lessons of Splatter Platter songs, to its social media pages.
"There's one that's just a gun," says Alexsander. "Like, why do these exist? And there's really weird puns that are equally as dark, so it's kind of easy to find one that just matches with every song. We ended up finding a Valentine that ties into ['Nightmare.'] It's a girl laying on the ground with a black eye and another girl standing over her with boxing gloves on."
While some may compare Action Camp's sound and see an evolution from light electronic to doom metal, Alexsander says their music was always bittersweet. In 2014, Action Camp released PA, in which the songs centered around disasters in Pa.

"There was still like a dark element to our stuff, but I don't know how apparent it is to everyone else. [Jacob] and I always bonded over stuff like this. It doesn't even feel like mortality or anything but is fun to celebrate by doing a show that's all about people dying in their teen years, tragic deaths before they lived life up until where we lived. If I was an irresponsible teenager, I could have already had an irresponsible teenager that died in a car crash now."