This weekend, Pittsburghers might notice rolling into town a 1963 tour bus adorned with giant decal whiskers and cat eyes. Inside it will be the Amazing Acro-Cats, a feline circus, coming to perform at Bricolage Productions, Downtown.
Fourteen rescue cats, ranging in age from four months to 13 years, comprise the troupe. The Acro-Cats spend part of their shows using props, such as shopping carts, balls, flags and parallel ropes. Alley, a calico, demonstrates the 6-foot leap that earned her the Guinness World Record for longest cat jump. The Rock Cats band closes the show with leader Tuna playing cowbell, while other felines play guitar, drums and piano. A chicken and groundhog provide musical accompaniment.
Fans line up after shows to get photos with the band. The circus has garnered national press attention and developed a social-media following.
"That's the beautiful thing about it: People from all walks of life come together in the same room for their love of cats," says Samantha Martin, Amazing Acro-Cats' "chief human," founder and trainer. "We have these hipsters and the elderly and families with kids, and Goths and punk rockers and the whole gamut."
At age 10, Martin started training her family's Labrador retriever while dreaming of a future animal-training career. Later, she earned an associate's degree in animal husbandry and completed a Brookfield Zoo internship focusing on farm animals. She had stints working as a veterinary technician and groomer, as well as positions in a pet shop and animal shelter. During her 27-year career as a wildlife educator, Martin created miniature-circus acts featuring rats and fowl before launching the Amazing Acro-Cats 10 years ago.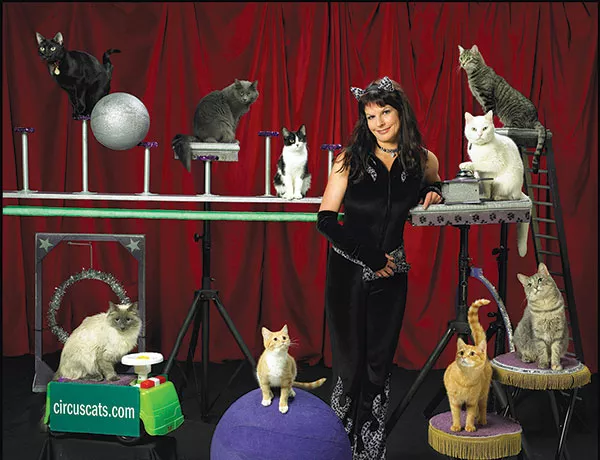 From the beginning, the act drew sell-out crowds.
"We had a phenomenal turnout. There are a lot of cat-lovers out there, but not a lot of cat entertainment," Martin says. "People came out in droves to see these cats."
Due to the cats' unpredictable natures, each hour-long show is different and constantly evolving, says Martin. The felines sometimes venture into the audience areas, making themselves comfortable in guests' laps. Martin attempts to adjust her expectations and uses humor to defuse these situations. She has learned through trial and error that the cats do not like the acts to feature clowns, balloons or people wearing animal costumes. For the cats' comfort, they must perform against a wall, instead of in the middle of a crowd.
Martin utilizes the clicker-training method, giving her cats chicken, salmon and tuna while simultaneously sounding a noisemaker when the animals attain their desired goals. With her veteran performers, she devotes 10 minutes before and after each show to rehearse routines; meanwhile, she spends 10 minutes, three times per day training the novices. It takes the Acro-Cats between 10 minutes and a month to learn new tricks, depending upon the degree of difficulty.
"If I see a cat who is always racing around and leaping from perch to perch, I will come up with something that involves jumping," says Martin of her choreography process. "If I see a cat who uses their paws a lot, I will come up with something that involves paws. It's all based on what their natural instinct is to do."
While Martin says cats can learn new tricks at any age, she commences training her performers before they reach three months. The early training is key: first, because the Acro-Cats veterans are reluctant to accept adults into their troupe, and second, to acclimate the kittens to frequent car trips in preparation for the nine months each year they will spend touring. During shows, she also has the future performers sit near the stage to familiarize themselves with cheering crowds. Martin says the cats eventually learn to thrive on applause.
Martin uses her platform to promote animal welfare, often donating a portion of each show's proceeds to a local rescue organization and showcasing adoptable cats. Since 2009, the Amazing Acro-Cats show has helped find homes for 169 cats.
The Acro-Cats reside with Martin in Chicago as her pets when they are not performing. If Martin decides that her animals are not ideal circus candidates, they join her film-and-television production company, Amazing Animals by Samantha.
She challenges critics who might think she is exploiting the animals for profit by stating that she provides each cat a "life and a home," while they provide her a "means to get that kind of life."
"Most people get to spend, maybe, two hours a day with their cats before they go to work," Martin says. "Because I incorporate my love of animals into my work, I get to be with them 24/7."