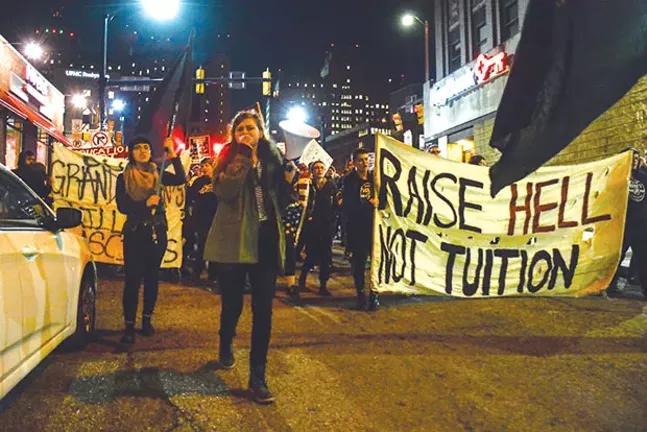 Last week, Pennsylvania Attorney General Josh Shapiro announced a proposed settlement that would provide $6.7 million in debt relief for 1,200 Pennsylvanians who attended for-profit colleges.
The proposal is part of a broader settlement worth $192 million in debt relief for former Corinthian Colleges students across the country. The now-defunct Corinthian Colleges operated Everest Institute in Pittsburgh, along with 30 other schools nationwide, before going bankrupt in 2015.
According to Shapiro, Corinthian Colleges misrepresented their job-placement rates and career-support services to persuade students to enroll. Corinthian also worked with Aequitas Capital Management, a now-defunct investment firm, to avert federal guidelines that limit the access for-profit schools have to federal education funds.
"Aequitas and Corinthian Colleges engaged in predatory practices that preyed upon students trying to better themselves through education," Shapiro said in a statement. "This proposed settlement will provide badly-needed debt relief for 1,200 Pennsylvania students. I will continue to protect Pennsylvania college students and their families by holding these for-profit institutions and lenders accountable for their deceptive practices."
Since he took office, Shapiro has taken several actions to protect students. Last month he signed onto a lawsuit filed against Education Secretary Betsy DeVos and the U.S. Department of Education, which had decided to abandon federal rules protecting students from predatory lending practices.
But fighting against predatory lending is only a small part of the fight to reduce student-loan debt. Increasing tuition at higher-education institutions around the country are a large part of the problem. This month, national student-loan debt surpassed the $1.3 trillion mark, and more than 25 percent of student-loan borrowers are currently in default.
According to a report released this month by LendEdu, a debt-refinancing company, Pennsylvania is the state with the highest average student debt per borrower. And the report found that on average, students graduating from Pittsburgh-area institutions have more debt than the $35,185 state average.
This data comes from the research group Peterson's annual financial-aid survey that collected responses from 1,161 institutions. The survey is voluntary, so some schools are not included in LendEdu's report.
According to the report, of the 59 percent of Duquesne University students who leave school with debt, that debt averages $41,272. At Point Park University, 80 percent of students graduate with debt averaging $26,729.
Eighty-two percent of Robert Morris University students graduate with debt averaging $39,431. Chatham University has similar statistics: 83 percent of students average $37,734 in debt.
Of all local colleges, fewer students graduate from the University of Pittsburgh with debt, at 65 percent, but their debt averages $38,612.
Despite such statistics, in July, the Pennsylvania State System of Higher Education board of governors voted to increase tuition at 14 state universities by 3.5 percent.
"It's deeply disappointing that the leadership of Pennsylvania's public higher-education institutions would place a heavier anchor around the necks of students trying to prepare for tomorrow's jobs," Pennsylvania Treasurer Joe Torsella said in a statement. "Pennsylvania's higher-education system is in desperate need of reform and reinvestment, not further tuition increases."
The increase came in response to a $71.7 million budget gap facing the 14 state universities this fiscal year. But critics say it's unfair to place the burden of filling that gap onto students.
"I see the impacts that the Commonwealth's higher-education policy has on our state's families," Torsella said. "With 95 percent of newly created jobs requiring post-secondary education, we need to have a much bolder conversation about how we are assisting our students to get the education they need. Forcing over-burdened families to pay more is not the right path forward."
While at the federal level, Education Secretary DeVos seem to be moving away from protections for students, Pennsylvania legislators are continuing the fight to make higher education more affordable. This year, state Sen. Daylin Leach reintroduced legislation to create a public fund that would allow students to attend a state university "with no money down." The "loan" would be interest-free and, after graduation, students would pay back a percentage of their monthly salary (4 percent) into the fund.
"According to the Institute for College Access & Success, 70 percent of Pennsylvanians who graduated from college in 2011 did so with student debt, the average amount of which was $30,000," Leach said in a statement. "Both of these numbers are higher than the national average, and I believe it is time for the legislature to act meaningfully to ensure young Pennsylvanians are not overburdened by debt as they begin their professional careers."