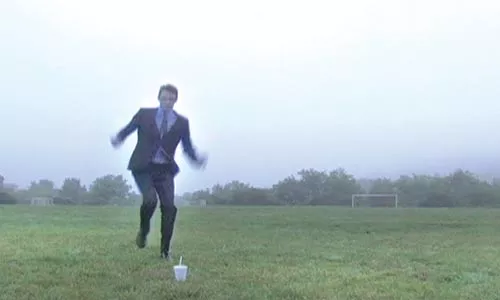 Andrew Batista is justifiably proud of his short film "The Piano Story." The bittersweet period romance is beautifully lit and nicely acted, with original music and, elegantly, essentially no dialogue. It was effectively the Pitt grad's thesis work during his studies at Pittsburgh Filmmakers. The film also screened locally on cable, and appeared in last year's Big Easy Short Film Festival, in New Orleans.
"Piano Story" notwithstanding, what Batista most wants to talk about lately are the "Mr. AB" videos, very-shorts he makes with collaborator Matt Robison. Batista screens "Piano Story," Mr. AB shorts and more at the Feb. 9 edition of Film Kitchen, along with work by Brian Staszel and experimental shorts by Drew Dammron.
The Mr. AB videos run about a minute each. Batista says he and Robison call them simply "ideas," and for months made them almost weekly, for a total of about 15.
They're visual one-liners, though in content and style they're more poetic than explicit. In one, a young man in a suit runs across a misty field toward an unsuspecting pink smoothie. In another, the sight of a figure seemingly borne aloft by a bouquet of helium balloons is both more and less than it seems. (More Mr. ABs are available at www.misterab.com.)
Batista, 25, is a Seneca Valley High grad who lives in Cranberry and does freelance video production. He made "Piano Story" while employed as the first filmmaker-in-residence at New Perspective Productions, a Strip District-based outfit that helped him complete the short.
Brian Staszel has come a long way since graduating from New York University film school more than a decade ago. Filmmaking has changed, too. Staszel clocks both journeys in his deceptively simple two-minute video "Moviscop."
Staszel's film career began during the last days of both shooting on film (rather than videotape) and editing physical filmstrips, rather than rearranging digitized clips on a computer screen. "Moviscop" is titled for the small, hand-cranked device on which filmmakers previewed film for editing -- back when "editing" meant cutting film with razors, then rejoining it with tape.
"Moviscop" screens at Film Kitchen with "DogGone," the entertaining alien-invasion comic thriller that was Staszel's thesis film. "Moviscop" is actually a double homage. Though he's a multimedia guy at Carnegie Mellon's Robotics Institute, for years Staszel has taught at Pittsburgh Filmmakers. And he's saved film scraps: students goofing for the camera, or tinkering with the focus. Much of "Moviscop" consists of these scraps, plus outtakes from his own student films. With Staszel's amiable voice-over, there's a feeling of cheerful nostalgia.
Ironically, "Moviscop" is Staszel's first film shot in the high-tech HD format, and it was made for an online contest. Meanwhile, he notes that to his students, tools like the Moviscop might as well be nickelodeons.
"So many people entering film school have never touched that stuff, don't want to touch that stuff, or just can't believe it," he says. "These machines are, like, hilarious to them."
Film Kitchen 8 p.m. Tue., Feb. 9 (7 p.m. reception). Melwood Screening Room, 477 Melwood Ave., N. Oakland. $5. 412-681-9500 or www.filmkitchenpgh.org