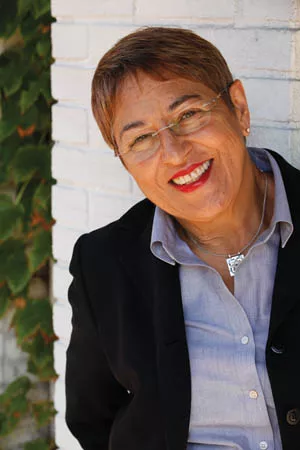 "You walked in your body like a living man. / But you were not," wrote Toi Derricotte in "Poem for My Father," part of her 1989 collection Captivity. Two decades later, with her fifth collection, The Undertaker's Daughter (University of Pittsburgh Press), the acclaimed poet closes the book on her childhood. The 91-page book, part prose, part verse, confronts her complex relationships with her mother and her abusive father, but also includes "The Telly Cycle," a series of poems inspired by a beloved pet fish she had as an adult.
Derricotte, 70, is an English professor at Pitt, where she's taught for 20 years; she is also co-founder of Cave Canem, a workshop for African-American poets. She recently spoke with CP at her home, in Churchill.
Why do you begin the book by announcing, "I am not afraid to be memoir"?
The book is about how one regains the self. Abused children frequently never love again, never make attachments. They are stuck and bound in the past. One of the things this book is about [is] when you do start to make attachments, and how the creative act -- not therapy, not talking about it, not spiritual healing, but a creative act in and of itself -- changes the creator.
Why combine verse with prose?
I didn't decide to write prose. I started writing and the line kept going. It has to do with the way the thought comes to you and feels when you're writing it. I actually wrote the first section of that book probably 15 years ago. If you looked at it in its original form, it doesn't look anything like this. It's all one long block. … to shape it, to make it into something that had the power to do what I wanted it to do, it took years and years and years.
Why address your relationship with your father, at length, just now?
I feel like my childhood is mostly done now. I think that poem that I wrote, "Poem for My Father," it really opened up a wound. It's like you take an axe or a chisel and ka-bam into the marble, and boom. It did something really scary because my father was still alive. It was a challenge. I was challenging my father in a way.
You've written of "torturing voices" in your head. How did they play into Undertaker's Daughter?
[Once,] a friend said, "Ask the torturing voices where they came from." Immediately they said, "Your mother." Immediately! And I began to separate out voices in [my] head. I had taken in that voice, and it was another person's voice that I thought was my voice.
When I uncovered in this book the undertaker's voice -- my father was actually an undertaker, and my grandfather -- I mean the voices that bury us, that take us under, and how to undertake coming from there, from underground. But I heard my father's voice. And then I realized, as you're unburying these voices, the oppressor's voice comes first, because that's the way you talk to yourself.
Later I realized that another voice came next. And that's this very tender, almost childlike voice. And so the poems in this second section, there's a group about loving a fish. That was a scary poem to write. Then I started thinking about the childlike voice, the tender voice that arises. It starts to come back in the same way it was buried. If this went down when you were 2 years old or three years old, when you start bringing it forth, it's almost like you come with that part of yourself from way, way back.
You write, "It wasn't my father's thought that I took in; it was his language. It is the language in me that must change."
It's the language that I talk to myself in, and it's also the language that I use in poetry. Part of the change is, I change as a poet. Almost all of my work, except maybe The Black Notebooks, was thinking about the past. Memory. I'm very interested in writing about kind of the wonders that make life so surprising moment to moment. I started writing like that probably like five years ago.
The book also operates in a broader historical and racial context.
I did come to a sense that there was a connection between my father's violence and [him] growing up as the child of a woman who was raised in the Colored Children's Industrial Home, where they had to start caning [chairs] when they were 7 years old … and that she was raped when she was 15, and that she was a violent woman. She was hard on my father.
And a lot of times, were black people sort of recreating violence that they had experienced in slavery? People were beaten and powerless and sort of having to justify their existence, having the self disappear.
Is it, as you write, "possible to change everything that has happened by looking at the past in a different way"?
I actually feel more compassion towrd my parents in a way now. It's as if I see them without so much of the personal meaning that is captured in this book.
I think because the book released my obsession with the past, and with them in the past, and with me in the past, I see the broader picture now. In a way that's what I'm writing about now. That's my new obsession. A book releases you from an obsession, but you sort of have to get another one. Start all over again.
TOI DERRICOTTE and poet Dawn Lundy Martin read at the Pitt Contemporary Writers Series. 8:30 p.m. Thu., Oct. 20. Frick Fine Arts Auditorium, Schenley Drive, Oakland. Free. 412-624-6508
---
In this excerpt from The Undertaker's Daughter, Toi Derricotte writes about her father:
Thinking was the thing about me that most offended or hurt him,the thinghemost wanted to kill. Just in case my mind might be heading in that direction, here was a stop sign, a warning: "Who do you think you are?" But the words weren't enough. They'd all bubble out of him like some brew exploding from an escape hatch, a vortex that pulled in his whole body, his huge hands, which grabbed me up by my hair.
Where could I go? I was trapped in what my father thought I was thinking. I couldn't think. My thinking disappeared in case it was the wrong thought.
It was not the world that I needed to take in, but my father's voice. I had to see exactly what my father saw in me -- and stay out of its way.