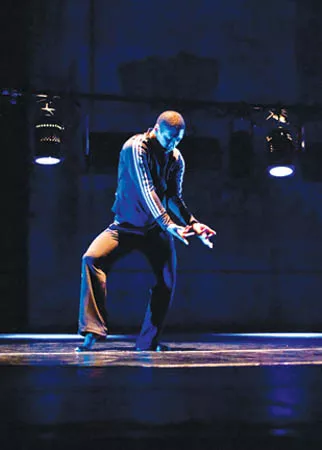 Sexuality, gender roles and African-American life are recurring themes in dancer/choreographer Kyle Abraham's work. His latest is Live! The Realest MC, which he and his company, Abraham.in.Motion, will world-premiere this weekend at the Kelly-Strayhorn Theater. In it, the Pittsburgh native delves deeper into those themes, referencing his own past and questioning the current state of our humanity.
"It's a quest for realness within an urban gay context," says Abraham, speaking of the work by phone from New York, where he and his critically acclaimed young company are based.
Abraham says he used the story of Pinocchio's quest to become a real boy as a jumping-off point. The hour-long, intermission-less multimedia work for seven dancers (including Abraham) is set to industrial music from the group Pan Sonic, singer-songwriter James Blake and jazz pianist Bill Evans.
Abraham plays a character who uses hip-hop bravado as a sort of mask to pass as "normal" in an urban society. He raps dialogue to help explain how his character got to be the way he is and the price he paid for conformity.
The character has some basis in Abraham's life. In grade school and high school, Abraham says, he felt -- like his character -- that he had to speak and walk differently to hide who he really was and avoid attention.
"Trying to be someone else to not be noticed is really kind of messed up," explains Abraham.
The character extends the one he created for the solo "Inventing Pookie Jenkins," a man at odds with himself and society. "This is definitely a darker and more aggressive work," says Abraham.
Abraham describes the movement language as a hip-hop/modern dance amalgam that is not quite puppet-like but mechanical and robotic, and the characters' costuming as having a lot of "sequins, bling and bedazzled Adidas sneakers."
Abraham and his company have drawn critical plaudits from the likes of The New York Times ("smart and self-aware, and luscious too: the complete package") and Dance Magazine. Recently, Abraham says, he has been working on and showing portions of Realest MC in cities including Los Angeles, Seattle and Dublin, Ireland.
However, the Bessie award-winning choreographer says he is thrilled that the premiere of Realest MC is in his hometown of Pittsburgh.
Kyle Abraham/Abraham.in.Motion performs LIVE! THE REALEST MC 8 p.m. Fri., Nov. 18, and 8 p.m. Sat., Nov. 19. Kelly-Strayhorn Theater, 5941 Penn Ave., East Liberty. $10-25. 412-363-3000 or www.kelly-strayhorn.org