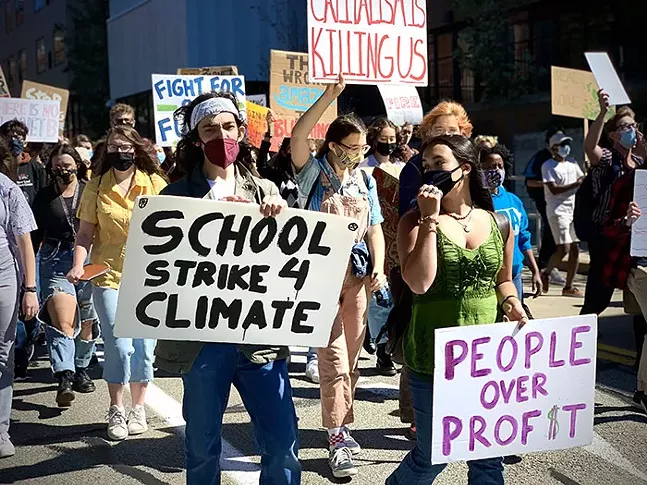 Hundreds gathered in Pittsburgh's Oakland neighborhood on Sept. 24 at noon for Sunrise Movement Pittsburgh's Strike for Climate Justice to protest for more action to combat climate change. The crowd marched from Oakland to Downtown's City Council Building, swelling to about 200 people.
The strike encouraged students and workers to leave their classes or jobs for the early afternoon. During the march and gatherings, speakers emphasized the intersections of climate justice with other issues, such as the fights for racial, migrant, and indigenous justice, unions, and housing for all.
Sunrise Movement Pittsburgh, a youth movement dedicated to stopping climate crisis, listed five demands for this strike, including youth representation in local climate decisions,
banning fracking
in
Allegheny County
, and taxing large entities like UPMC and fossil fuel companies to fund green infrastructure. The organization also demanded a stop to
Line 3
, a tar sands pipeline in Minnesota, and a just transition to 100% renewable energy and green jobs that pay a living wage.
"No matter what your political orientation may be, no matter where you may stand on climate, this conversation is for all of us," says Sunrise Movement Pittsburgh organizer Ilyas Khan, who skipped a biology quiz to attend the strike. "We are a country that has the power and the resources to really make a change right now and help both ourselves and help save the planet at large from potential ecological devastation."
The strike began with a land acknowledgement to indigenous peoples, including the Adena, Monongahela, Delaware, Shawnee, Seneca, and Osage, before seven members of the Raging Grannies — a social justice activist group — performed songs about taking action against climate change. The crowd then walked up Bigelow Boulevard and turned onto Fifth Avenue, slowing to allow older members of the crowd to keep pace.
Khan and other organizers led chants such as "1, 2, 3, 4, fossil fuels are at our door, 5, 6, 7, 8, Green New Deal in every state," "Climate justice is native justice," and "Give us a Green New Deal, climate change is fucking real." The crowd stopped twice, at Robinson Street and in front of PPG Paints Arena. People rested, watched skit performances about how to respond in interactions with police, and sang along with Democratic Socialists of America and the Pittsburgh Labor Choir member Edwin Everhart, who played the guitar.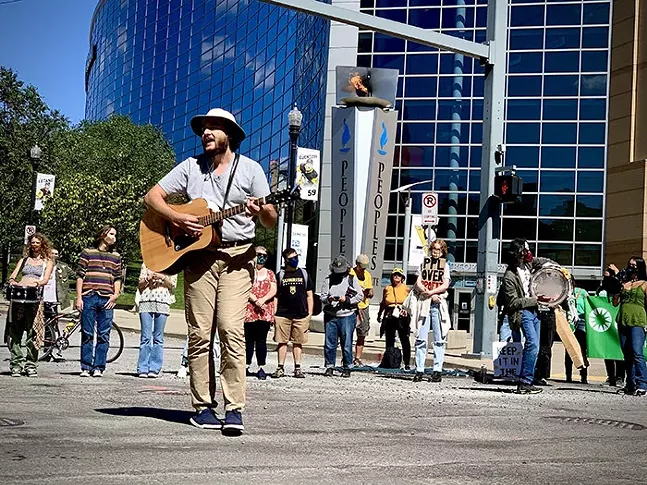 "This was my first protest, and it's one of my biggest responsibilities to act upon the knowledge that I have," says Vanshika Bhaiya, who studies architecture at Carnegie Mellon University. "It's one of the issues that I'm most passionate about. I think it's something that should be integrated as part of your daily life, but especially for me, even in my future profession."
The crowd reached the City County Building shortly after 2 p.m., where about 10 speakers shared their support of the Green New Deal and the importance of mutual aid and intersectional, international efforts towards climate justice.
"Climate is connected to pretty much everything," says Maren Cooke, who is a leader of Group Against Smog and Pollution (GASP), 350Pittsburgh, and Pittsburghers Against Single-Use Plastics, among others. Cooke spoke about climate's connection to
air quality
, plastics, and human health, as well as the importance of further action. "Civilization faces unprecedented challenges, but this is also a time of historic opportunity. Let's take it."
The strike ended with a closing land acknowledgement and Sunrise Movement Pittsburgh handing out
scripts
for calling representatives about Pennsylvania
House Bill 1555
, which would create more consumer options for local, renewable electricity, and Pennsylvania
Senate Bill 435
, which would help develop electric vehicle infrastructure.
"Protesting is not the end here. It's a means to the end, where the end is climate justice, climate action," says Sunrise Movement Pittsburgh coordinator Elise Silvestri. "The next thing to do from here is get organized."