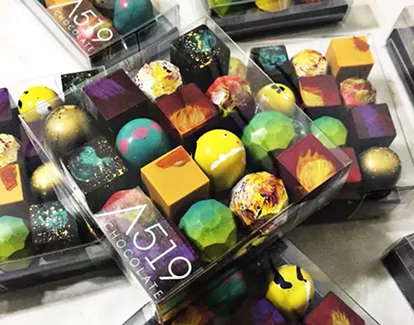 The vividly colored, hand-painted chocolates from A519 are almost too beautiful to eat. But to savor the candy's other pleasures — the satisfying crack of the hard shell, the luxurious truffle filling — it must be eaten.
After spending time in the San Francisco Bay Area working at a two-Michelin-starred restaurant and for the chocolatier Chris Kollar, Amanda Wright opened A519 Chocolates, in Millvale, last June. Wright describes Pittsburgh as being "a great match for our company, given its growing, and quite warranted, reputation as a destination food city."
A519 has 10 flavors available at any time, five of which rotate seasonally and often incorporate fresh, local ingredients. Flavors range from traditional (caramel, coffee) to adventurous (oatmeal raisin, apple cider and rye). Holidays get specialty products; for Easter, look for painted bunnies and a "paint your own chocolate Easter egg" kit. Try your artisanal skills with a chocolate egg, a palette of edible cocoa-butter "paint" and paint brushes.
But it's not all art: Wright's husband and business partner, Andy Rape, holds advanced science degrees, which he applies to the chocolate-making process. Wright explains that texture also matters: "A proper texture results from the correct crystallization of the chocolate shell … a highly understood and controllable process, in which Andy has scientific experience and insight."
And what could be a more perfect union of art and science than blue-and-purple-painted peanut-butter-and-pretzel chocolate truffle?
Available at Wildcard, Chocolate Moose, Mon Aimee Chocolate, Maggie and Stella's, and at www.a519chocolate.com