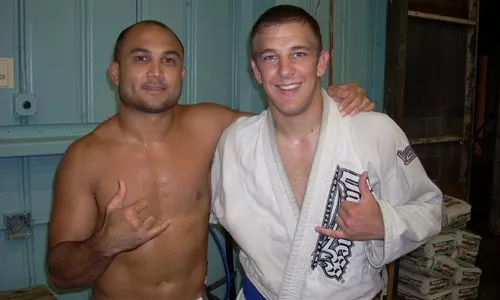 John Irving notwithstanding, the road to a writing career is seldom paved with wrestling mats. But that's the trail trodden -- or grappled upon -- by Marshal D. Carper.
Carper, 23, grew up in Washington, Pa., and pursued the writer's craft at California University of Pennsylvania. Meanwhile, the former target of bullies cultivated his interest in Brazilian ju-jitsu, a grappling sport whose popularity rose with the advent of mixed martial arts competitions. In 2008, Carper went so far as to spend a semester at the University of Hawaii so he could train with BJ Penn, a former welterweight champ of the Ultimate Fighting Championship, MMA's biggest brand.
That sojourn -- undertaken in the wake of his breakup with his long-time girlfriend -- is the subject of Carper's first book, The Cauliflower Chronicles (Victory Belt Publishing). It's an engaging new memoir that's as much about personal growth as about wrestling. Or, as Carper writes in chapter 10, "I realized I wasn't training because it made me happy. I was training to prove them all wrong. I was training to prove that I was going to do what most people never could. Change."
Ambitiously, Cauliflower (named for wrestlers' cuff-puffed ears) also explores Hawaii's culture -- one tourists seldom glimpse, complete with racial tension and a Hawaiian independence movement. Carper says that resentment of the mainland -- and the 1898 annexation -- feeds Hawaii's fighting culture: "We're showing them that Hawaii's got tough guys."
Carper first wrote professionally in college, with guidance from his mentor, Cal U English professor and author Alan Natali. By the time he graduated, in 2009, Carper says, he'd published some 400 articles for MMA outlets like Ultimate MMA magazine, Lockflow.com and Fight!
Later, as Lockflow's editor-in-chief, Carper ran a series of articles about the MMA publishing industry, with an ulterior motive: to meet people who could help get his Cauliflower manuscript published. One such contact led him to Victory Belt. His book is a departure for the California-based outfit, whose titles are mostly how-to's, stuff like The Grappler's Manifesto and X-Treme Training.
Now Carper works for Victory Belt as a contract co-author on instructionals; he's recently collaborated with MMA luminaries including ju-jitsu champ Marcellus Garcia and famed coach Neil Melanson. While such works don't make best-seller lists, Carper says one Victory Belt title sold 100,000 copies. "The people that are involved in this sport are die-hard fans," he says by phone from Las Vegas, where he's temporarily relocated to work on similar projects.
Carper still trains for fun, but no longer looks to compete. For one thing, he says, "My knees are pretty shot at this point." But he also believes, as older fight writers have told him, "You can't be a writer and a fighter." He adds, "You can only be really good at one thing. ... Writing was really where my heart was."
And not just writing about fighting. "I'd like to get away from fight writing a little bit," Carper says.