Wholey's Oysterfest

Celebrate shellfish with Wholey's Market at Oysterfest, the oyster extravaganza dubbed a "shellabration" by the Strip District shop.

From May 17-19, all Pittsburghers are invited to the market for all things oyster. Taste different varieties, attend a seafood class, or take some to-go and shuck them yourself. Make sure to test out one of the kitchen's weekend specialties: fried oysters and oyster po'boys.
Greek Food Festival

For 57 years, the St. Nicholas Greek Orthodox Cathedral in Oakland has celebrated its heritage with a week of food, dancing, and music; 2019 will be no different.

The festival opens on Sun., May 5 at 12 p.m., and closes on Sat., May 11. Food is served for lunch and dinner, with live music and dancing every night. Stick to the outdoor grill for gyros and honey balls or head inside for stuffed grape leaves, spanikopita, and more. There's an entirely separate line for desserts, and trust us, they're worth the wait.

Blended Burger
The James Beard Foundation, in partnership with the Mushroom Council, kicked off the fifth Blended Burger Project this week at Burgh'ers Brewing in Lawrenceville.
The blended burger movement is an initiative to promote sustainable, healthier eating. A blended burger is composed of at least 25 percent mushroom. Funghi adds flavor and texture to an all-meat patty while keeping the mixture tender through cooking. Using mushrooms saves water, energy, and, according to a study from the World Research Institute, swapping 30 percent of all meat-based burgers for mushrooms saves an equal amount of emissions as taking 2.3 million cars off the road. Blended burgers are better burgers in nutrition, environmental footprint, and some believe, in taste.

Registration for the 2019 Blended Burger Project is now open to restaurants across the nation. From May 27 to July 21, participating restaurants will feature their burger, and guests can vote for their favorites online. Winners get a chance to cook at the James Beard House and $5,000.

In 2016 and 2018, chef and owner of Burgh'hers Fiore Moletz was one of the nation's five contest winners, awarded the top spot from online voters and a panel of acclaimed judges. Early this week, Moletz released his entry for 2019.
This year, Moletz has created an entirely new burger (which is still unnamed), modeled after Pittsburgh's most famous sandwich. His new burger features toasted bread, a blended patty, local greens, swiss cheese, mojo sauce with a sriracha kick, and of course, french fries.
Burgh'hers will not be the only Pittsburgh location competing for best blend. Keep an eye out at your local spots and vote to get a Pittsburgher to the top. For a full list of participants, visit jamesbeard.org.
Menuette

Menuette, a local pop-up kitchen, is teaming up with Pittsburgh's arts and cultural center, Artsmiths, and Relay for Life Mt. Lebanon for a wine and food-fueled fundraiser.

All profits from the event — raffles, tickets, and contests— will benefit the American Cancer Society. The "Apples and Grapes" fundraiser invites guests to taste international wines paired with creative bites from Menuette and browse Artsmith's unique display.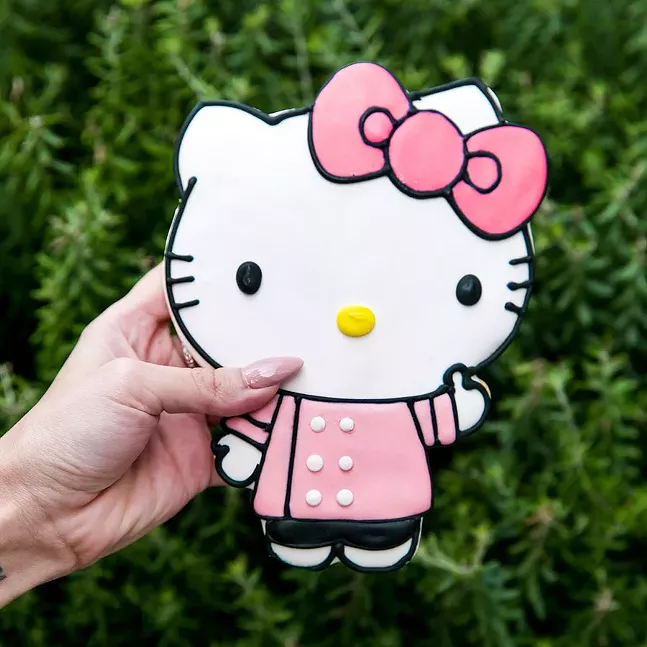 Hello Kitty Cafe Truck

On May 4, a new kind food truck will hit the Pittsburgh streets. The Hello Kitty Cafe Truck is rolling back into the city for one day only, with Hello Kitty cookies, mini cake sets, macarons, and confetti popcorn. Not hungry? Don't fret. Grab a t-shirt or a sequin headband instead.

The truck will be parked at Ross Park Mall, near The Cheesecake Factory, from 10 a.m. to 8 p.m. on Sat., May 4.
Farmers Markets

Sun's out, markets out. Grab some local goods from these spots, returning to neighborhoods in the coming weeks:
Lawrenceville Farmers Market
For its upcoming season, the Lawrenceville Farmers Market is moving from Saturdays to Tuesdays. June 4 will be the first market — look out for fresh bread, foraged mushrooms, and specialty items.


Bloomfield Saturday Market
The Bloomfield Saturday Market returns to its space on Liberty Ave. May 18, with the year's first Bike to Market Day. Every Saturday, shop local vendors from 9 a.m. to 1 p.m. And, make sure to keep an eye on their rotating vendor list for ice cream, matcha, and more.


North Side Farmers Market
On May 17, the North Side's vendors move outside for the season, setting up shop at Allegheny Commons Park. Pick up everything you need on Fridays from 3-7 p.m.


Robinson Farmers Market
The Robinson Market opens May 13 for their third season. This year they're bringing in a rotating slot for food trucks. Be on the lookout for their weekly offerings.


Market Square Farmers Market
Every Thursday, starting May 16, Market Square transforms into a hotspot for local produce and goods. Stop by to grab greens for dinner or a gourmet, market-fresh lunch.