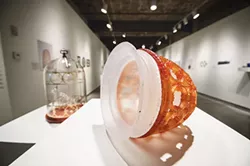 The premise for Out of the Archives and Into the Gallery is a phenomenal one. In a collaboration between the Pittsburgh Glass Center and the Carnegie Museum of Natural History, 15 regional glass artists were invited to view ancient pieces from the collection of the latter, then use these as inspiration for creating work for an exhibition at the former. Artists selected pieces and then utilized them as springboards when fashioning a minimum of two new works. The first was a replication of the fragment of antiquity, the second (and sometimes third or more) prompted by the archaeological scores.
The result is often phenomenal as well, both in the skillful execution of the reproductions — sometimes slightly interpretative, sometimes exact — and in the inspired works and the myriad directions they take. Dana Laskowski began with a 17th-century Islamic pedestal, duplicated flawlessly. Her next step is a trio of painted, flat glass pieces recreating images from the Breviary of Renaud de Bar, a 14th-century manuscript, focusing on rabbits heroic and bloodthirsty. A third- or fouth-century vessel shaped like what appears to be a pig was chosen by Gillian Preston. She began by rendering a cleaner, more polished interpretation, then went further by depicting what she describes as "urban pigs," frolicking in the corner of a fused-glass panel lit by LED: pot-bellied and happy and luminous in a sea of darkness.
Chris Holmann reinvents a clear lantern as an opaque hanging fixture, black and solid and gothic. Jason Forck selects and twins a pair of Roman bowls, then multiplies them in stacks, starting at transparent and gradually adding hue and shade to render them darker and darker. Zack Mayhew's very interesting take on a Roman vessel envisions it surrounded by the shards of its peers, then plays on color and shape to craft a carafe and glasses both functional and lovely. Glass bottles etched with maps of land and water are John Sharvin's entry, bearing doors within them, in a meditation on the transformative nature of travel and movement. They're delicate and intricate, evocative and compelling.
This is an examination of glasswork past and present. But more than anything, it's an examination of fueling the creative process, how inspiration comes and where it goes.