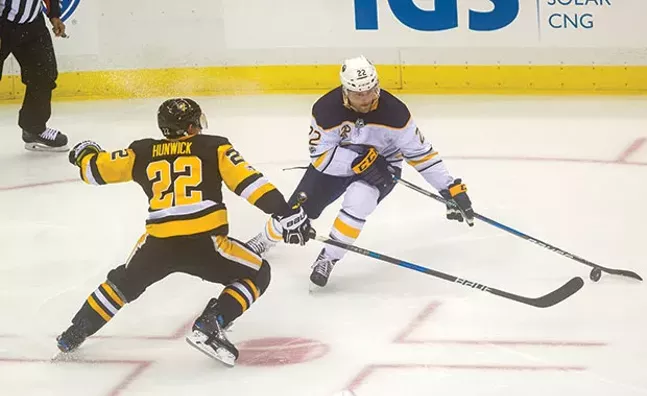 There are 92 franchises in the NHL, NFL and MLB. We won't count the NBA, because in Pittsburgh it is slightly less popular than pee-wee football. Of those 92, 78 percent haven't won more championships in the past 50 years than the Pens have won since June 2016. Only nine football teams, six hockey teams and five baseball teams have won more than two since the LBJ administration.
The Penguins have won as many titles in the past 16 months as the New York Rangers have in 76 years. There isn't a Philadelphia Flyers fan under age 50 who remembers them winning a Cup. The last time that happened, Saturday Night Live was wrapping up its inaugural season by lambasting President Gerald Ford. Washington Capitals fans have seen Lord Stanley only on television. Here in Pittsburgh, though, we see him in bars, restaurants, at baseball games, and at your dad's friend's house because he knows a guy who knows a guy whose sister works for the Pens. Now, the only thing the Pens can do is try to accomplish a feat so difficult that it hasn't been done since the early 1980s.
Back in those days, MTV was in its infancy and the New York Islanders were as hot as parachute pants, Trapper Keepers, the J. Geils Band and Eddie Murphy. Back then, the NHL got even less respect than it does now. The game was seen as a regional sport that was just a roller-derby on ice. The scarcity of protective helmets was outdone only by the scarcity of teeth. People had to tune into a UHF television station to catch helmetless, middle-aged bald guys named Guy skate around the ice with an assortment of toothless, bearded goons. It was more respectable to say you worked at a demolition derby or a disco than to be an NHL player.
But the greatness of Wayne Gretzky and Mario Lemieux helped transform the game into a showcase of skills and speed rather than punches and eye-gouges. This new style of hockey, combined with cable television, pushed professional hockey to at least the fringes of the sports mainstream. Behind legends like Mike Bossy and Brian Trottier, the Islanders reeled off four consecutive Cups in 1980-83, right after the Montreal Canadiens won four straight. But since then, nobody has pulled off three in a row.
The threepeat hasn't been done in the NFL since the Super Bowl era began. The Packers, Dolphins, Steelers (twice), 49ers, Cowboys, Broncos and Patriots all went back-to-back, but nobody has a natural hat trick. In baseball, the Yankees did it from 1998-2000 and became the first baseball team to go back-to-back-to-back since the 1950s. The last team to do it before the Yankees was, well, the Yankees.
When the Islanders last reigned over Canada's National Sport, it was before the era of big-money free agency. Players might have had to pick up a shift at a Tim Hortons donut shop in the offseason to make ends meet. Now that teams spend money on free agents, success just breeds vultures. The role players on championship teams are quickly scooped up in the offseason, as other teams desperately want to be associated with a winner.
If the Pens are to pull off the elusive three-peat, they will have to do it without the help of Marc-Andre Fleury. For the first time since Rico Fata was a Pen, the roster will not have the name of the young two-niner on it. Fleury, who is an all-time top-20 goalie in wins, will now bring his skills and calm demeanor to Las Vegas. Matt Cullen, the Pens' resident old guy, left for the Minnesota Wild. He can be forgiven, since that's where he is from. Chris Kunitz took off to Tampa, but when you have four rings like him, you can do whatever you want. The other big loss was Nick Bonino, who registered as a Predator, the kind from Nashville. Bonino will probably never see another Cup, but his nightlife will be enjoyable. The Pens can always find another Cullen or Bonino, but Kunitz and Fleury will be much more difficult to replace.
The quest for a historic threepeat is off to a stumbling start. In their first regular-season game this year, the Pens lost to the Blues, then got walloped 10-1 in the second. So, we kinda miss Fleury already. Fleury never allowed that many goals in one game, and he was here for 14 seasons. But no need to call for anyone to get fired or traded just yet. Almost any fan of any sport would gladly take a regular-season beat down in exchange for two parades in two years.
If they can pull it off, the Penguins will elevate themselves to Steelers-like admiration in the city. A sculptor should be hired to start engraving the faces of Sidney Crosby and Evgeni Malkin into the rock of Mount Washington. The city can then take a collective nap together, exhausted from all the winning.