Is your dial always pre-set to talk radio? Always asking how you can make a difference in the world? Are you just hungry for some learning? Peruse our curated list of educational, volunteer, and social-justice events this week in Pittsburgh.

---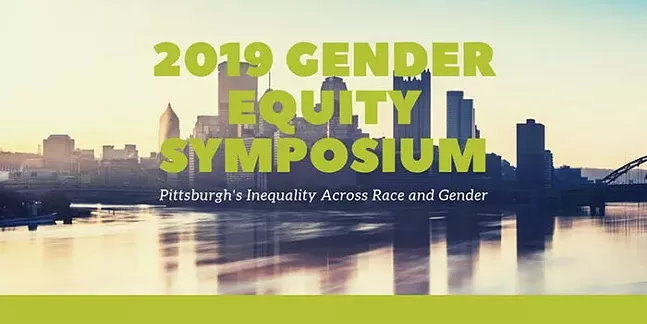 2019 Gender Equity Symposium
8:30 a.m.-1:30 p.m., Sat., Nov. 2
Women's Institute at Chatham University, 1 Woodland Road, Shadyside. Free.
This year's symposium will take a deeper dive into the troubling findings of the recent report "Pittsburgh's Inequality across Gender and Race," published by
Pittsburgh's Gender Equity Commission
, which outlined serious inequalities for Black women throughout the city. An open session will be moderated by community leaders, followed by a presentation by several of the University of Pittsburgh co-authors of the report. Registration is closed, but those interested in attending can add themselves to a waitlist and will be notified if space becomes available.
---
An Evening with Amal Kassir
8-10 p.m., Sat., Nov. 2
O'Hara Student Center, University of Pittsburgh, 4024 O'Hara St., Oakland. $5.
Syrian Muslim activist and slam-poet
Amal Kassir
comes to the University of Pittsburgh's O'Hara Student Center for a performance highlighting the story of those "affected by human injustice and systematic abuses of power." Her TED Talk,
"The Muslim on the Airplane,"
has almost 4 million views, and Kassir continues to speak out against Islamophobia at workshops and lectures across the country. Donations collected throughout the event will go to the Syrian American Medical Society. Admission is free for Pitt students with a valid student ID, but the event is open to the public for $5 for non-Pitt students.
---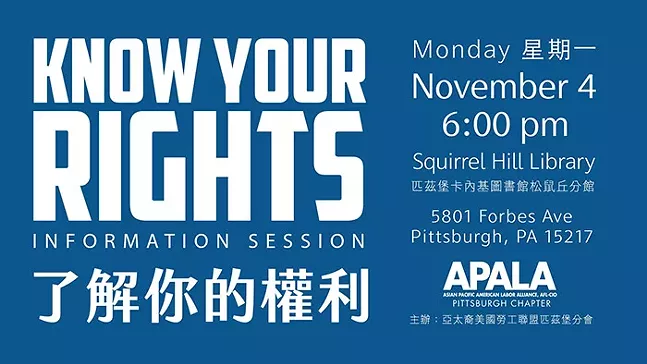 Know Your Rights Informational Session
6-7:30 p.m., Mon., Nov. 4
Carnegie Library of Pittsburgh - Squirrel Hill, 5801 Forbes Ave., Squirrel Hill. Free.
The Pittsburgh chapter of the Asian Pacific American Labor Alliance is hosting this free event to bring awareness to the legal rights immigrants have if ICE shows up at their door or if law enforcement approaches them in the streets or at work. Not an immigrant yourself? Learn how to protect your friends and neighbors. The informational session will be provided in both English and Mandarin Chinese.
---
EcoDistricts Summit: 10 Year Anniversary
Mon., Nov. 4-Tue., Nov. 5
August Wilson African American Cultural Center, Downtown. $25-600.
The EcoDistricts Summit, an annual conference bringing together community and urban leaders to "reimagine cities," chose Pittsburgh as its location for this year's 10th anniversary because the city "is often cited as one of the world's most dramatic 'turn around' stories." Previous years have taken the conference to Minneapolis, Atlanta, and Denver. Pittsburgh's two-day conference includes lectures and workshops on Ecological Design, Technology and Innovation, District Planning and Design, and more. Local speakers include
Raqueeb Bey
, executive director of Black Urban Farmers; Dawn Plummer, executive director of Pittsburgh Food Policy Council; Walter Lewis, president and CEO of Homewood Children's Village; Tracy Certo, founder and publisher of NEXTpittsburgh; and more.
---
Allies for Health + Wellbeing
Formerly the Pittsburgh AIDS Task Force, Allies for Health + Wellbeing has been working with people living with or at risk of HIV/Aids since 1985. The organization has now expanded to include a medical clinic, behavioral health services, PrEP services, counseling, a food pantry, and more. Volunteer opportunities include office work, legal services, companionship, and student ambassadors. Click
here
for more information on how you can sign up to volunteer.
---
Do you have an event you'd like to share?
Email us
for your chance to be included in next week's round-up.