"They told me take a streetcar named Desire, and transfer to one called Cemeteries, and ride six blocks and get off at — Elysian Fields!" So goes the immortal opening words of Blanche DuBois in Tennessee Williams' classic A Streetcar Named Desire. And wasn't it considerate of the city of New Orleans to have the foresight to give its streets names Williams could use to chart the emotional and spiritual journey of one of the greatest female characters in all of theater?
The Point Park Conservatory Theatre Co. production of Streetcar shows us Blanche washing up in the French Quarter in New Orleans: out of money, hope or ability to sustain the precious illusions keeping ugly reality at bay.
She's come to her sister Stella's home; a two-room apartment overfilled with Stella's husband Stanley Kowalski. Williams introduces him to the audience by having him blast into the apartment carrying a package of raw meat.
Almost immediately, Blanche and Stanley take up the recurring war in most of Williams' work between the beauty of illusion and the soul-crushing effects of truth.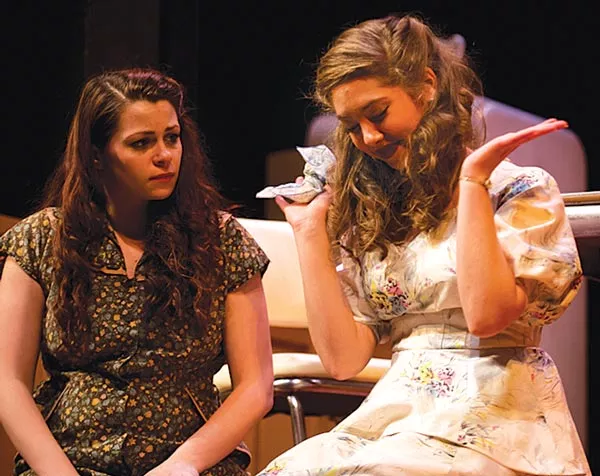 Director Martin Giles pitches camp on that battlefield, and his version begins at a fevered pitch and maintains the intensity throughout. Such a reading certainly makes for explosive evening, and there's not a single lazy or hazy theatrical choice. But by infusing Stanley's animal energy into every corner of the play, as Giles has, Blanche — and especially her poetry and the deceptive beauty of her fantasies — get bowled over. In a sense, Blanche's weakness is what makes her such a strong character, but this production focuses more on the obvious pyrotechnics of Stanley's power.
Gianni Downs has created the perfect set for this show — a terrific mix of substance and shadow that seems to exist in Blanche's mind. Brittany Dorazio and Nick McDonough, as Stella and Mitch, are spectators to the war and, not being the focus, have more emotional room to maneuver ... which they do beautifully. Allie York and Tal Kroser, as Blanche and Stanley, are a perfectly matched pair moving in emotional sync with each other throughout the production. It's a huge accomplishment in these mammoth roles.