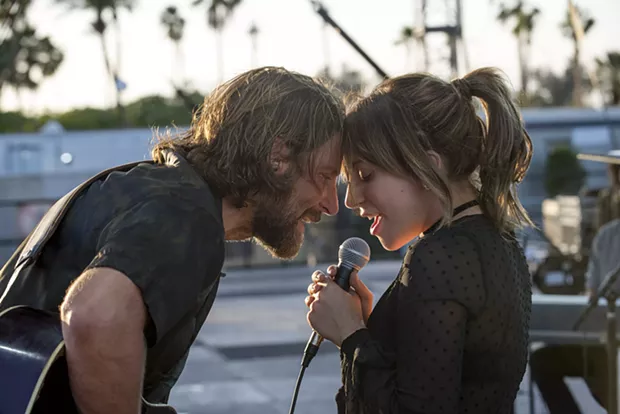 For the same movie to be made four times, it has to have a timelessness that can be easily shifted into different eras of pop culture and still make sense.
A Star is Born
, Bradley Cooper's directorial debut, was originally made in 1937, then again in 1954, in 1976, and then again in 2018. The story follows the tragic love story of an alcoholic musician with a declining career and the young singer he discovers in a club.
Cooper's version of
Star
is like a perfect white t-shirt or a nice bowl spaghetti. The acting, the singing, and the characters are all things we've seen before, but they're done very well. The actors are well cast, the songs memorable, the melodrama high.
Jackson Maine (Bradley Cooper) is a country-rock star, slightly past his prime, with many suede jackets and a heavy drinking problem. Not wanting to be alone after a show, he stumbles into a drag bar and quickly becomes enamored with Ally (Lady Gaga), the only non-drag performer on stage. They begin a whirlwind romance and Jackson drags her away from her waitress gig and onstage with him. Music executives notice, she gets a record deal, and her fame skyrockets as his continues to decline. She plays
SNL
and he plays a gig at a pharmacy convention. Jackson's not jealous of Ally exactly, but his drinking intensifies with her fame and nearly ruins her career. Even after rehab, he believes the only way for her career to continue is without him.
Lady Gaga plays Ally with warmth, charm, humor, and depth. The movie has more jokes than expected, and her comedic timing is impressive. She's loving and takes care of the people in her life, but also has venom, and is not afraid to punch a stranger in a bar. Gaga's voice has always been her greatest asset, and it's Ally's too, likely to bring a pile of rocks to tears.
Cooper does well with the material he's created for himself (he co-wrote the screenplay), but the script alternates between charming and hokey. As Jackson's brother/manager Bobby, Sam Elliott is the most Sam Elliott he's ever been, which is saying something. Dave Chappelle appears as a man named Noodles in a scene that makes no sense.
This is not a subtle movie. It's an obvious rollercoaster, exploring the tumultuous world of fame, money, publicity, music, and performance. During the film's press junket, Cooper repeatedly discussed how much research, training, and hard work he put in to the role of Jackson. He practiced guitar and took voice lessons. He collaborated with songwriters Lukas Nelson (son of Willie) and Jason Isbell. He clearly put his all into the role of the haggard Americana singer. Part of Jackson's character is that he doesn't really understand the world of pop music that Ally inhabits, but it feels like Cooper doesn't either. There is no evidence in the movie that Cooper listens to or even researched pop music.
Ally begins as a stripped-down singer-songwriter, with her powerful voice as the star. But as she signs with a record label, her sound and appearance become warped by what the label wants (dyed hair, dancers, suggestive lyrics). Her career is a mockery, not a critique, of the pop scene that barely skims below the surface. If Ally ever has objections to the changes in her career, she never vocalizes them, which could mean she doesn't have any objections, but it feels shallower. In a drunken fight, Jackson tells Ally her career is embarrassing, and he's right, but it would be a better movie if it weren't.
Cooper said in interviews that he barely knew anything about Lady Gaga before casting her in the role, which doesn't come off how he wants it to. There is so much to be learned from the long arc of pop stars' careers, past and present, and if Cooper had really wanted to commit to the movie, he would have researched Whitney Houston, Christina Aguilera, Rihanna, Janet Jackson.
Cooper seems fully confident in his vision, but it's unclear what that vision is trying to convey. Is it that fame is bad? That alcoholism is destructive? That love is intoxicating but so is intoxication? That pop music is bad? That fame is intoxicating but so is intoxication? That we never know celebrities as well as we think we do? That celebrity is a curse? That men with gravelly voices have been through a lot?
Star
was an instant classic from the moment the trailer dropped and birthed a thousand memes. Many viewers will walk into the movie already knowing all the lyrics to
Star
's signature song, "Shallow." The movie was always going to succeed with Cooper and Gaga as the stars, because both are such genuinely corny people. They're artists who take on all their projects without irony, just like their characters.
__
A Star is Born
opens in select theaters October 3, everywhere October 5.