Thaddeus Gilmore Mosley (Sr.) may be one of strongest men you could ever encounter. At 5'9" he would bet that if you were 150 pounds or less, he could lift you with one hand. And he could.
So one could not blame the then-teenaged Helen Lee Fagan for meeting Thaddeus and deciding, after a time, that it was best to leave that "mean stepmother" on the Fagan Farm. They married and moved to Elbon, Penn. to stay on the Mosley Farm, where their first three daughters — Beattle, Margaret, and Orvetta — were born.
However, the isolated farm life did not appeal to Helen. So the young Mosley family of five moved to New Castle, where a son, Thaddeus Gilmore Mosley Jr., was born, followed by another daughter, Corliss, 14 months later.
But the uncertainty of hourly work forced Thaddeus Sr. to relocate the family again, this time to Number 5 Mine, a deep coal mining town located near Grove City. The homes were company-owned, the store was the company store. In order to not "give every penny back to the company," Thaddeus Sr. and Helen used their agricultural experience to turn their big back yard into a garden, pig pen, and chicken shed.
There was a strong community among the coal miners. The Mosley family's two-story mill house was next to an Irish-American family on one side and an Italian-American family on the other. "Everyone went to each other's house," Thaddeus Jr. remembers. "Mom was involved in lots of clubs and she was on a softball team." At four or five, Thaddeus Jr. was allowed to walk the dirt road to the mine entrance and greet his dad when he finished his shift.
The Mosleys had a piano and a car. Thaddeus Sr. was a big reader; his bookcase — filled with history, novels and poetry — was a prized, if rare, possession in the mining town. He never worried about others' opinions. "No one is asking me what to buy or what they should be thinking. Just as soon as they do, I'll start worrying about what others are thinking about me."
Thaddeus Sr. became a union organizer working to institute fair labor practices for coal miners. The family believes this led to union-busting intimidation tactics, including having the family home routinely targeted by shooters.
Helen had to learn how to use a rifle. Beattle, known as Bea, was the lookout. Bea would yell out, "Someone's coming!" Thaddeus Sr. would shoot from the front of the house and Helen from the kitchen out back. Bea had a buckshot scar on her forehead the rest of her life because of her lookout duties. The family was never able to positively identify the shooters.
Eventually Helen decided it was best to live in a place that offered more for her children. She, along with the kids, moved back to New Castle. Helen and Thaddeus Sr. divorced.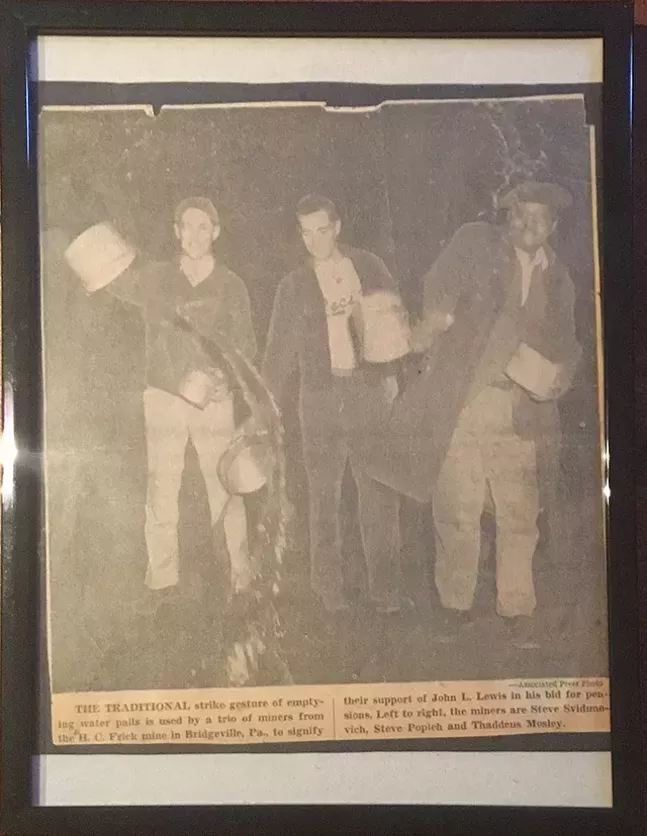 Several years ago, my dad showed me grandmother's wedding ring. It is a simple but beautiful wide gold band, with dents and dings, a ring worn on a working hand. My dad told me what my grandmother said about my grandfather: "Although I remarried, your father was the love of my life."
You can see Thaddeus Sr.'s face in his son, grandson, and great grandsons. Helen's laughter lives on in a granddaughter, and her great grandsons have her baseball skills.
I am only three generations away from slavery in my family. Two generations from life on a farm. One from a coal mine. We call this History, but it so many ways it is also the Present.